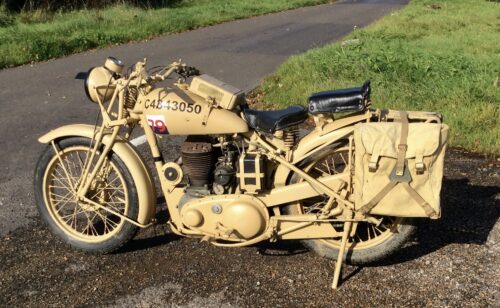 THIS BSA IS FULLY EQUIPPED FOR THE DESERTS OF NORTH AFRICA .
IT HAS FULL SET OF EQUIPMENT .VOKES AIR FILTER ,GENUINE FIELD STAND , SUMP GUARD
AND REAR PILLION WITH N.O.S COVER .( IT HAS MINOR SCUFF)
THE BAGS AND Y STRAP ARE GOOD REPRODUCTION.
THE PAINT WAS OFTEN APPLIED QUICKLY OR IN COUNTRY.THE BLACK C NUMBER WAS USED BY SOME OR THE C NUMBER IN WHITE GOING AROUND IT SO THAT ITS STILL ON THE GREEN.
ORIGINAL TINWARE ON THIS BIKE THE PRIMARY CASES , LUCAS BATTERY CARRIER  & 2ND PATERN SUMP SHIELD OF POST 42 TRIM. THE FIELD STAND IS GENUINE AS ARE BOTH REAR CHAINGUARDS .
THE ORIGINAL VOKES STANDS OUT WELL AND COULD BE PAINFUL IF DRIVER WAS THROWN FORWARD !
THE ELBOW JOINT OF THE AIR FILTER  IS AN ORIGINAL TALL FLOW ITEM.
A GOOD SET OF GENUINE LEVERS .  WD THROTTLE WITH REPRO CANVAS.
THE HEADLIGHT IS A LUCAS DU42 WITH A MODERN BLACKOUT MASK.
THE TOOLBOX IS ORIGINAL.  A GOOD EXHAUST SYSTEM & GENUINE REAR STAND.
BOTH SADDLES ARE ORIGINAL ITEMS.
A GENUINE CONVOY LIGHT WITH 10 CORP SIGN BELOW.
ALL CORRECT TIN AND STAYS .& GOOD TYRES
THE CORRECT AMAL 276 C /1B CARBURETTOR . THE VOKES FILTER
IS CONNECTED WITH A LOCAL MADE ADAPTOR.
ALL GENUINE PARTS WITH POST WAR BRAKE LIGHT SWITCH.
ORIGINAL PILLION FOOTRESTS.
LUCAS ALTETTE HORN  . THE MAGNETO AND DYNAMO HAVE BEEN RESTORED .
YOU CAN SEE ON VIDEO THAT BIKE STARTS WELL WHEN HOT .
THE FUEL LINE SPLIT AND I HAVE REPLACED WITH ANOTHER .
NOT A GREAT PIC BUT YOU CAN SEE IT HAS A GOOD LUCAS CZ27 AMMETER , LUCAS "T" SWITCH AND A RESTORED SMITHS SPEEDOMETER ( GUARANTEED 1 YEAR ) FROM PHIL WQOODS .
A TIN REAR NUMBER PLATE ,EASILY REMOVED & HELD BY PANNIER FRAME WING NUTS .
TAKE OFF FOR SHOWS AND IT WILL LOOK AS IN WW2 .