DECEMBER 2023.
PETER ALLARD ( PEDRO ) MY MECHANIC  & FRIEND OF OVER TEN YEARS AND THE RIDER IN MANY OF OUR YOU TUBE VIDEO'S  WAS FOUND COLLAPSED AND IS IN HOSPITAL IN AN INDUCED COMMA.  ANY OF YOU WHO HAVE FAITH PLEASE MAKE A DUA  OR PRAYER FOR HIM .
INSHALLAH ITS NOT HIS TIME TO LEAVE US !
CAN ANYONE HELP IDENTIFY THIS PART ???
FROM A HORSA GLIDER THAT CRASHED AT TARRANT RUSHTON AIRFIELD ON D-DAY .

I AM DIGGING THROUGH SEVERAL GARAGE 'S OF SPARES AND LISTING ALL SORTS OF ITEMS AS I WANT TO CLEAR THEM . SO TAKE A LOOK AT OTHER MOTORCYCLE PAGES  AS SOME ARE BARGAINS ! AS ARE SOME RARE BOOKS .
MY THANKS TO JOHN MOORE FOR THESE PICTURES FROM FALAISE ARE 1944. AT LEAST THE MOTORCYCLISTS WERE AHEAD OF THE DUST !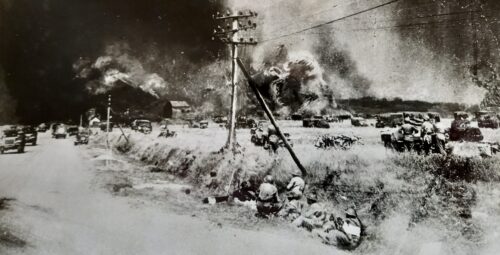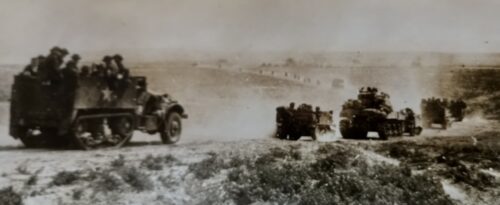 NOVEMBER 2023
THIS FINISHED JAMES ML IS FROM CONTRACT S 1972 , THE 1ST  KNOWN LARGE CONTRACT OF ML IN 1943. ITS BADGED TO AIRBORNE  ROYAL SIGNALS .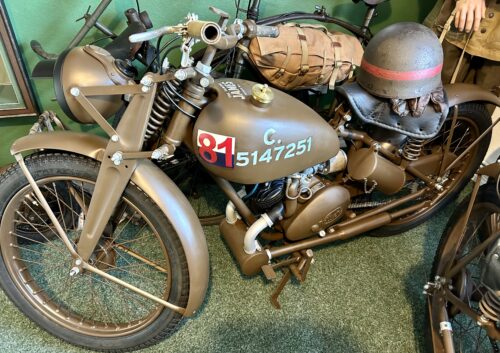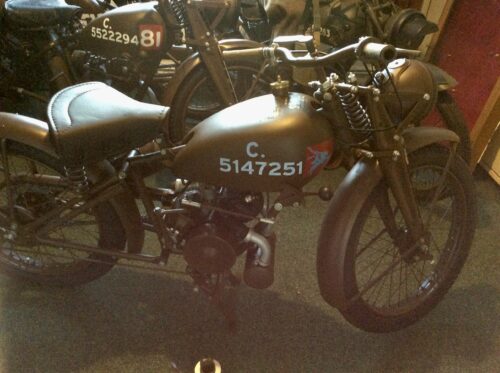 THIS JAMES ML IS FROM  CONTRACT S5571 ,2ND LARGE CONTRACT  & BADGED TO 1ST SS HQ  COMBINED FORCES  WHICH COVERS ARMY COMMANDO 3,4& 6  AND 45 ROYAL MARINE COMMANDO.
"HELD  "
"HELD "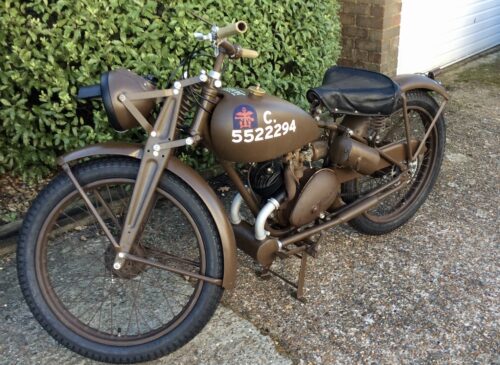 BELOW IS THE 3D CONTRACT JAMES ML BADGED TO NO 4 ARMY COMMANDO & FREE FRENCH .
ONE MORE JAMES ML FOR SALE – E MAIL ME IF INTERESTED .
HI ALL, ANOTHER MONTH FLOWN BY .
I AM JUST FINISHING OFF 2 JAMES ML ONE TO AIRBORNE & OTHER TO COMBINED FORCES OR BEACH MASTERS , WHERE A LOT OF JAMES SAW ACTION .I WILL BE SELLING 1 OF THEM SO IF INTERESTED CONTACT ME .
WE ARE NOW BUILDING A 1942 BSA WM20 IN DESERT SPEC COMPLETE WITH MY LAST VOKES AIR FILTER SYSTEM.
ITS A COMMISSION  AND I WILL POST PICTURES WHEN ITS READY.
CAN ANYONE IDENTIFY THIS STURDY LEATHER STRAP ? ABOT 7-8″ TOTAL LENGTH WITH PART NUMBER MC 7874. ?

OCTOBER 2023.
HERE'S AN ITEM OF INTEREST – THIS WATCH I BOUGHT A FEW YEARS AGO
ON E BAY , IT WAS ADVERTISED JUST AS A WW2 WATCH . AFTER PURCHASE THE SELLER E MAILED ME AND ASKED IF I WANTED TO KNOW ITS HISTORY ! WHICH I WAS OF COURSE  KEEN TO HEAR, IT BELONGED TO HIS GREAT UNCLE CAPT LEN COULSON OF NO 4 ARMY COMMANDO . HE WAS MENTIONED IN A BOOK " SWIFTLY THEY STRUCK" THE STORY OF NO 4 COMMANDO BY MURDOCH C McDOUGALL.
FROM RESEARCH I HAVE FOUND THAT THE WATCH WAS ON THE DIEPPE RAID , NORMANDY LANDINGS ON SWORD BEACH AT OUISTREHAM ON 6TH JUNE 44 AND ON THE LANDINGS AT  FLUSHING .THERE IS A PICTURE OF LEN HOLDING 2 KITTENS CALLED D-DAY & D-PLUS ONE .
I HAVE FINALLY GOT AROUND TO PUTTING IT IN A SMALL CASE WITH A BIT OF THE STORY  AND I HAVE WORN IT AT ARNHEM .  THE STRAP IS LEN'S POST WAR ADDITION IN 40'S AS I RECALL MY GRANDFATHER HAD THE SAME STRAP ON HIS WATCH .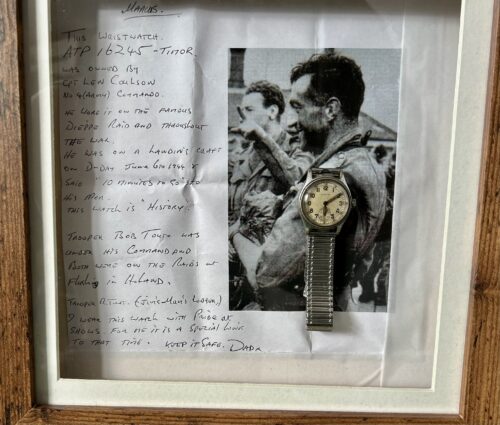 HAS ANY ONE GOT ANY UNUSUAL WW2 AIRBORNE / COMMANDO EQUIPMENT TO SWAP FOR BIKES OR PARTS ?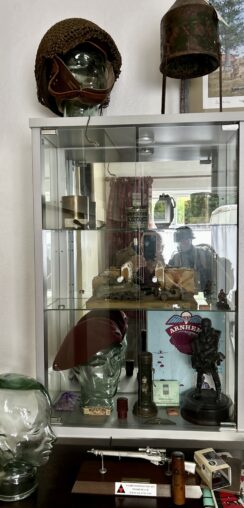 UPDATE ON COLLECTION ROOM – PIC- ABOUT SORTED THAT END !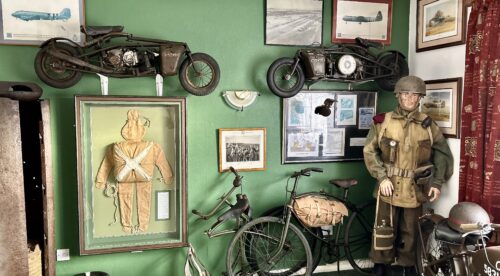 HI ALL, ITS GOT THAT AUTUMNAL FEEL IN THE AIR SO I HAVE PUT THE 2 BSA WM20 BIKES TO BED TILL MARCH.24.
I HAVE BEEN STILL SORTING OUT LOTS OF BOOKS TO PASS ON AND A LOT OF BIKES !  WE HAVE FINALLY CAUGHT UP WITH ORDERS AND THERE IS 1 BSA WM20 LEFT TO HAVE A FULL REBUILD FOR A CUSTOMER , TO HIS SPEC .
THEN I MAY GET MY KM AND A NORTON 165H RESTORED .
STILL GOT LOTS OF PROJECT BIKES AND WE MAY BUILD A COUPLE MORE BSA WM20'S IF I GET ORDERS  AS GOT ENOUGH TO COMPLETE MOST YEARS WITH ALL CORRECT PARTS.
I AM STILL GETTING TO KNOW MY FORD GPW AND HAVE DONE JUST OVER 100 MILES IN HER -REALLY GOOD FUN AND HARDER TO FALL OFF !!
I AM LEAVING HER CANVAS TOP ON FOR WINTER AS MUCH MORE LIKELY TO USE IF NOT GETTING SOAKED !
SEPTEMBER 2023.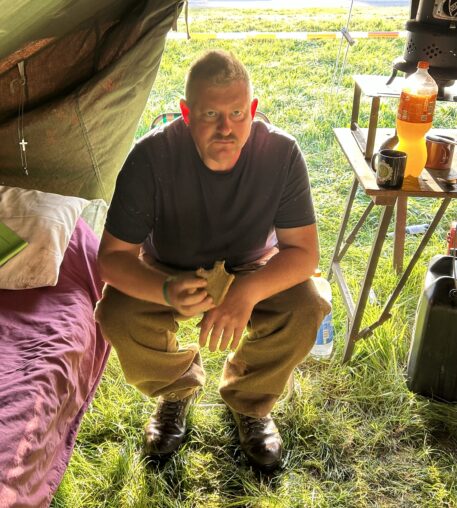 CPL MARK TOWERS ON HIS NEW DIET !:)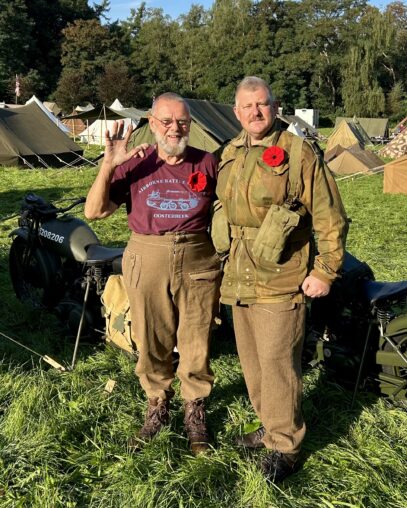 OUR THANKS TO AILSA GEORGE WHO MADE US 2 POPPIES TO WEAR IN HOLLAND.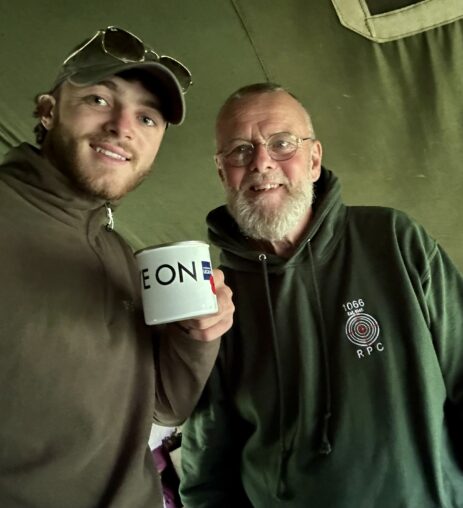 NEW MEMBER OF OUR OOSTERBEEK CAMP -WILL POLLARD WHO BROUGHT AND RODE HIS BSA WM20 THAT WE BUILT EARLIER THIS YEAR .
ARNHEM 2023 – RACE TO THE BRIDGE !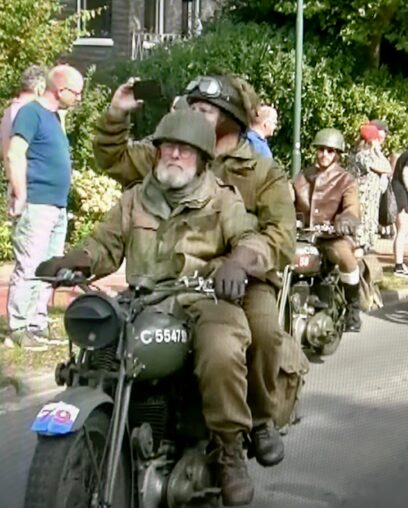 THESE 3 EX ARMY GUYS ( SIGNALS  , R.E.M.E AND A PADRE !WERE DOING A 14 DAY TOUR OF N.E EUROPE , SLEEPING IN PUP TENTS AND DRIVING AND RIDING ALL THE WAY FROM UK – NO BACK UP VEHICLES .   THEY WERE COPING WELL WITH A PROBLEM WITH THE JEEP AND LIMPING BACK TO UK AFTER THE ARNHEM WEEK.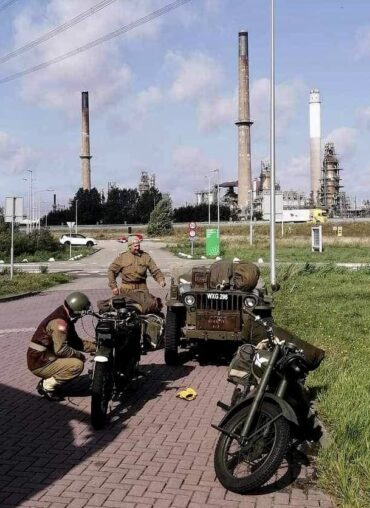 JUST BACK FROM HAMPSHIRE NETLEY MARSH EUROJUMBLE AND BEAULIEU AUTO JUMBLE , 3 DAYS IN MOSTLY SUN !.
I FOUND THAT IT WAS MUCH SMALLER AT BOTH EVENTS AND THE QUALITY ON THE STALLS WAS NOT SO GOOD EITHER .NETLEY IS HALF ITS PRE MORTONS SIZE &  THE BEAULIEU 4 FIELDS IS DOWN TO JUST OVER 3 !
FOR MARK AND MYSELF TO DO THE EVENT AND STAY IN A TRAVELODGE FOR TWO NIGHTS WAS OVER  £500  NOT INCLUDING FOOD . SO 23 MAY WELL BE MY LAST YEAR.
I DID PICK UP A COUPLE OF UNUSUAL BITS THAT I WILL POST .
THIS IS A DATED CAN 3/5/45  – THE FORE RUNNER OF BOSTIK . IT IS IN A STORAGE CARDBOARD BOX WITH N.I.V 5039.
DAN SALCEDO ? CAN YOU THROW LIGHT ON THIS ? WAS IT FOR RUBBER REPAIR OF PUNCTURES ?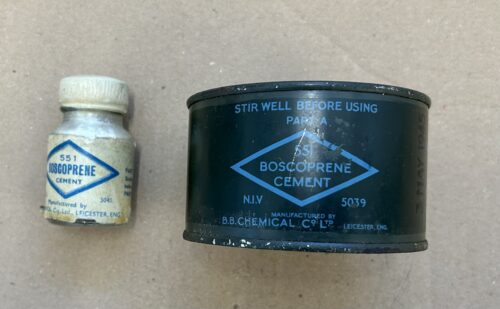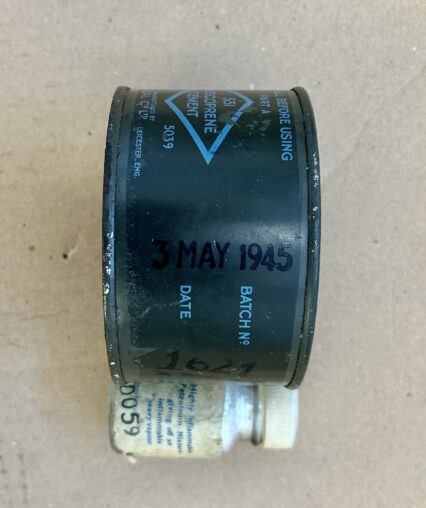 SECOND ITEM I BOUGHT ON A WHIM  AS MADE IN OHIO ,BELLEVUE WHERE THE SHERMAN TANKS MADE IN WW2 .
IT IS STAMPED  PREMIER SIGNAL CO.  XX.  BELLEVUE ,OHIO .
ITS A WELL MADE ITEM BUT IS IT A MILITARY ITEM ??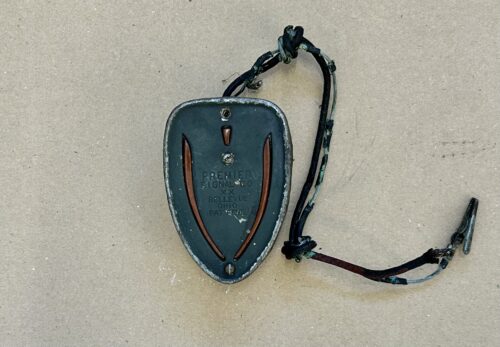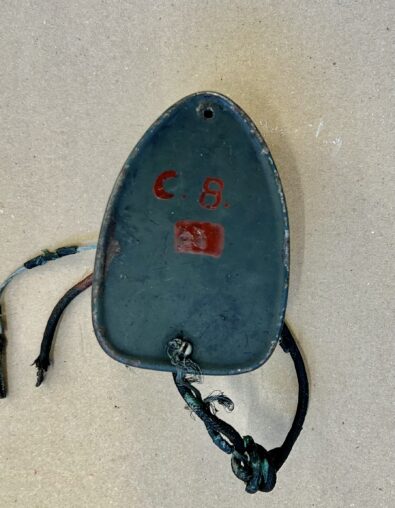 ANOTHER GREAT PICTURE FROM JOHN MOORE ON HIS BSA WM20  WHICH HE HAS NOW DONE OVER 1000 MILES ON THIS YEAR.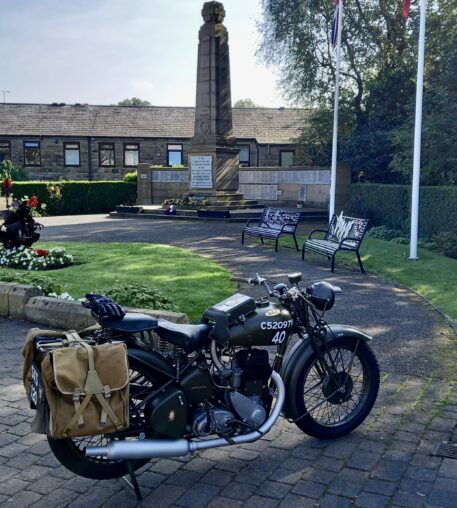 AUGUST 2023.
ANY LARGE ITEMS OR BIKE ORDERED BEFORE 12TH SEPTEMBER CAN BE DELIVERED FREE  TO COLLECT AT OOSTERBEEK ABWO CAMP SITE , ORDER EARLY TO SAVE A LOT OF POSTAGE .
I HAVE PICKED  UP MY TRIUMPH 3HW 1944 TODAY AS PETE'S REBUILT THE ENGINE AND BOX  ALSO ALL OTHER MECHANICAL & MOVING PARTS .
WE HAVE DONE APPROX 33 MILES ON HER – NO OIL LEAKS ! A GOOD GEAR CHANGE BUT OPPOSITE WAY TO MY BSA SO HAVE TO THINK ABOUT GEARS ! VERY LIVELY AND LIGHTWEIGHT. WEIGHT GIVEN AS 360LBS  & MAX SPEED OF 70MPH ( WHEN RUN IN ).
COMPARE THAT WITH MY BSA WB30 AT 339 LBS & 75MPH  ( EARLY MODELS , LATER GOT A BIT MORE WEIGHT ) .
I THINK THE 2 BIKES ARE VERY CLOSE AND IF TRIUMPH HAD NOT GOT BOMBED IN 1940 THE 3HW WOULD HAVE BEEN IN WITH A CHANCE FOR THE UNDER 350LBS BIKE FOR THE NEWLY FORMED PARA'S & COMMANDO UNITS .
FEEDBACK WELCOME GUYS !!!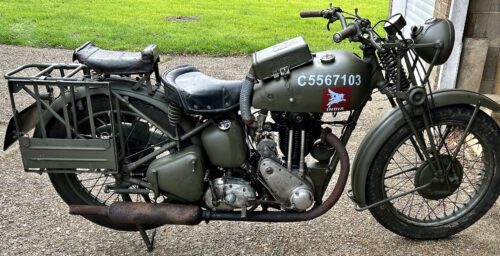 I AM PUTTING UP A PAGE FOR HER ON MACHINES FOR SALE AND GENERAL INFORMATION AS SO ORIGINAL A BIKE .
WE WILL ,INSHALLAH , GET A GOOD VIDEO CLIP IN ARNHEM WITH MARK OR WILL POLLARD RIDING HER , OR EVEN MYSELF !:)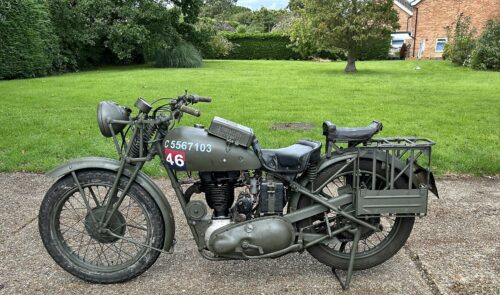 1944 TRIUMPH 3HW-COMPLETE ALL MOVING PARTS RESTORATION OF MY 3HW.  BELIEVED ATTACHED TO 44TH INDIAN PARACHUTE DIVISION ,SO RE BADGED TO THAT UNIT. WILL BE AT ARNHEM IN 2 WEEKS -INSHALLAH .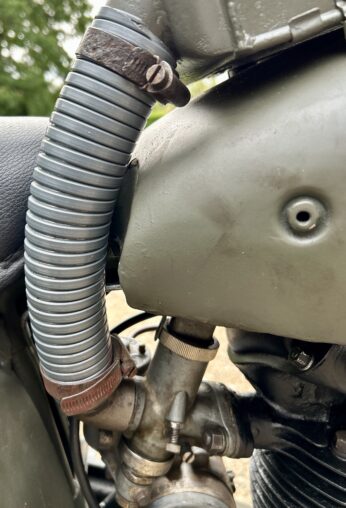 I AM STILL LISTING BOOKS , IS IT ONLY A FEW OF US THAT STILL READ FROM BOOKS !!!  BUY 3 AND GET 4TH FOR FREE !
I WAS BULLIED INTO TAKING THIS DAFT SHOT WITH A SCOTISH HAT PLUS GINGER HAIR , HOW TO CELEBRATE A 71ST BIRTHDAY !!!!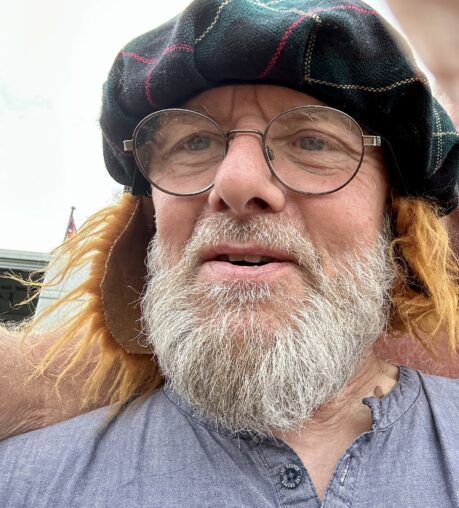 MARCUS WITH LARGE SHELL AT MY GOOD MATE JIM'S FARM. WE WENT OVER TO DELIVER SOME FURNITURE  AND HAVE A LOOK AT MY JEEP ! A HALF DAY OFF .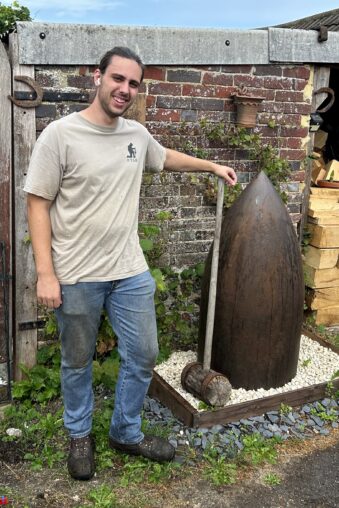 hi all – we missed COBBATON weekend as bad weather & working very hard as my youngest with me earning some of next years  living money for university.
we have been flat out for 2 weeks getting the bsa wm20 below ready for corp towers to ride in Arnhem race to bridge in a few weeks time . Marcus , my son , has done all the painting and sorting of bike cosmetically .
we will post a video  taken of bike test after Arnhem.
shes badged to a corps provost  company from 1944.  78yd68 is her post war id.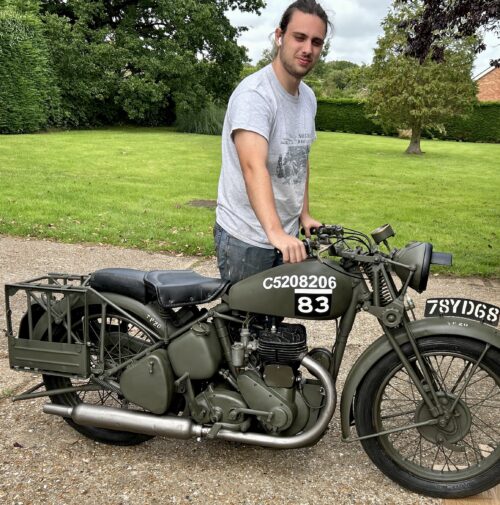 ITS VJ WEEKEND AT COBBATON COMBAT COLLECTION  MUSEUM  IN NORTH DEVON THIS WEEKEND , A GREAT OLD WORLD MUSEUM AND RUN BY THE ISSAC FAMILY.- GREAT LITTLE NAFFI.
INSHALLAH I WILL BE GOING WITH MARK T & OTHERS .
CONTRACT C 5110 FOR 8100  27/9/39 BELOW .
THIS IS AN EARLY WW2 BSA , INTERESTINGLY IT HAS OIL TELL TALE AND IS FROM CONTRACT  C5110 THE FIRST LARGE CONTRACT PLACED 27/9/39 JUST AFTER OUTBREAK OF WAR 1/9/39.  NOTE THAT THE EARLY SPEEDO DRIVE FROM BRAKE PLATE HAS ALREADY BEEN  REMOVED .  I HAVE COME ACROSS 3 DIFFERENT FRONT WHEELS AND  FORKS CONFIGURATIONS  WHICH I BELIEVE WAS TO ACCOMMODATE  THE  QUICK UPGRADES AS THE BIKES WERE USED IN THE FIELD . THERE DONT SEEM TO BE ANY RECORDS OR CHANGES IN PART NUMBERS KNOWN OR AT LEAST I HAVE NOT SEEN THEM . THESE WM20'S STILL HAD THE VALANCED REAR GUARD AND WERE BASICALLY DE LUX MODELS . LORD KITCHENERS GRANDSON IS THE TRAINEE RIDER !
I HAVE A BSA  FROM  THIS CONTRACT THAT WILL BE RESTORED IN BEF COLOUR KHAKI – BUT IT WONT BE FOR A WHILE 🙂
MY MALTESE BIKE IS FROM THE NEXT CONTRACT AND YOU CAN SEE THAT THE VALANCED GUARD HAS BEEN REPLACED BY A RIBBED GUARD WITH OUT THE VALANCES  & SIDE DAMPER KNOB RE INTRODUCED  AND THE 2ND PATTERN SMALLER TANK INTRODUCED .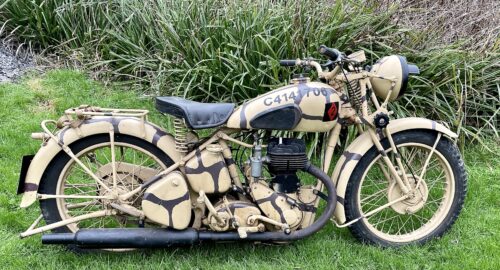 CONTRACT C5610 FOR 4000 BSA 21/11/39.ABOVE .
SORRY FOR DELAY IN PUTTING THIS ARIEL ON PAGE -IT GOT MISSED .

WILL POLLARD LETTING HIS BSA BE USED BY HIS LADY FRIEND – A TRUSTING MAN 🙂  WILL FORGIVE ME BUT I CANT REMEMBER THE EVENT ?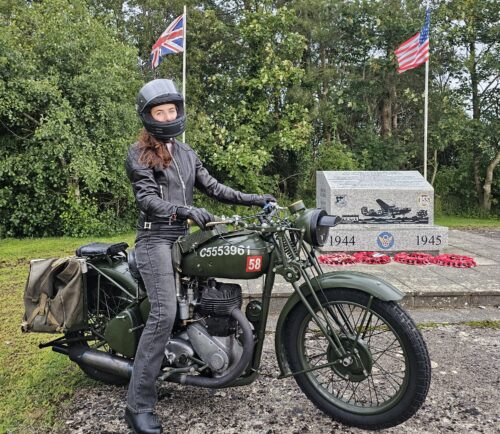 HI GUYS – ITS SUMMER !!!  LETS HAVE SOME GOOD PICS FOR WEBSITE – ALL WD  BRITISH BIKES – ITS A GOOD REFERENCE FOR THOSE FOLLOWING US !
HI ALL , I AM THINNING OUT MY  PERSONAL COLLECTION OF BOOKS COVERING ALL ASPECTS OF WW1 & WW2 AND OTHER CONFLICTS . THESE ARE MOSTLY HARD BACK . I AM SELLING AT LOW PRICES .  BUY 3 GET 4TH FREE – I NEED SPACE AS REDOING MY FLAT TO HOUSE MY AIRBORNE COLLECTION !!  THERE MUST BE OTHERS LIKE ME WHO STILL READ BOOKS 🙂 MANY OF THESE BOOKS ARE NOW OUT OF PRINT .
ALL LISTED ON MILITARIA & BOOKS PAGE .
THIS NICE BSA AIRBORNE FOLDING BICYCLE USED BY AIRBORNE AND EXTENSIVELY BY OUR TROOPS ON D-DAY . COMMANDO UNITS USED THEM AND THERE ARE GOOD PICS OF SAME .- thanks to BORIS from GENT.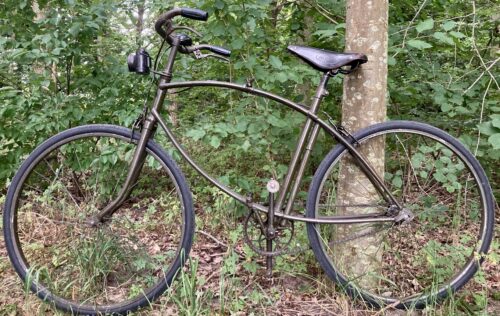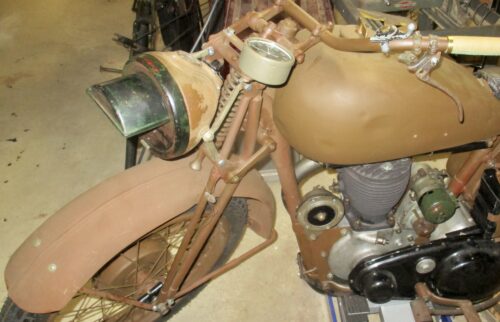 JIM FROM USA HAS SENT IN PICS OF HIS BSA IN EARTH BROWN – THE PARTS NOT YET PAINTED CAME FROM ME .
BEEN A MAMOTH TASK AS HES BATTLING A SEVERE ILNESS – WELL DONE JIM , GOD BLESS .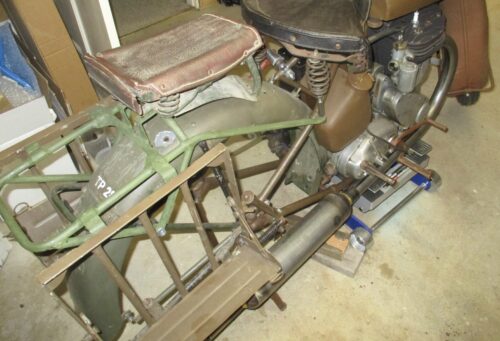 Tim from New Zealand is getting on with his BSA parts I sent over .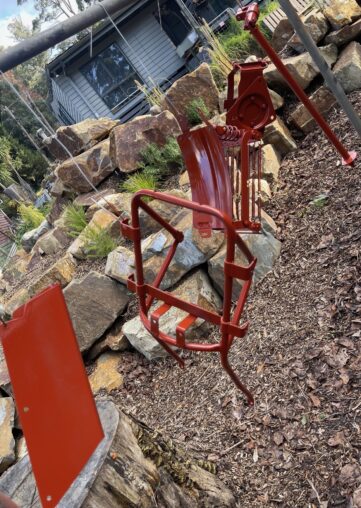 I AM SELLING MY 1940 BSA IN MALTA CAMMO , I HAVE OWNED AND ENJOYED HER FOR SOME YEARS AND ITS ONE OF MY MOST ORIGINAL BSA MACHINES .- NOT CHEAP BUT VERY NICE AND UNTOUCHED BIKE .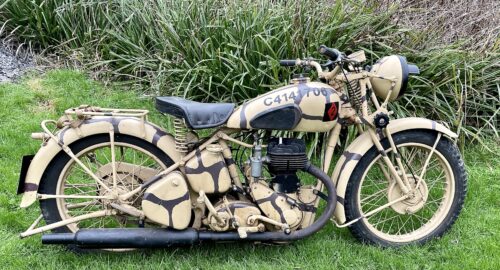 A GROUP OF BSA RIDERS FROM CZECH REPUBLIC . PETR VACEK SENT THESE 2 PICS  ( PLUS A FEW MORE ) THANKS, ITS NICE TO GET FEEDBACK .
A GUY WHO GOES BY  THE NAME HEDGEHOG SEEMS TO BE A PROLIFIC BUILDER OF THE BSA WM20 – WELL DONE 🙂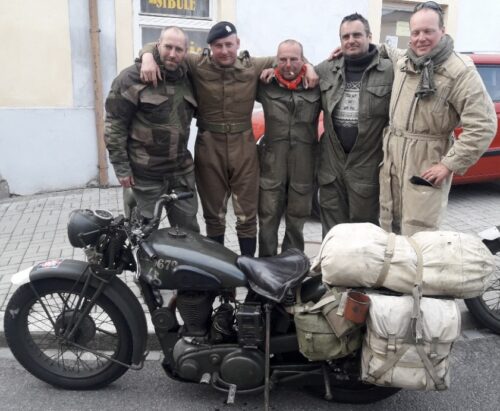 THESE GUYS USE THERE BIKES !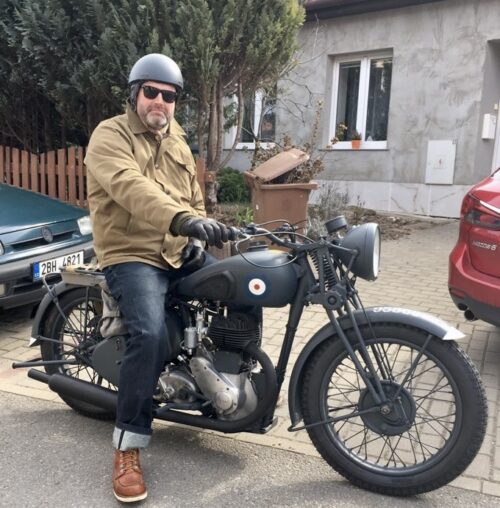 DONE AS RAF BIKE BY MARDA ? IS IT HIS BIKE ?
TAKE A LOOK AT BOOKS IN MILITARIA PAGE 
ALL CHEAP , DISCOUNT ON BULK PURCHASES. ( OVER 3 )
A GREAT HEATWAVE FOR UK ALREADY PEOPLE COMPLAINING ABOUT THE HEAT :).   NOT ME THOUGH .
I AM REDUCING MY COLLECTION OF REFERENCE BOOKS  AND SOME NOVELS .THIS IS TO MAKE WAY FOR MY GROWING INTEREST IN DISPLAYING MY BRITISH AND US AIRBORNE COILLECTION . IT INCLUDES D-DAY  AND ARNHEM.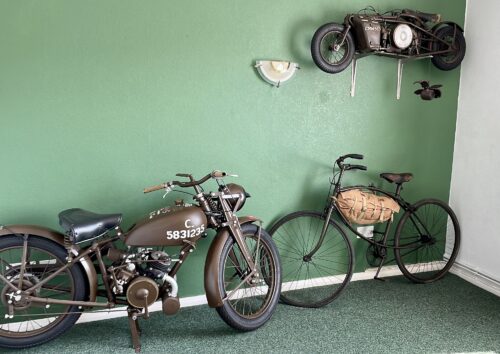 ITS TAKING SHAPE IN MY MUMS OLD ROOM . SHE TOLD HER FRIEND THAT I WOULD HAVE BIKES IN THERE ! SO AS NOT TO DISAPPOINT ! HERE WE GO .  I HAVE BITS SCATTERED IN VARIOUS STORAGE THAT WILL COME TOGETHER INCLUDING MY DUG UP DROP CONTAINER AND SOME RARE ITEMS I HAVE ACQUIRED OVER A GOOD FEW YEARS .
WATCH THIS PAGE IF INTERESTED .
BACK TO BOOKS – MANY ARE REFERENCE FOR DOING THE DIV AND UNIT NUMBERS ON THE BIKES I REFURBISHED OVER 30 YEARS . NOT SILLY PRICES BUT OFFERED AT A PRICE THAT DOES NOT COVER THE TIME TO PACK AND TAKE TO POST OFFICE .   I HOPE THAT SOME GO TO FELLOW COLLECTORS AND A YOUNGER GENERATION AS YOU WONT FIND SOME OF THESE BOOKS ON YOUR PHONES !!FOR SERIOUS COLLECTORS OF GERMAN ARMY EQUIPMENT I HAVE A FEW MASSIVE REFERENCE BOOKS , SOME SIGNED , AND ALL GENUINE PICTURES . IN THIS MAD PC WORLD WATSAP ME !!
LETS ALL HOPE THE WARM WEATHER CONTINUES  INTO JUNE .
I MANAGED TO GET SUNBURNT WHICH IS UNUSUAL ! SO GOT SPLIT LIPS AND PEELING NOSE FOR MY STUPIDITY :).
HAD A COUPLE OF EXCELLENT RIDE OUTS INTO SOMERSET COUNTRY SIDE WHICH WAS GREAT . MY BSA WM20 RAN FAULTLESSLY !
WE HAVE MANAGED TO DRY RE ASSEMBLE A VERY UNTOUCHED WELBIKE THAT I HAVE HAD FOR OVER A YEAR . MY SON MARCUS IS HELPING ME FOR 2 WEEKS TRO EARN UNI CASH 🙂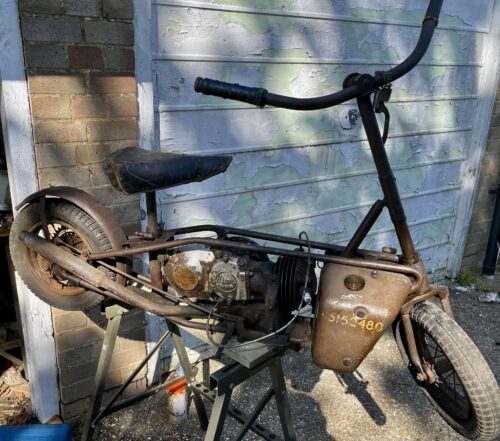 WESTONZOYLAND   "WARAG " SHOW , WE SET UP A DAY EARLY SO ALMOST EMPTY AND AS IT MAY HAVE LOOKED IN WW2 . A LOT OF BSA  PRESENT INCLUDING 3 BSA PARABIKE FOLDERS ( 2 FOR SALE ) & MY FLYING FLEA FOR MARKS YOUNGEST LAD  ROBERT ( AS HE HAS FORMED A LIKING FOR IT !!  )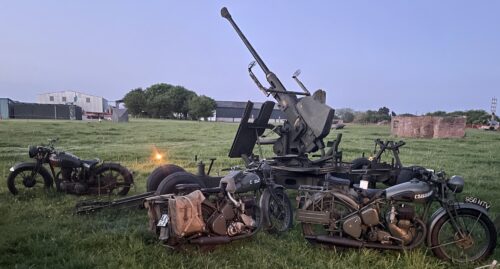 WILL POLLARD sent in these pics of him on his newly finished ( by us ) wm20 . a nice rare end of 44 bsa with vokes and late type lighting system which is rare . hes done 400 miles in 6 or so weeks – well done will.

IT COULD ALMOST BE SET IN 1944!

JOHN MOORE AT A HOWARTH 40's WEEKEND .
ANOTHER BLACK AND WHITE PIC , SETS IT OFF – NICE D.R KIT JOHN .
THIS VERY WELL SORTED AND RECENT RESTORATION IS A 1944 BSA WM20 IN B.A.O.R FINISH , SO SOMETIME POST WAR .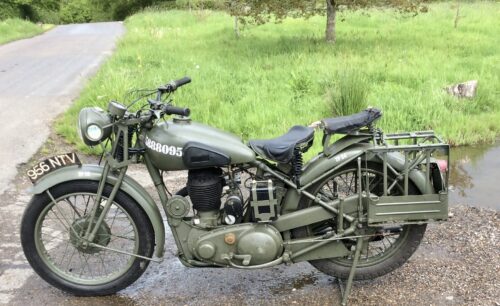 I HOPE TO SEE SOME OF YOU AT WESTONZOYLAND  WARAG SHOW , NEAR TAUNTON ,ON BANK HOLIDAY WEEKEND ( NEXT WEEK )  COME AND SAY HELLO OR HAVE A CHAT ABOUT WW2 BIKES ESPECIALLY BSA WM20!  🙂
YOU MAY NOTICE THAT I HAVE REMOVED STUART BRAY MOTORCYCLES AND REPLACED WITH
"MAINLY BSA "
the site wont change a lot but I have to differentiate between what I have collected over 40 years of trading and collecting . this is because although I paid taxes when business was closed the revenue considers I am still trading ! I have tons of parts to get rid of  so you will see an increase in other bikes parts as I am not buying any more .
with BSA its a bit different and I may be trading as a sole trader under  the    name

" MAINLY BSA "

   SO KEEP A WATCH OR E MAIL IF WANTING BSA PARTS AS I WONT BE REBUILDING ALL THAT I HAVE AND WILL OFFER AS PARTS .
I WILL ALSO CUT MY HOURS FROM 80+ A WEEK DOWN TO THREE DAYS  A WEEK -SO ,UNLESS URGENT , PARTS WILL ONLY BE POSTED TWICE A WEEK.
THIS BSA LOOKS SUPERB AND JOHN PUTTING THE MILES ON IT . A VERY COMPLETE AND ORIGINAL PARTS MACHINE .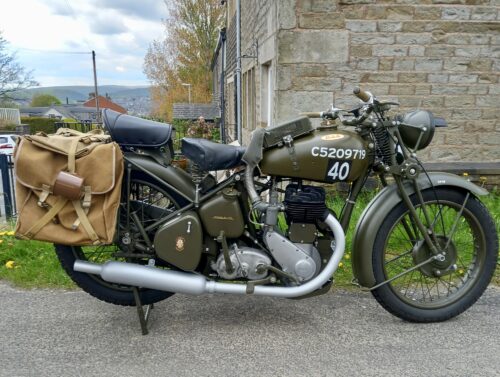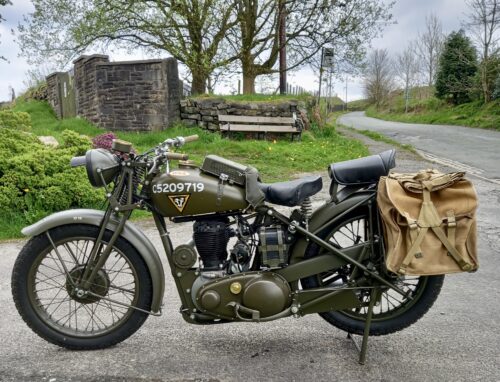 John Moore sent in a great picture of this steam engine , a big bigger than his BSA WM20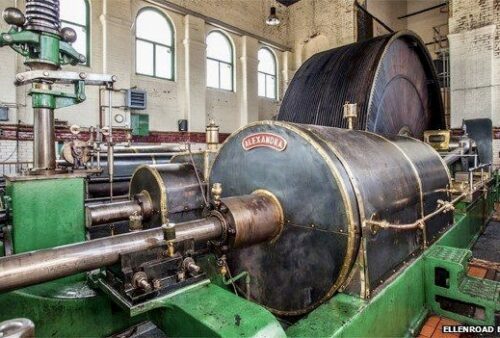 HI ALL , I HAVE STARTED TO FUNCTION AGAIN AND GOT SOME OF MY PEP  BACK :).
I AM SEEING ACCOUNTANT THIS WEEK AND MAY BE DOING SPARES AGAIN ! I WILL POST IT WHEN I CAN SORT IT OUT , AS TAX PEOPLE HAVE TO BE CONSIDERED !!! ONCE ALL OTHER SPARES CLEARED IT WILL BE MAINLY BSA WW2 ARMY AND N.O.S PARTS .
THE LITTLE ML WENT TO A GOOD HOME  AND WE WILL DO A VIDEO WEDNESDAY OF A BSA WM20 LATE WAR , IN EARLY POST WAR BAOR SPEC.
A NICE RUNNING AND VERY GOOD BIKE .
APRIL 2023
I AM NOW PUTING THE FINISHING TOUCHES TO THIS RECO ROYAL ENFIELD . – THIS IS AN ORDER AND THE LAST ROYAL ENFIELD I WILL RESTORE.- I WILL POST  WHEN FINISHED . WE HAVE FACTORY WW2 PICTURE OF RECO WITH A VOKES , NOT OFTEN YOU SEE THEM.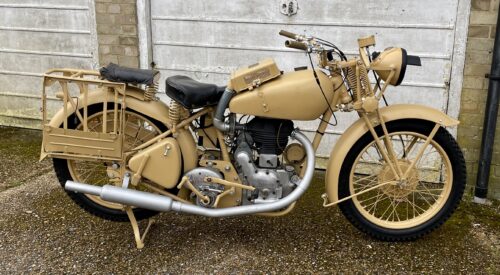 2/4/23 MUM PASSED AWAY TODAY  AGED 90 YEARS ,PEACEFULLY AND AT HOME AS SHE WANTED . MY BROTHER MALC , HIS PARTNER ROSIE , TIPPS HER BELOVED DOG AND MYSELF WERE WITH HER  TILL THE END .
THIS VERY TIDY ARIEL WNG WAS POSTED ON MY FACE BOOK TIMELINE .
ITS TAKEN IN ITALY ?  A VERY NICE BIKE  MY THANKS TO FORTUNATO BONNICI.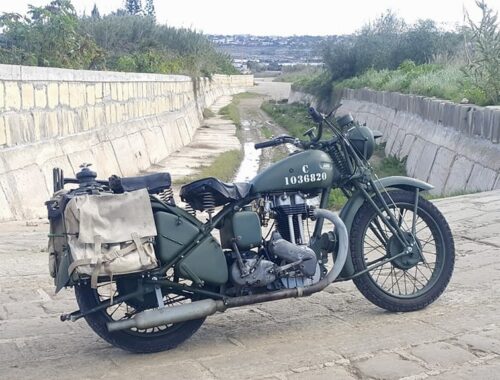 ALTHOUGH STILL INCLEMENT WEATHER ,IT STILL FEELS AS IF SPRING IS FAST APPROACHING AND I HOPE SOME WARM & SUNNY DAYS !
AS I HAVE GIVEN UP SOME OF MY STORAGE YOU WILL SEE A LOT OF SPARES BEING LISTED , ALL TYPES ,ESPECIALLY MY LAST ROYAL ENFIELD & ARIEL WNG BITS .
ALSO THIS BARN FIND NORTON 16H – A GOOD BIKE TO RESTORE.
PETE FETTLED WITH HER AND GOT IT RUNNING AFTER CHECKING IT OVER ETC ,
ITS NOT BEEN RUN FOR MANY YEARS  AND THESE ARE GETTING HARDER TO FIND .
LOTS OF PICS OF NORTON ON MY MILITARY BIKE PAGES .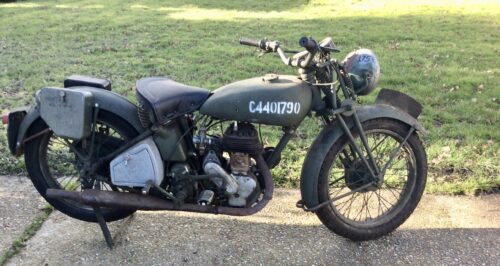 MY THANKS TO
ROGER TURNER

WHO SENT IN THIS GREAT PICTURE OF A BSA WM20 ??BEING PUT TO WORK !

A READER

HAS WRITTEN IN SUGGESTING  THAT THE BIKE MAY BE A TRIUMPH 3SW , HAVING LOOKED WITH A LARGE GLASS I THINK HE MAY WELL BE CORECT  ! WELL SPOTTED . YOU CAN SEE A SHINY PART ON TIMING COVER WHICH IS TRIUMPH AS IS THE KICKSTARTER PEDAL .

I THINK ITS A 1940 BIKE THATS HAD PANNIERS FITTED BY THE GERMANS WHO ALSO HAVE ADDED A DIFFERENT FRONT WHEEL ?, REMOVED MUDGUARD AND  STAYS  ALSO REPLACED THE KICKSTART PEDAL . IT LOOKS LIKE fv ON TANK ? ANY IDEAS ?

I WONDER IF THAT EXPLAINS THE OFTEN DENTED TANK TOPS THAT I HAVE HAD ON BIKES OVER THE YEARS

FEBRUARY 2023.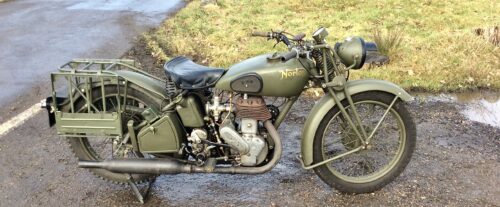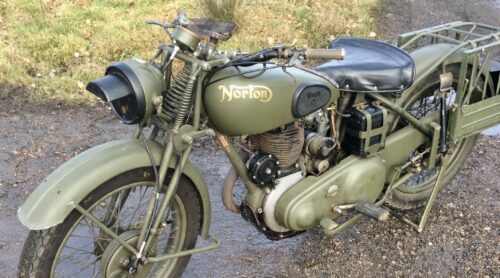 I HAVE  NORTON 16H MACHINES THAT WE CAN RESTORE FOR YOU .1940 & A 1941 .
IF YOU WANT ONE TO LOOK LIKE THE BSA BIKES ON THIS PAGE THAT ARE COMMISSIONS THEN CONTACT ME . THERE IS A WAITING LIST OF A COUPLE OF BIKES AT THE MOMENT .
I WILL BE LISTING A ROYAL ENFIELD R.E.C.O  AS A PROJECT BIKE IN BITS WITH V5C -NOT COMPLETE.  IF INTERESTED CONTACT ME ON STUARTBRAY.BSA@BTINTERNET.COM.
I HAVE DECIDED TO SELL OFF PARTS OF MY COLLECTIONS – VARIOUS PARTS STARTING WITH EDGED WEAPONS.  I NEED PROOF OF AGE ON THESE OR I WILL BE BREAKING THE LAW. 
THEY ARE ON UNIFORM & EQUIPMENT
PAGE .
this mid war BSA WM20 is for sale –  I sold it early 2021 and it has only covered 8 miles since then .
a very correct BSA listed on machines for sale .
THIS TIDY 1940 ROYAL ENFIELD HAS BEEN RESTORED , ITS BADGED TO R.A.S.C
THESE 350CC SIDEVALVES WERE OFTEN USED FOR TRAING DUTIES . CONTACT ME IF INTERESTED .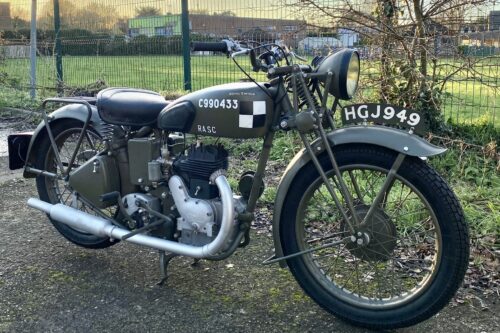 ROGER TURNER SENT THESE PICTURES TAKEN AT A LOCAL GET TOGETHER . WE COMMISSIONED THE BSA FOR HIM  3 OR SO MONTHS AGO AND HES TAKING IT OUT FOR CLUB MEETINGS – INTERESTINGLY 
A NEIGHBOUR ALSO HAS A BSA WM20  WHICH HE DIDNT KNOW ABOUT AND THEY NOW GO OFF TO RUNS ON THE OLD THUMPERS TOGETHER 🙂 
HIS BEF BIKE WAS A SUPERB BIKE TO RIDE, I LIKED IT A LOT .
THANKS FOR PICTURES ROGER , EVEN YOUR 1968 BONNEVILLE LOOKS A NICE BIKE !!!!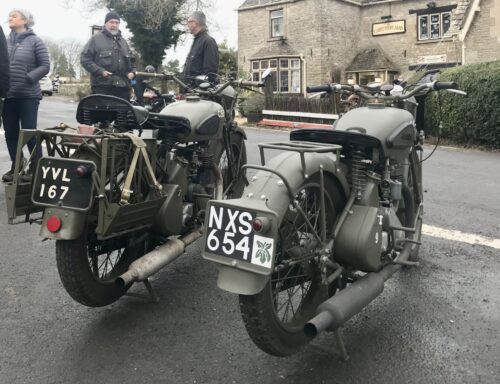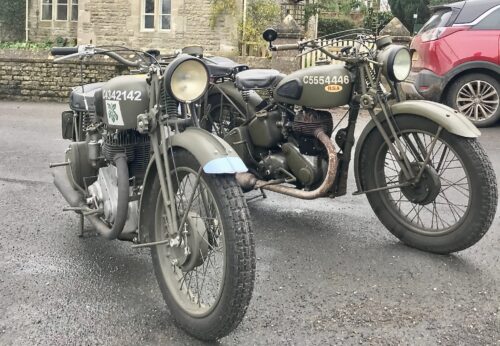 THIS PRETTY ROYAL ENFIELD IS THE NEXT UP TO PASS ON – THERE IS INTEREST IN HER SO I WONT PUT UP TO MANY DETAILS  EXCEPT AN EARLY R.E.C.O. RESTORED OVER 20 YEARS AGO WHEN ALL PARTS WERE ABOUT SO ALL TIN WARE CORRECT ACCEPT FRONT STAY . IT STARTS . RUNS AND RIDES OK , LIGHTS GOOD BUT CHARGING NOT !
IF INTERESTED CONTACT ME , CONTACT DETAILS ARE UNDER CONTACT ON WEBPAGE.
THIS RECO IS NOW SOLD ,.
hi guys – I AM LISTING ALL OF MY REMAINING ARIEL £ MATCHLESS PARTS .
SOME RARE PARTS ARE OPEN TO BEST OFFERS.approx 20 items a month . may be more or less!:)
I HAVE PUT THIS ON YOU TUBE AND I EXPECT A LOT OF YOU HAVE SEEN THE CLIP .
THIS IS A LATE WAR. BSA WM20 WITH THE LAST MAJOR STANDARDISATION CHANGES THAT ALL MAKES USED .
THE UNDER SEAT LIGHT LUCAS LIGHT SLEEP  AND THE DU42 HEADLIGHT WITH NO AMMETER AND THE PUSH BUTTON SWITCH.  DETAILS ON WEBSITE BIKES PAGE .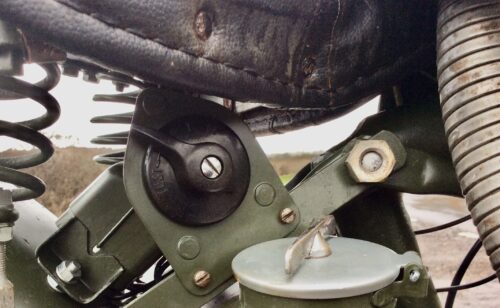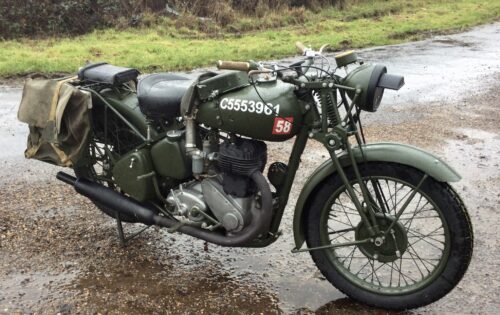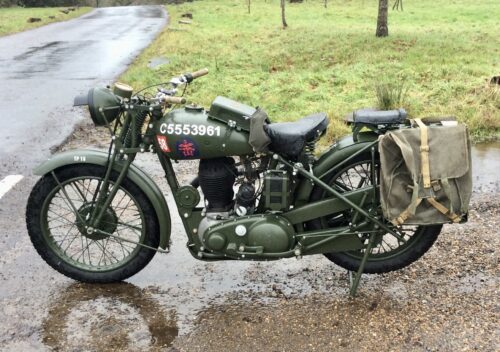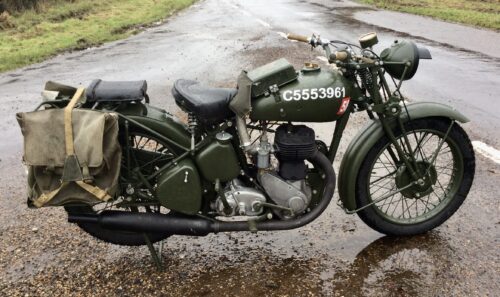 THE START OF ANOTHER YEAR , LETS HOPE ITS A BETTER YEAR FOR US ALL.
I SPENT ALL OF THE HOLIDAY VISITING MY OLD MUM IN EASTBOURNE HOSPITAL WHERE SHE IS, AT THE MOMENT,
RECOVERING FROM FLU ,PNEUMONIA AND PLEURISY
THE UK WEATHER HAS BEEN VERY WET OR VERY COLD AND DAMP SO BIKE WORK HAS SLOWED DOWN.
WE ARE TODAY TESTING A BSA WM20 1944 WHICH IF ALL GOES TO PLAN WILL BE READY TO PUT ON THE SITE THIS WEEK.
A GENTLE REMINDER TO A COUPLE OF YOU ,PLEASE SETTLE UP THE MONEY THAT YOU OWE ME FOR LAYAWAY PARTS , ITS SEVERAL MONTHS OVERDUE .
DECEMBER  2022.
23/12/22    those who know me are aware that I am my mum's carer.  she is very ill with pneumonia and sepsis and is hospitalised .  so I would ask any of you who have faith please say a dua or prayer for her .   thankyou .
I WILL BE LISTING A FEW MOTORCYCLE SPARES , MAINLY OTHER MAKES AND A FEW POST WAR PARTS, FROM TODAY UNTIL NEW YEAR AS I KNOW MANY OF US LOOK AT WEBSITE AT THIS TIME OF YEAR.
JUST LISTED THE LAST OF MY  WW2 TRIUMPH PARTS 
HAVE A HAPPY ,SAFE AND RELAXING ! HOLIDAY BREAK . I WILL SEE SOME OF YOU AT RIFLE CLUB ON NEW YEARS DAY ( SUNDAY ) AS I AM R.O THAT DAY.

THIS LOVELY WELL USED MATCHLESS G3L WILL BE UP FOR SALE .  MORE DETAILS TO FOLLOW .
£7250.00 NOW READY TO GO AS COMPLETE REWIRE AND CHARGING SYSTEM.
the fouled anchor emblem represents  a beach unit made up of the 3 services .

A 1943 BIKE  WITH GOOD WW2 ENGINE .
I HAVE A SMALL AMOUNT OF GENUINE NOS CONVOY LIGHT COVERS WITH LENS . NO NUMBER PLATE ILLUMINATION ,
SOME SURFACE RUST AND ORIGINAL WW2 PAINT . DETAILS AND PRICE ON WEBSITE TOMORROW .

OFF TO A DAMP START  BUT NOT TO COLD AT THE MOMENT . WE HAVE BEEN SORTING OUT A ROYAL ENFIELD CO , UNRESTORED AND A LOVELY LATE WAR BSA WM20 WITH THE VERY RARE MT3/LU/50073 PUSH BUTTON LUCAS HEADLIGHT . THIS DID AWAY WITH THE LIGHT SWITCH AND AMMETER IN HEADLIGHT AND THE LUCAS U39-L15 SWITCH WAS RE POSITIONED UNDER SADDLE ON RIGHT OF MACHINES . IT HAD A TEST POSITION THAT TELLS YOU THAT ITS CHARGING  .IT WAS THE LAST MAJOR STANDARDISATION OF WW2.
I WILL ADD A PICTURE AS SOON AS I HAVE ONE .
WE HAVE ORDERS FOR A RECO IN MALTA SPEC AND A BEF CAPTURED BSA WM2O.
I HAVE DECIDED TO FINISH OFF 2 JAMES ML BIKES AND SELL ONE . IF INTERESTED LET ME KNOW .
THIS IS THE LATEST OF MY BSA BIKES TO BE SORTED OUT .
ITS A 1940 BIKE WITH ALL WW2 ADDITIONS MADE THROUGHOUT WAR . THIS BIKE IS AS IT WOULD HAVE LOOKED IN 1942. BADGED TO 10 CORP SIGNALS IN WESTERN DESERT & LATER IN ITALY.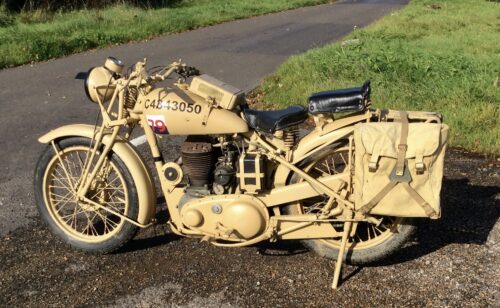 THIS BIKE HAS GENUINE TANK TOP VOKES FILTER & ALL TINWARE CORRECT.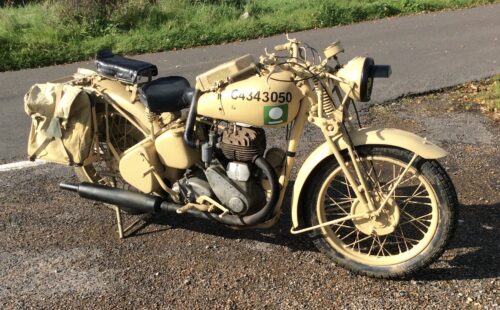 BADGED TO A PIONEER UNIT – THESE GUYS NEVER GET ANY RECOGNITION AND DID ESSENTIAL WORK.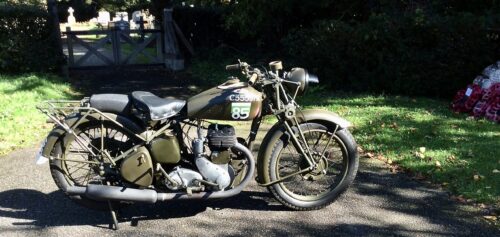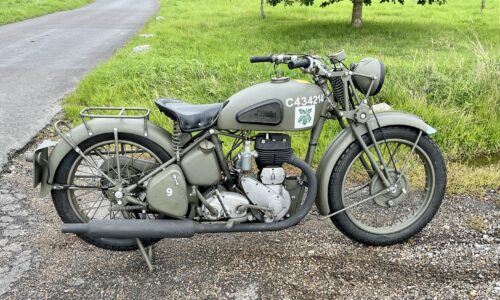 A GREAT BIKE TO RIDE , AWAITING A PICTURE FROM NEW OWNER ROGER T   🙂
ONE OF THE BEST I HAVE RIDDEN.
THANKS JOHN FOR LOVELY PICTURES -THE BOTH OF YOU LOOK GOOD 🙂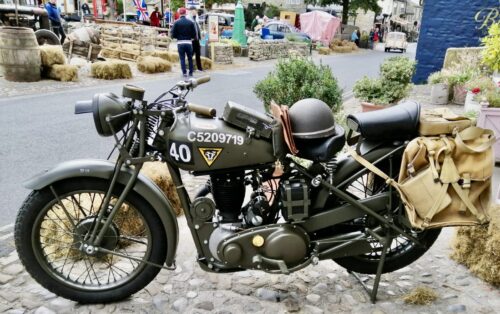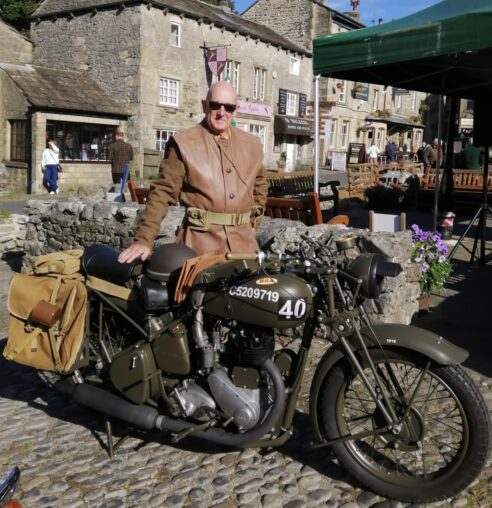 I picked this up today , any info appreciated .
Your mystery wicker basket is a Ministry of Food general use hamper destined for emergency food distribution by the Allied Control Commission – operating in Italy from the middle of 1943, and in Germany and Austria after the end of the war in 1945, your basket could have contained anything from cutlery and crockery to cod [some 4,480,000 pounds of dried cod were provided to the ACC by the MofF in 1945, to be precise]!
IT IS FOR SALE -GREAT FOR PARA RE ENACTORS.  £ 240 
AGAIN A BIG THANKS TO DANIEL SALCEDO WHO IS A MINE OF INFORMATION.
HIS PASSION IS COLLECTING ALL THE SMALL PERSONAL ITEMS FOR A PARACHUTE 
REGIMENT GROUP – HE BOUGHT A FLYING FLEA FROM ME OVER 20 YEARS AGO .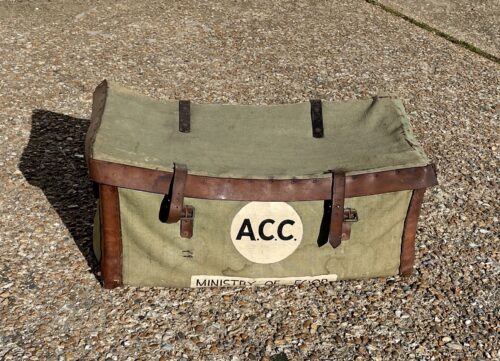 HI ALL – WINTER IS COMING SOON SO STARTING TO PREPARE , AS I AM NOW A FAIR WEATHER RIDER I WILL DRAIN OF MY 3 BSA OIL TANKS  TO STOP ANY HASSLE FROM THE DREADED WET SUMP ( ALTHOUGH 2 ARE VERY GOOD ).
WE ARE WORKING ON NEXT 2 BIKES ,WHICH I WILL PUT ON WHEN DONE .
I WAS GIVEN THESE 3 PICTURES OF A NEIGHBOURS DAD BUT SHE HAS NO IDEA WHERE IT WAS TAKEN OR WHAT ITS ABOUT . IF ANYONE CAN HELP IT WOULD MAKE HER HAPPY 🙂
MY THANKS TO DANIEL SALCEDO FROM USA  FOR SENDING IN THE INFO BELOW .
Italian SPA Dovunque 35 lorry produced with a closed cabin for the Regia Aeronautica [Italian Air Force] and mounted with a 120cm anti-aircraft searchlight – marked "STAZIONE AUTO FOTOELETTRICA DA CM.120" [Photo-Electric Auto Station With 120cm] – awaiting collection in a vehicle park somewhere in the Catania area around Mount Etna in Sicily, complete with Italian military policeman [with Carabinieri service cap] and three Tommies, all outfitted in khaki drill. As none of our Tommies are wearing the North Africa Star ribbon [specially rushed to the troops for distribution between December 1943 and March 1944], the photograph was most probably taken between September [when the former Royal Italian Army forces officially became the Italian Co-belligerent Army, fighting alongside the Allies] and October of 1943, before the Sicilian rainy season set in.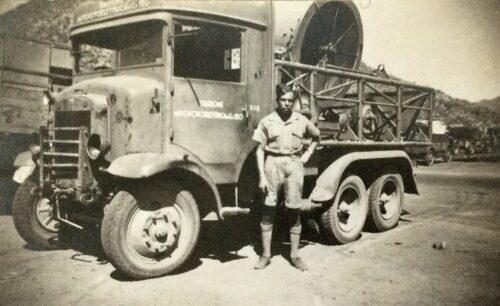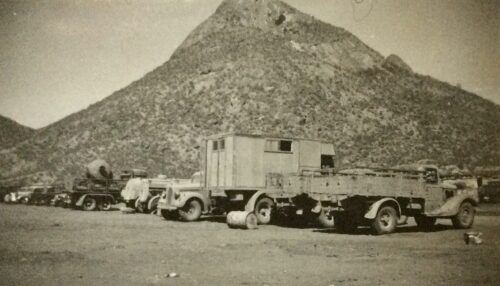 I CAN SEE ITALIAN ELECTRIC COMPANY WITH SEARCHLIGHT .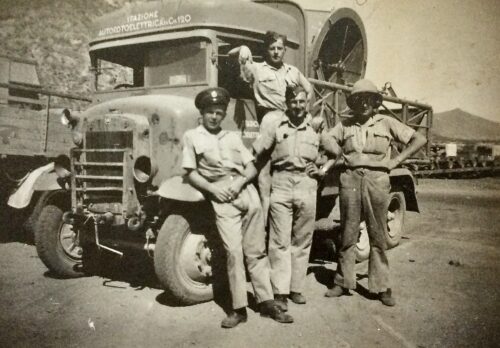 THIS IS MY LAST MATCHLESS REBUILD , A 1941 BIKE . DETAILS ON WEBSITE MILITARY BIKES PAGE .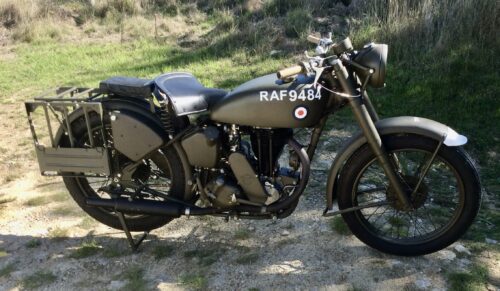 MY THANKS TO GIJS & JOS FROM VALKENSWAARD IN HOLLAND WHO SENT IN THE PICTURES BELOW TAKEN AT ARNHEM AND ON HELLS HIGHWAY TAKEN BY 30 CORP.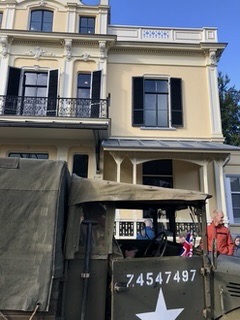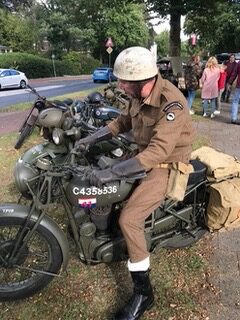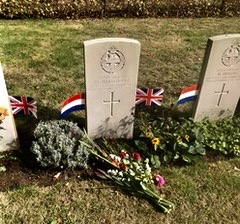 THANKS TO NICK CASTERTON FROM NEW ZEALAND WHO SENT SEVERAL PICTURES
WHICH I WILL PUT ON LATER. I PARTICULARLY LIKE THE ONE BELOW .
A GREAT PERIOD PHOTO FROM NEW ZEALAND ,SHOWS THE WW2 MARKINGS -UN CENSORED . A NICE NORTON 16H WITH A FISHTAIL EXHAUST .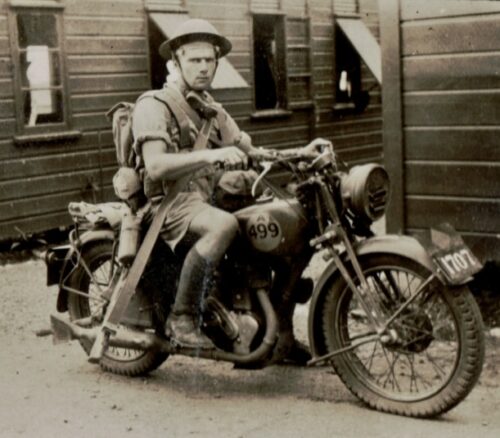 after 4 years approx , the site just hit its  first million views !!  I missed the actual moment !!
even getting 200+ a day still!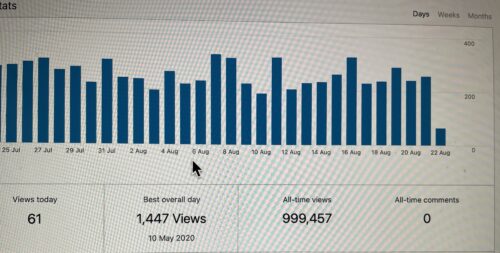 IT SEEMS THAT COMPANY NOW CLOSED  AS ALL TAXES PAID APPARENTLY !
WE HAVE BEEN SORTING OUT PARTS STILL AND PLAYING WITH A COUPLE OF MY LONG STORED PROJECTS THAT WILL BE SEEN ON FUTURE POSTS .
ALSO JIM FROM USA , CONTACT ME RE FLYING FLEA.
HAVE A GREAT SEPTEMBER .
WE HAVE ABORTED ARNHEM AS A CERTAIN CORPORAL HAS LET HIS PASSPORT EXPIRE !!!!
:).  SIGNALS !  LOL
.I SPENT MY 70TH BIRTHDAY WITH MY MUM & YOUNGEST SON MARCUS AT THE GRAND HOTEL EASTBOURNE . NO OILY SHOES OR CLOTHES !!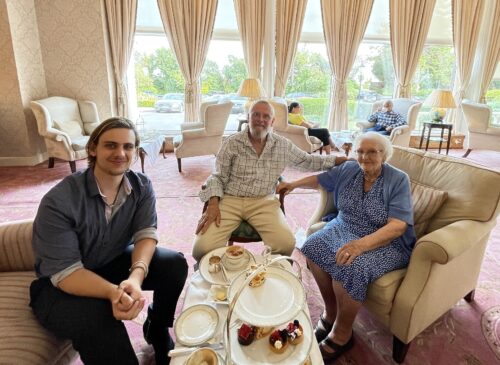 I HAVE BEEN SENT THIS E MAIL FROM  ROB MITCHELL IN AUSTRALIA . HE IS LOOKING FOR A PUBLISHER TO REPUBLISH HIS DAD'S BOOK . IF ANYONE CAN HELP LET ME KNOW AND I WILL FORWARD TO HIM .
ONE BLOKE'S STORY
"Motor bikes are dangerous" replied the safety bureaucrat, "and there are insurance issues. We want you to go but if you go, you go in the company car!"
The mines rescue training would have finished in the Hunter Valley early Friday afternoon. I wanted to be in Yea, Victoria on Sunday. If I rode my little MuZ Traveller I could have tied the Putty Road and the Whitfield/Mansfield Roads together with a number of good "Short Cuts" in one trip. I stayed home and left from Parkes for my annual trip to Yea via the Victorian Mountains
I copped this "motorcycles are dangerous" crap in 1970 when I got my 1st bike and I've copped it ever since. But the one person in my life who could really say that motorcycling was dangerous never did.Picture the view from the cockpit of a Zero, it's a wet Friday morning in January 1942. The pilot is skirting black sulphureous smoke rising from Vulcan, an active vulcano near Rabaul, the old capital of New Guinea. The Japanese pilot's brief was simple. Stop all vehicle and troop movement and neutralise any resistance on the ground.Twenty thousand Japanese had started to land about midnight. The fourteen hundred under equipped Australians held them in most places until dawn. By mid morning confusion reigned everywhere. The field hospital at Kokopo was occupied. Y Company had been routed. A Company was fast being cut off. B Company at Three Ways and R Company at Four Ways, were in action and being pushed back. All around, the Australians where facing wave upon wave of highly trained and experienced Imperial Japanese soldiers.
Vehicles forced off the roads by air fire had destroyed field telephone wires draped through trees beside the roads. All communications had been lost. Head Quarters decided that messages must be sent to arrange who would cover who in the complete with drawl from the coast into the mountains. After that it would be every man for himself.At Vunakanau airstrip inland from Rabaul, a volunteer was called for. He must get forward to the fighting troops, through the accurate navel barrage, past the deadly Zeros that blasted everything that moved and up to the troops who where exchanging small arms fire with the Japanese ground troops. His chances of survival weren't good but if lives were to be saved somebody had to try. Henry Mitchell stepped forward, "where's the dispatch?"
The Zero pilot spotted the motorcycle pulling away from the airstrip, it had to be a dispatch rider carrying orders. An easy target –  "like shooting bottles off a fence" – sweep around behind him – nose down into a shallow dive – right hand on the column control – left hand up onto the throttle lever, positioned about shoulder height on the left of the cock-pit – 200 knots. The pilot with years of experience fighting the Chinese and more recently Pearl Harbour, instinctively reached his fingers forward to the firing lever mounted on the throttle like a bicycle handbrake and prepared to fire.
Henry always enjoyed riding motor bikes fast; flat out, as long as he lived he relished the ride. But this was different, the stakes where high and the deep fear was only held in check by intense concentration on the job at hand.The zero pilot, fast gaining on Henry, eased him into the gun site. Henry, well aware of the Zero on his tail, pushed the bike as fast as it could go. He slid the little Royal Enfield into Diddiman's Corner about three kilometres from some of the heaviest fighting causing the Zero pilot to over run.
Henry preferred the lighter Royal Enfield 350 Model C's to the larger heavier Nortons; easier to handle on the mountainous tracks and nearly as fast. The crushed coral surface of the road made a predictable riding surface, but was prone to washing away in storms, it had rained all night.
This was Henry's fourth trip. He had been shot at from the ground. He had ridden through the Navel barrage and on every errand had been chased by the ever-present Zeros. Each time the Zeros got too close he would swerve from side to side of the road. One plane had six attempts at him before Henry took temporary refuge in the bush.
Over the proceeding months Henry had spent hours in the low saddle of the little Royal Enfield. He knew it like an old coat. Through his hands, feet and tail he felt it's every reaction to his inputs, the way it vibrated when revved too hard, listening to the engine and the Enfield's resonant exhaust note. knowing just when to change gears to keep it pulling it's hardest, shifting his weight between the seat, foot pegs and handle bars to keep it balanced.
The Zero pilot cursed as he opened the throttle, pulled out of the dive and banked hard left for another run at the dispatch rider. The pilot straightened up, he wouldn't miss this time! Hand on the throttle, fingers forward around the firing lever.Henry still had the little ' Enfield's neck wrung ,  praying, pleading with God in every gear change and squeeze of the brake. If he didn't get through men would die. The pilot eased the bike into his gun sight again and pulled the firing lever. The guns spluttered, just for a second and then the pilot shouted to himself: "Yatta Yattattaa!" – I've done it!
The two 7.7-mm machine guns and the two 20-mm cannons fitted to the Zero were a deadly combination. The pilot saw the rider and his machine sliding and tumbling down the wet road in a cloud of mud sprayed up by the bullets. The Japanese pilot banked and climbed away towards his aircraft carrier in Rabaul Harbour.
"Motor bikes, dangerous? I'll give you bloody dangerous!"
Foot Note :-
Henry repaired his bike, completed his job and was later awarded the Military Medal for bravery and devotion to duty "his actions assisted in the saving of many lives."
My old man's last bike ride was on a sunny Saturday morning in December 1979, the day before his heart gave out.
THE END
I took this from a book I researched, wrote and self published six years ago. "One Bloke's Story" ISBN 0 949696 27 7 (just under 200 pages). I only had a few hundred copies printed and they sold fairly quickly. If you or any one from the "Cave in the sky" wanted to read the story, I have a couple of "loaners" which I'd be happy to loan you. (Or a publisher who would be interested in looking at it.)
This is just a small part of an amazing story that I found after my father had died.
Of the 1,400 men of the 2/22nd at Rabaul only 400 survived. This one group lost 1, 000 good men, most when the Japanese prison ship the "Montevideo Maru" was sunk by an American sub off the Philippians. (During the whole Vietnam War Australia lost just over 500 men, this group lost twice that in one go)
STILL SORTING OUT A LOT OF MY BSA PROJECTS . .
THANKS TO ALL WHO HAVE SENT NICE COMMENTS ABOUT THE 2 BSA SHOWN .
WE HAVE ALMOST GOT ANOTHER BSA 1940 BIKE RESTORED .
OUR FIRST FULL REBUILD TO CUSTOMERS SPEC IS NOW COMPLETED AND JUST DETAILING LEFT TO DO BY ME .
IF  YOU WANT A PARTICULAR BSA , TRIUMPH , OR NORTON RESTORED TO YOUR SPEC THEN CONTACT ME  AS I AM SORTING OUT NEXT BIKE TO COMPLETE .
bruce Gipson showing his BSA WM20 in Florida , which award did you win bruce ?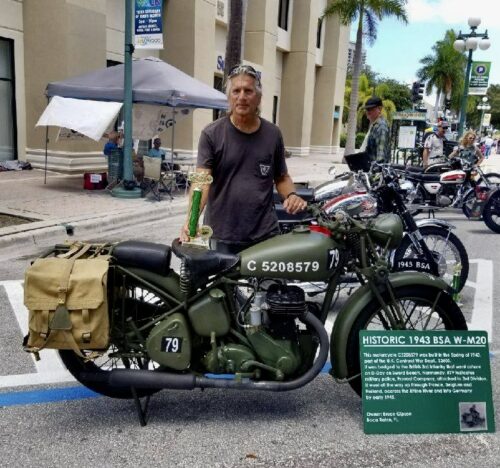 gijs  from holland on wm20bsa that I supplied , on the famous victory brug,
liberated during market garden,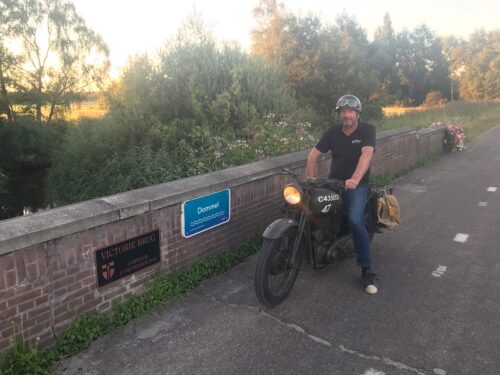 A VERY SAD END TO A LOVELY BSA WM20 THAT I SUPPLIED A FEW YEARS AGO .
THE USUAL CAR IN THE SIDE ACCIDENT !
THE BIKE IS VERY BENT AS WAS THE RIDER !   I PRAY THAT YOU GET WELL SOON .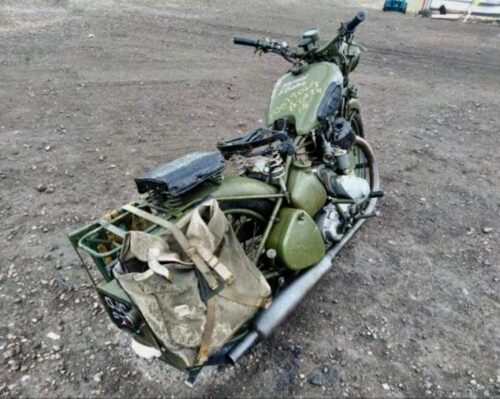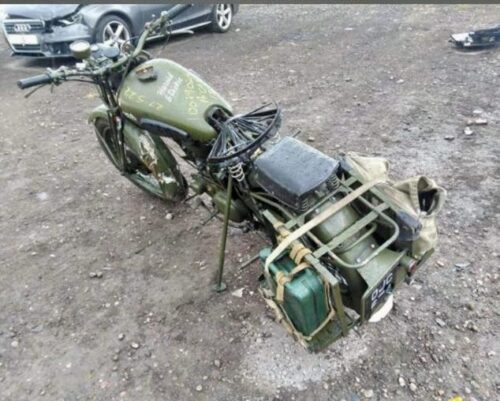 HI ALL , ANOTHER MONTH HAS RUSHED BY !   I HAVE BEEN SORTING THE REMAINING SPARE PARTS OUT  INTO PARTS I NEED FOR REBUILDS AND PARTS I WILL SELL IN THE FUTURE .
FIRST REBUILD FINISHED !!  I HAVE AN EARLY BSA BEING WORKED ON TO THIS CONDITION .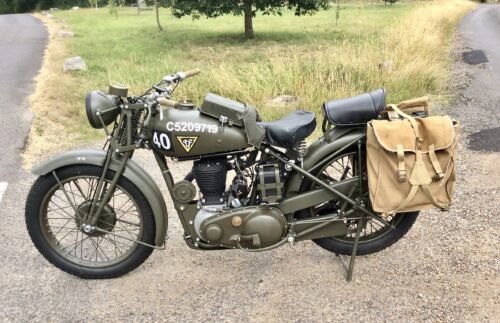 THIS 1943 BSA WM20 IS OUR FIRST REBUILD TO CUSTOMER SPECIFICATION .
I HOPE THE OWNER IS AS PLEASED AS I AM WITH THE FINISHED ITEM..
YES I KNOW THAT SOME PARTS ARE MODERN BUT WE HAVE DONE OUR BEST
AND USED ALL ORIGINAL TINWARE AND WW2 PARTS . LOOK AT THE PICS ON BIKE PAGE TO SEE MORE DETAILS .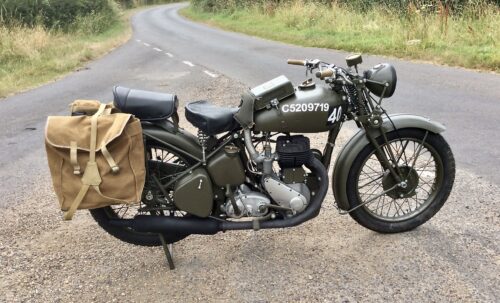 WE MANAGED TOP GET 2 OF MY BIKES FINISHED AND READY TO GO .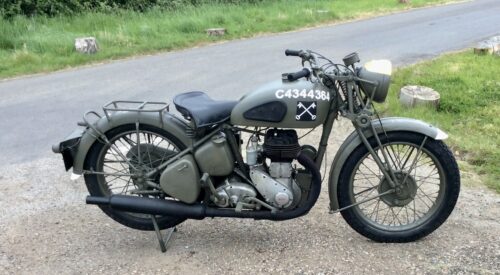 THIS BSA IS A PLEASURE TO RIDE ! AND I AM HAPPY WITH IT .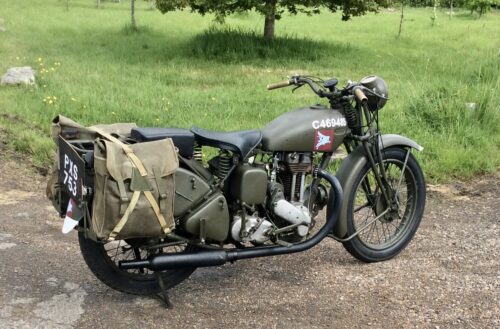 THE ARIEL WNG IS AN OLDER RESTORATION THAT I WAS GOING TO KEEP BUT I HAVE TO THIN OUT MY OWN BIKES DUE TO STORAGE .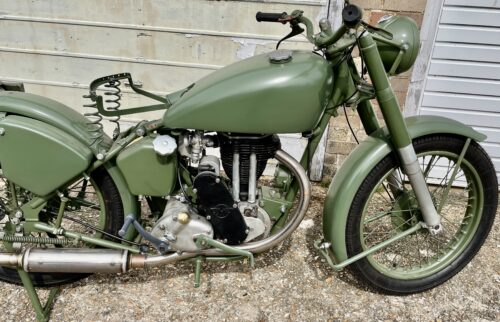 THIS PART REBUILT ( AS I BOUGHT IT ) 43 MATCHLESS IS A GOOD PROJECT FOR THOSE WHO WANT TO DO THEMSELVES OR WHO DONT HAVE THE £7000 + FOR A RESTORED G3L.
STRANGLY I GET A FEW CALLS FOR PROJECTS YET WHEN I PUT ON SITE I GET LITTLE INTEREST AND END UP REBUILDING OURSELVES !
SOLD SOLD    SOLD SOLD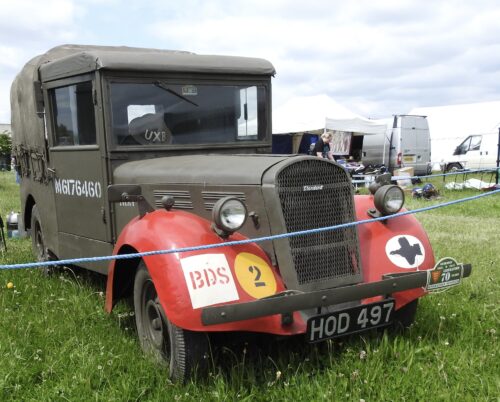 THIS BOMB DISPOSAL VEHICLE PICTURE WAS SENT TO ME WITH THE QUESTION WHAT DID THE BIKES HAVE PAINTED RED ON MUDGUARDS ? DOES ANYONE KNOW AS I WOULD LIKE TO FINISH A BIKE TO THIS UNIT .
THE WEATHER WAS GOOD FOR THE SHOW BUT SADLY HEALTH & SAFETY HAS CAUGHT UP WITH US ! NOW NO VEHICLE MOVEMENT FROM 9-5PM WHEN PUBLIC ARE AROUND !  SHAME AS NOW LIKE ALL OTHER SHOWS .
ALSO THERE WAS A BIG MIX UP WITH OUR PLACEMENT THIS YEAR AND MARKS BOFORS SET UP WITH GUN, LORRY AND  PERIOD ITEMS WAS HIDDEN AWAY  WHICH WE WERE NOT HAPPY ABOUT – APPARENTLY AT SHOWS END THE MISTAKE WAS REALISED AND WE SHOULD HAVE BEEN IN OUR USUAL POSITION.
GOOD BRIGHT DAYS BUT COLD NIGHTS ! I HAD TO SLEEP FULLY CLOTHED , ALL PART OF THE EXPERIENCE !
NOW THE DUST HAS SETTLED ON CLOSING DOWN, WHICH TOOK LONGER THAN I THOUGHT IT WOULD , I WILL BE SELLING SOME OF MY OWN COLLECTION , THE FIRST BEING MY ARIEL WNG .
A FEW PARTS WILL BE ADDED TO ALL PAGES AS I STILL HAVE PARTS THAT I HAVE COLLECTED OVER 40 YEARS .
I HOPE TO SEE SOME OF YOU AT WESTONZOYLAND WARAG SHOW IN SOMERSET ,THIS WEEKEND .
EASY TO GET TO AND  A GOOD DAY OUT PLUS YOU CAN USE YOUR BIKES ALL DAY !
A LARGE ROUGH GRASS FIELD ON AIRFIELD .
STARTS TOMORROW FOR SET UP IF YOU WANT TO DISPLAY YOUR BIKE AND CAMP , SMALL FEE TO BE PAID TO JULIAN AT THE GATE .
NOT WAR AND PEACE PRICES!!!
I WILL BE CAMPED WITH MY BEST MATE CORP MARK TOWERS .BY THE BOFOR'S GUN
SET UP AS IT WOULD HAVE LOOKED AS F TROOP L.A.A UNIT  R.A. ON D-DAY HOLDING
PEGASUS BRIDGE . JIM HOLDER VALE HAS ADVISED US AS HE WAS THERE AND IS A FRIEND .
FROM JUNE YOU WILL SEE ANOTHER BIKE ADDED FOR SALE OR SWAPS, TRADE ETC .
I AM TRYING TO COMPLETE MY COLLECTION OF PARA D-DAY/ARNHEM MEMORABILIA .
 OFFICIAL CLOSING DATE 31ST MARCH.
I HAD SOME TIME TO GET SOME OF MY AIRBORNE AND SPECIAL FORCES BIKES OUT .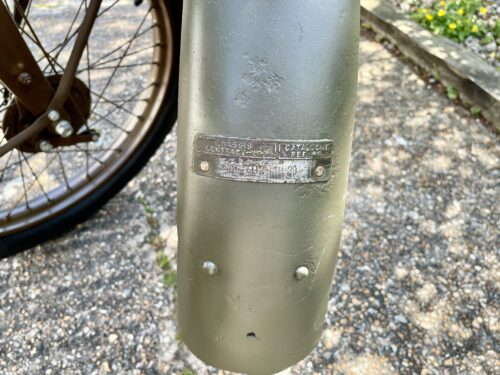 THIS IS THE CONTRACT PLATE OF THE FLYING FLEA. ITS NICE TO HAVE WITH ORIGINAL RIVET'S.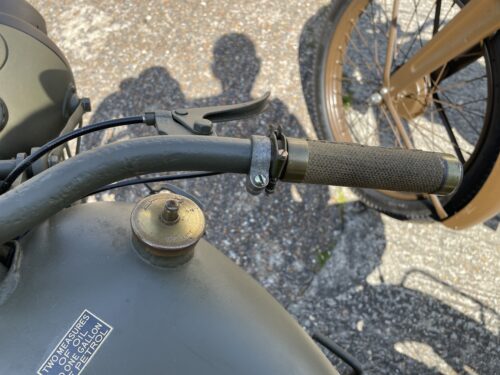 THE UNUSUAL AND VERY RARE THROTTLE MADE UP OF 3 PARTS .
THE FUEL CAP IS THE CORRECT TYPE WITH AIR VALVE .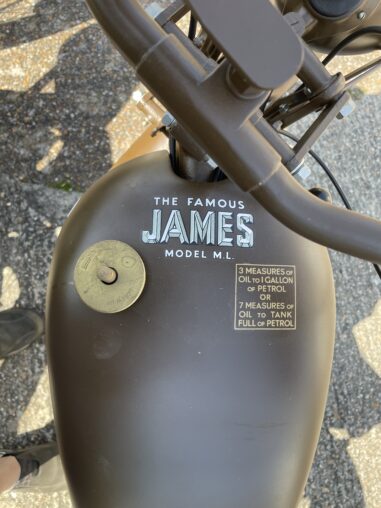 TANK DECALS OF MY JAMES ML-YOU CAN ORDER FROM AXEHOLME   SIGNS ,
TONY & SARAH ARE ONLY TO PLEASED TO HELP OUT .
THE 2 BIKES IN THE SUN ! ALMOST READY FOR THE SHOW AT WESTONZOYLAND 27-29TH MAY.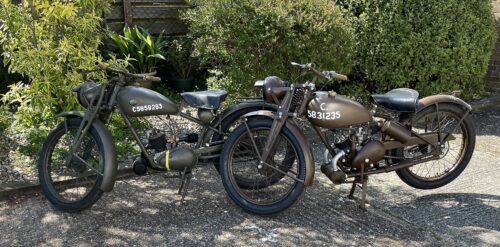 THANKYOU STEFAN FROM USA FOR YOUR KIND WORDS
I wanted to thank you for being such a good vendor, I wish more people would learn from you

You have helped me greatly with my bike it will be difficult to find a replacement and I will forever be thankful for your help.I wish you the best and look forward many years enjoying my WM 20 thanks to you
MOST OF THE PAGES REMOVED – THE SPARES THAT ARE LEFT ARE STILL FOR SALE – NO NEW PARTS WILL BE ADDED AT THE MOMENT .
I WILL HAVE A CLEAR OUT EVERY 3 MONTHS UNTIL REMAINING PARTS ( SEVERAL TONS ) ALL USED OR SOLD – IT 'S WORTH VISITING ONCE IN A WHILE – SAME WITH MACHINES FOR SALE . WE HAVE COVID FOR SECOND TIME ! SO OCCUPIED WITH OTHER THINGS !!
THE E MAIL ADDRESS WILL BE THE SAME BUT FOR HMRC PURPOSES I AM NOW RETIRED , THE SITE WILL HAVE SPARES REMOVED AND JUST THE HOMEPAGE WITH GENERAL INFORMATION WILL BE ACTIVE ALONG WITH A FEW MOTORCYCLES FROM MY OWN COLLECTION THAT I WILL THIN DOWN.
THE WEBSITE , WITH A FEW CHANGES ,WILL BE KEPT RUNNING & THE BIKES FOR SALE PAGE WILL STILL BE LIVE . EXCESS SPARES WILL BE SOLD AT SELECTED AUTO JUMBLES , SHOWS AND MILWEB SITE.
I HAVE ENOUGH BIKES AND SPARES TO KEEP ME BUILDING MAINLY BSA WM20 BIKES  & WE  WILL BE

BUILDING TO ORDER

, SO IF YOU WANT A BSA IN RESTORED CONDITION CONTACT ME .  THIS WILL BE A LIMITED AMOUNT AS ONCE THE RARE PARTS ARE GONE WE WILL STOP !!
I WILL CONTINUE TO LIST ON THE BIKE PAGE ANY NOT  SPOKEN FOR  AND WILL HAVE AN ARIEL,NORTON 16H , TRIUMPH 3HW ,A COUPLE OF ROYAL ENFIELD MOD C.O , A MOD C & A MATCHLESS G3L ALL TO DO,OR SELL AS PROJECT BIKES. E MAIL ME IF YOU WANT TO ORDER A SPECIFIC BIKE !
SO ALTHOUGH CLOSING DUE TO RETIREMENT I WILL ACTUALLY BE CONTINUING AS I DID 30 YEARS AGO AS A PRIVATE INDIVIDUAL.:)
ANY OF YOU NEEDING HELP OR ADVISE JUST E MAIL ME & I WILL RESPOND AS SOON AS I CAN.
STOP PRESS 🙂 ARNHEM 2022  ABWO CAMP IS SET TO BE ON . -BOOKING FORMS SHOULD BE SOON SO HOPEFULLY SEE SOME OF YOU THERE.
A WORD OF THANKS TO ALL WHO HAVE SENT E MAILS OF THANKS.!
I AM VERY BUSY DOING YOUR ORDERS , ALTHOUGH CEASING ON 31ST MARCH I WILL HAVE TO WIND DOWN USING APRIL APPARENTLY.
THIS WEBSITE IS TO REMAIN ACTIVE  BUT PARTS WILL BE ADAPTED AS REQUIRED.
FROM USA.
Hello Stu,
You dismantled  a JM21 engine for me so that I could confirm all of the correct parts were there.
Never forgot your cooperation and always regretted not completing the purchase.
Hope looking after family isn't too demanding.  It was for me for thirty months with a paralyzed below the waist mother.
I wish you better health and pleasant closing of all your affairs.
Sincerely,
THIS VERY NICE BSA WM20 BELONGS TO PAWEL GAZDA FROM POLAND AND IS UNRESTORED -IT HAS HISTORY AND WAS INVOLVED WITH THE PUSH UP THROUGH ITALY IN WW2.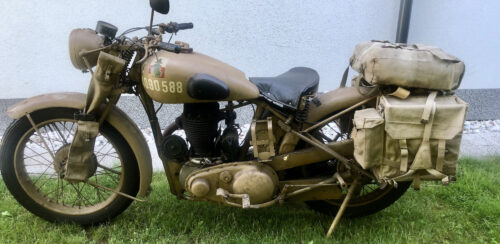 FROM MALTA- ALEX.
Hello Again,
How you know Last Year, I buy from you the RARE  M 21  ENGINE, W M 377. And I am really Proud of you, and THANKS again.
HI ALL , I HAVE NOT BEEN ONE TO PUT THESE TYPE  OF MESSAGES ON SHOW .( SEE BELOW)
BUT AS I AM CLOSING DOWN THE BUSINESS AROUND APRIL THEN ITS A NICE STATEMENT TO END 35 YEARS OF BUSINESS TRADING AND MY THANKS TO MARTY AT MDA IN AUSTRALIA.
I WILL BE KEEPING THE WEBSITE AND WILL STILL DISPLAY MILITARY MOTORCYCLES BUT IT WILL BE LOW KEY AND I WILL BE SELLING AS A GOOD OLD MEMBER OF THE PUBLIC !
ALL PARTS ORDERED BEFORE 25TH MARCH WILL BE SORTED AND SENT AS USUAL .
ANY ONE WHO IS SERIOUS ABOUT TAKING OVER THIS ESTABLISHED BUSINESS WITH A 100% CLEAR TRADING HISTORY SHOULD CONTACT ME IN THE NEXT FEW WEEKS. THE INTERESTED PARTIES  I HAVE HAD ENQUIRE WERE UNABLE TO RAISE ANY MONEY.( I AM SELLING AT A TOKEN PRICE TO KEEP THE NAME GOING )
ITS BEEN A PLEASURE DOING BUSINESS AND HAS BEEN MY WAY OF LIFE.
AGE AND CIRCUMSTANCES BEYOND MY CONTROL HAVE PROMPTED THIS DECISION.
SEVERAL PEOPLE HAVE APPROACHED ME WHO WANT BIKES BUILT FOR THEM TO AS NEAR AS WE CAN GET TO WW2 SPECIFICATIONS , THIS WILL KEEP PETER,BARRY & I BUSY. WITHOUT THEM THE BUSINESS WOULD NOT HAVE THRIVED. 
I WANT TO THANK ALL PAST CUSTOMERS , MANY OF WHOM I HAVE CONSIDERED FRIENDS .
I AM LOOKING FORWARD TO ACTUALLY GETTING TIME TO DRIVE MY DINGO WITH MY GOOD MATE JIM & HELP IN RE-ENACTING WITH MY BEST BUDDY  MARK. I WILL SEE SOME OF YOU AT SHOWS  AS MAY WELL AUTOJUMBLE  A LOT OF THE SPARES I DO NOT NEED .
hi Stu
i should have sent this message on monday my apologies  .  the forks got here on monday wrapped in the blanket and all !  i have to say   without exception  the forks surpassed my expectations  , Stu i have been working with the classic stuff most of my life  and carry high standards its what my work has always been about , reading your advert backed up by jake robbins  made the risk of purchase  down to a minimum ,  what you sold me and the hand on to my customer goes  like this ,  we are all delighted so thanks again Stuart  you did us proud matey  !
  i would like you to use this receipt on your web page from MDA motorcycle engineering in south australia,  top job,    martyn   
I CAN ALWAYS RELY ON CPL MARK TOWERS 🙂
HIS WELL USED BSA1940 WM20- SADDLE STILL LOOSE MARK 🙂
    
COME ON GUYS – I NEED  A FEW PICTURES OF YOUR BIKES OR WHATEVER . YOUR WORKING ON .ITS WILL SOON BE TIME TO DIG THEM OUT OF STORAGE FOR 2022 . 🙂  I KNOW THERE ARE A LOT IN THE WORLD AS I SEND PARTS WORLDWIDE . I ALSO GET A LOT OF VIEWS AS NOW APPROACHING THE MAGIC 1 MILLION ( THATS OVER 4 OR SO YEARS ).
MY THANKS TO BRUCE GIPSON, AGAIN WINNING A TROPHY FOR HIS TRIUMPH 3HW 1942 & SENDING SEVERAL PICS SHOWING SUNNY FLORIDA !
HE PURCHASED FROM ME IN 2020  ( I THINK ! ) IN THIS CIVVY CONDITION.
HE APPARANTLY GOT FAR MORE INTEREST IN HIS BSA WM20 THAT HE BOUGHT 5 OR SO YEARS AGO – CORRECT ME ON DATES BRUCE  –  I HAVE COVID BRAIN :).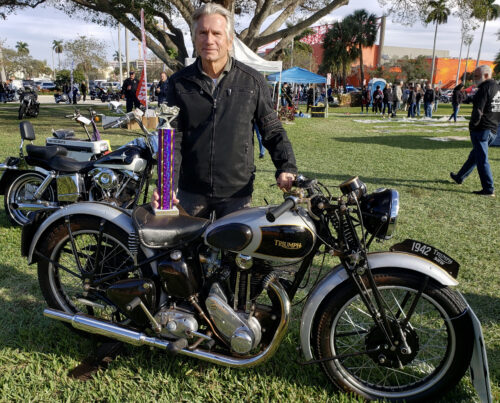 A LOT OF YOU WILL REMEMBER MY YOUNGER SON WHO HELPED BUILD  HIS WELBIKE – HE COMES UP ON THE BANNER ON THE SITE .
WELL – I SAW HIM LAST WEEKEND  AND WE SPENT SOME TIME TOGETHER THAT WE BOTH ENJOYED .  HES NOT GOT OUR BIKE OR WW2 BUG -SADLY :).
IS IT ME OR HAVE I SEEN THIS FASHION BEFORE ?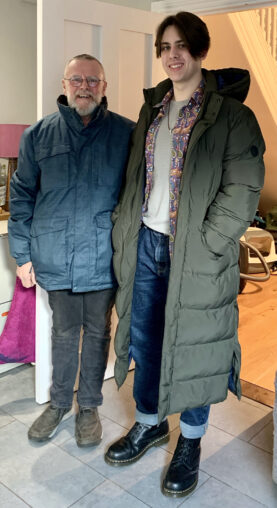 A VERY HAPPY, HEALTHY  & SAFE YEAR TO YOU ALL 🙂
ANOTHER STRANGE YEAR HAS PASSED FOR MANY OF US AND SO QUICKLY !
AS NO ONE SENT A BIKE PICTURE IN DECEMBER I THOUGHT I WOULD TREAT THE PAGE TO AN UPDATED SHOT OF ME.    LOL .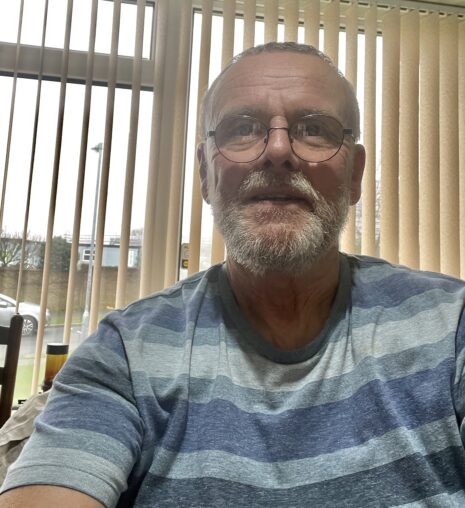 AS MANY WILL KNOW 2021 HAS BEEN A HARD YEAR ON THE HEALTH FRONT BOTH FOR MYSELF AND MY OLD MUM ( WHO IS 89 ). I AM NOW HER  FULL TIME CARER SO ITS BEEN ERRATIC WITH THE BIKES AND GETTING ABOUT SEEING FRIENDS AND FAMILY ALIKE .
I AM GETTING RE OCCURRENCE OF WHAT THEY TELL ME IS A LONG COVID PROBLEM WHICH MEANS ABOUT EVERY 3 WEEKS I GET A FORM BRONCHITIS !.  WHAT THIS MEANS IS THAT PARTS ETC MAY TAKE LONGER THAN I WOULD LIKE TO SORT OUT AND GET TO YOU .( PLEASE BE PATIENT AS 98% OF YOU ARE -THANKS .)
THAT AND THE FACT THAT I AM NOW IN MY 70TH YEAR DOESNT HELP 🙂
THIS MAY WELL BE MY LAST YEAR OF TRADING SO IF THERE IS A YOUNGER PERSON WHO WANTS TO TAKE OVER AN ESTABLISHED  , INTERESTING & 70 HOUR A WEEK BUSINESS-THEN CONTACT ME 🙂
PETE AND I ARE WORKING ON 3 BIKES THAT ARE A MONTH OF FINISHING SO KEEP AN EYE ON THE PAGES .
I HAVE TONS OF BIKE PARTS ARRIVED FOR BSA AND STILL WORKING THROUGH THE LARGE AMOUNT OF ROYAL ENFIELD PARTS I GOT IN 21.
LETS PRAY THAT 2022 IS A BETTER YEAR FOR ALL AND WE HOPE TO SEE YOU IN ARNHEM IN SEPTEMBER .
A BIG THANKS TO Craig Paul WHO READ THE PAGE AND SENT THIS 🙂 WELL DONE MATE !   ITS HIS TRIUMPH 5SW THAT HE IS CONTINUING TO UPDATE , AS WE ALL DO . THESE EARLY 1940 TRIUMPHS ARE RARE
HI ALL – HAVE A GOOD , HAPPY & SAFE CHRISTMAS HOLIDAY.
MY BROTHER SAW THIS CLIP ON YOU TUBE AND I THINK ITS WORTH A LOOK .
sorry guys you tube wont let me copy site address . put  GIRDER FORKS -DOG HOUSE .into the search bar -you have to see this if you have gone the cheap route of buying Indian copy girders.
HI ALL , NOT A LOT TO REPORT AS NO EVENTS UNTIL 2022 !
WINTER IS NOW HERE WITH DARK DAYS AND LITTLE TIME FOR RIDING , ( IF YOUR HARDY ENOUGH TO TRY IN THIS COLD AND WET WEATHER ! )
A KEEN WW2 BIKE OWNER /RIDER IN USA ,BRUCE GIPSON , SENT THIS PHOTO OF HIS TRIUMPH 3HW . IT TOOK WEEKS TO GET TO HIM ! WE SENT IN A VERY STOUT BOX WHICH HE CAN USE AS A SMALL SHED 🙂
I WISH IT LOOKED LIKE THAT LOOKING OUT OF MY WINDOW !!  🙂
BRUCE HAS DECIDED TO LEAVE HER AS A CIVVY AS ITS IN STUNNING CONDITION .
HAVE A GOOD XMAS BRUCE AND A BETTER 2022 FOR US ALL .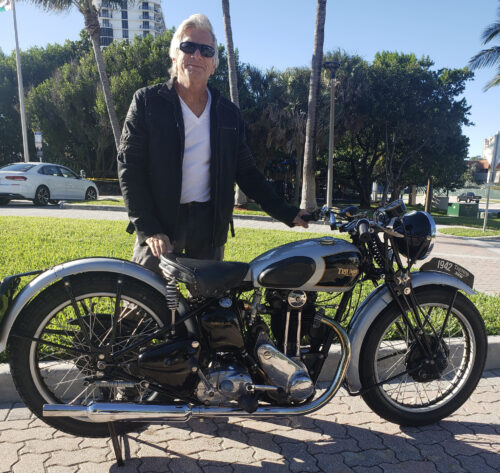 REMEMBRANCE DAY WILL BE HERE SOON . 11/11/21
THANKS TO JOHN MOORE WHO SENT ME THIS TIMELESS POEM .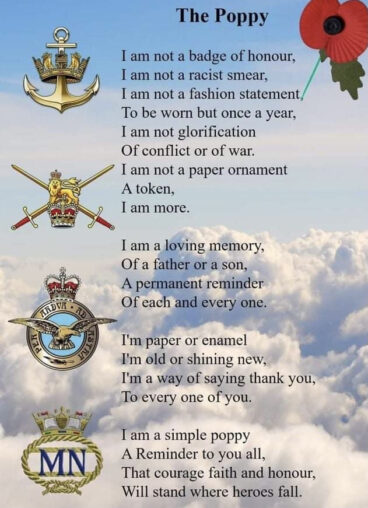 AFTER A FEW GOOD DAYS FOR RIDING, OCTOBER HAS GIVEN WAY TO WET NOVEMBER WITH HEAVY RAIN & STRONG WINDS . THE CLOCKS GONE BACK AN HOUR & THAT ALWAYS MAKES ME FEEL WINTER IS JUST COMING !
I , LIKE YOU , ARE HOPING FOR A RETURN IN SHOWS & EVENTS IN 2022.
ANY NEWS ON ANY EVENTS JUST E MAIL ME AND I WILL ADD TO THIS PAGE .
WE ARE HOPING TO TRAVEL TO ARNHEM FOR NEXT SEPTEMBER REMEMBRANCE WEEK & HOPE TO MEET UP WITH SOME OLD FRIENDS THERE. I HOPE  THE A.B.W.O EVENT IS RE FORMING AFTER THE  2 YEAR COVID BREAK ?
I HAVE HEARD THAT THE WARAG SHOWS AT WETONZOYLAND ARE TO GO AHEAD AND WILL BE ANNOUNCED EARLY NEXT YEAR.
THATS ABOUT IT !     BE SAFE ,KEEP WARM & HELP SOMEONE WHEN YOU CAN 🙂
PLEASE CONTINUE TO SEND IN YOUR BIKE PICTURES AS OTHERS LIKE TO SEE THEM .
NOT A LOT GOING ON -WE ARE BUSY GETTING BIKES READY FOR SALE .
WORKING ON PARTS A GREAT DEAL OF MY TIME .
I HAVE A NEW LOAD OF BSA PARTS COME IN -NEARLY 3 BIKES IN BITS . SO LOOK IN IF YOU NEED ANYTHING SPECIAL.
THE Royal Enfield BIKES AND PARTS ARE STARTING TO SELL AND GETTING MORE R.E OWNERS CONTACTING ME .
ARIEL NOT SO MUCH !
netley marsh  & beaulieu auto jumbles were blessed with hot weather which was a nice change .
a great but tiring 3 days , we walked over 30,000 steps according to my phone !  found lots of good parts which will go on pages as soon as I can sort them out .
BILL HEMBERY-R.A.S.C  47/48 COY.
HE SERVED IN EUROPE AND Mid East.
2 GOOD PICTURES SENT IN BY HIS GRANDSON .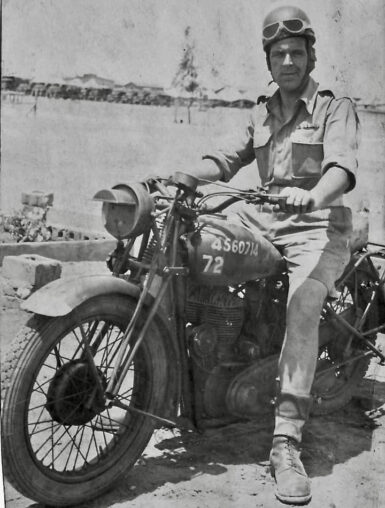 A GOOD PICTURE OF MOTORCYCLIST CLOTHING-BILL IS ON  THE FAR RIGHT.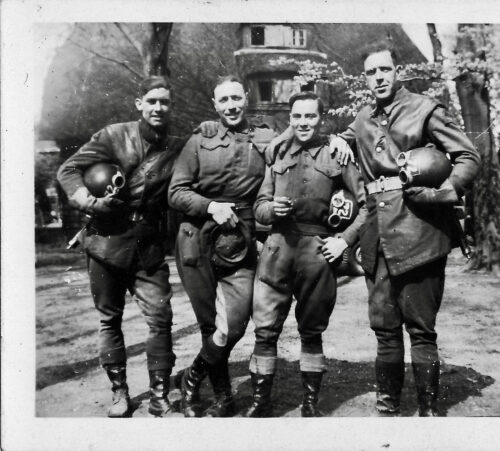 I MANAGED AT LONG LAST TO FIND 4  USEABLE ,UN MOTHED FELT TUBES FOR MY VOKES AIR FILTER.   I FITTED LAST WEEK BUT HAVNT GIVEN HER A GOOD RUN YET TO SEE WHAT DIFFERENCE IT MAKES  TO EMPTY BOX NOISE & TO PERFORMANCE .
LUCKILY I HAVE THE 8 ORIGINAL CLIPS .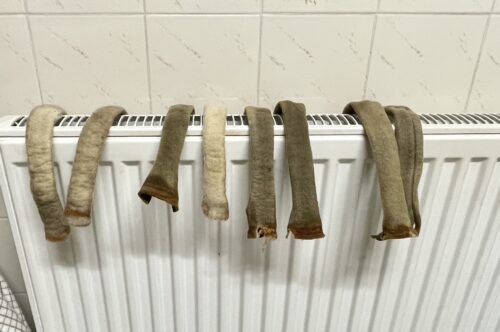 DRYING A SET OF GENUINE VOKES AIR FILTER FELT TUBES .
ATAL KUMER FROM USA SENT THIS PICTURE OF HIS RECENTLY ACQUIRED  1944 BSA WM20 . A VERY ORIGINAL LOOKING BIKE .  THANKS FOR SENDING IN . I HOPE YOU SORTED OUT YOUR TRIUMPH PISTON PROBLEMS ?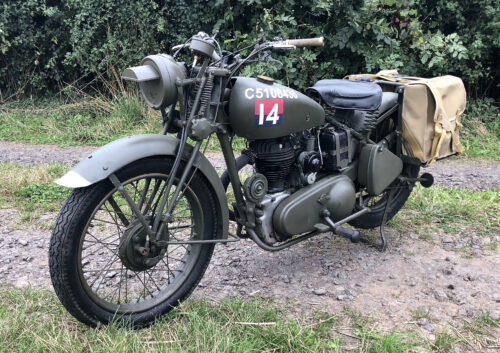 A THANKS TO MICHAEL ROY FOR SENDING IN A PICURE OF HIS ROYAL ENFIELD C.O.  -THESE UNDER RATED BIKES ARE REALLY GOOD TO RIDE & ABOUT THE BEST GEARBOX OF WW2 BIKES. MICHAEL IS STILL PERSONALISING IT.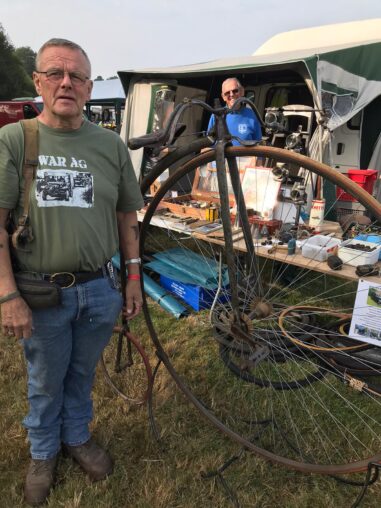 BEAULIEU AUTOJUMBLE  2021.  WE WERE BLESSED WITH FANTASTIC WEATHER . ITS AMAZING WHAT STILL TURNS UP FOR SALE ? NO I DID NOT ENEN THINK ABOUT TRYING THIS ONE OUT :).   RIBS ONLY JUST HEALED FROM LAST MISHAP .LOL .
NETLEY AUTOJUMBLE  IN SEPT WAS GREAT WEATHER AND I  MANAGED TO GET THIS ORIGINAL JAMES ML.  CPL MARK TOWERS  HAD THE PLEASURE OF PUSHING IT TO VAN -ABOUT HALF A MILE AWAY !  ITS A REAL BARNFIND .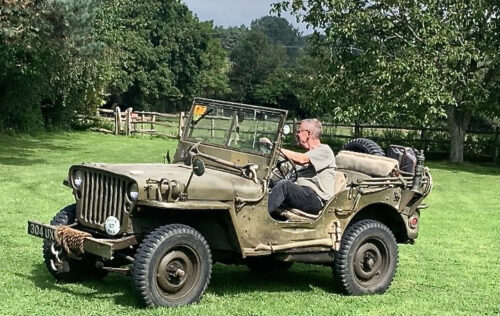 THIS UNTOUCHED JEEP BELONGS TO A GOOD FRIEND WHO LET ME TAKE HER FOR A SPIN AROUND THE SUSSEX LANES .
THIS WAS SENT IN BY A GOOD FRIEND, TAKEN AT WESTONZOYLAND SHOW.
I WAS CHECKING SOMETHING FOR THE NEW OWNER OF THIS FINE BSA WM20  B.O.A.R  BIKE .
NEIL MCLEAN  ( WITH CAMERA ) WITH CAMERA HAD TRAVELLED DOWN FROM THE MIDLANDS FOR THE DAY . NEIL DID MANY OF LAST YEARS CHARITY SKYDIVE SHOTS .
Peter webster sent in this picture of his BSA WM20  recently purchased from me . it behaved well at the CAPEL SHOW  last weekend .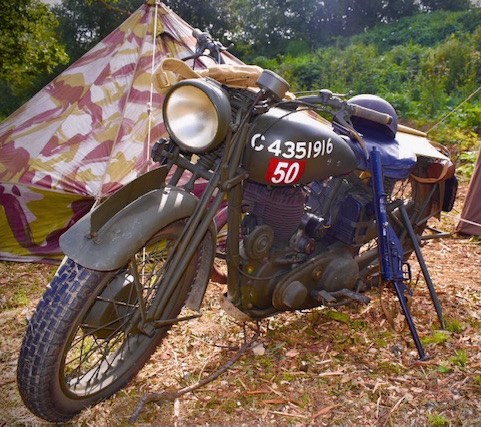 THE WARAG SHOW & EVENT NEAR WESTON ZOYLAND , ACTUALLY MIDDLE ZOYLAND  WW2 AIRFIELD OVER THE BANK HOLIDAY WAS A HUGE SUCESS. THE SHOW HAS DOUBLED IN SIZE SINCE THE LAST SHOW IN 2019 .
THE EXHIBITORS RANGE FROM MILITARY VEHICLES & AGRICULTURAL VEHICLES FROM WW1 ,WW2 & VIETNAM ERA TO PRIVATE STALLS SHOWING AND SELLING VARIOUS WARES. IT HAD THAT VILLAGE FETE FEEL OF YEARS GONE BY.
IT WAS GOOD TO SEE A FEW OF YOU WHO HAD READ THIS PAGE AND DECIDED TO VISIT , I HOPE YOU ENJOYED IT .
A BIG THANK YOU TO JULIAN HUTCHINS THE OWNER & ORGANISER & A SMALL BAND OF HELPERS THAT  DID A GOOD JOB AND COVERED ALL THE BASICS AND MADE IT EASY ( ALTHOUGH WE HAD TO MOVE THE LARGE TENT !  ).  🙂
THERE WERE SEVERAL LIVING HISTORY VENUES AND THE DORSET REGIMENT, SOMERSET LIGHT INFANTRY & DEVONS WERE REPRESENTED .
THE RE IN ACTED SKIRMISHES BETWEEN THEM AND THE GERMAN FORCES WAS WELL WORTH WATCHING AND A CROWD PULLER AS WERE THE GERMAN WW2 VEHICLES AND A FRENCH TANK !
I LOOK FORWARD TO 2022 EVENT AND WILL KEEP YOU ALL UPDATED .
HERE ARE A FEW PICTURES OF OUR LAA UNIT AND DISPLAY.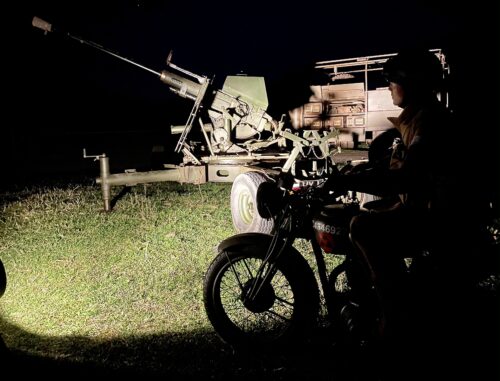 A WW2 AIRFIELD LAMP ILLUMINATES THE BOFORS & CANADIAN FORD THAT PULLED IT .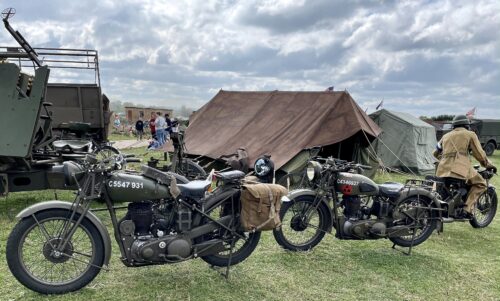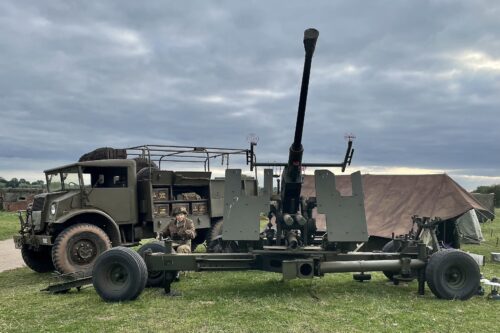 JULY WAS A HOT AND GOOD MONTH FOR GETTING PARTS AND BIKES SORTED OUT . I HAD A LOT OF HELP FROM MY SON & HIS FRIEND FOR WHICH I AM THANKFUL !  THE LONG COVID EFFECT OF CRIPPLING TIREDNESS HAS MADE LIFE  A LITTLE MORE DIFFICULT ALSO MY  MOTHER WHO IS 89 THIS YEAR NEEDS  MORE CARING & TIME, SO I AM AFRAID THAT SPARES MAY TAKE LONGER THAN HAS BEEN THE NORM OVER COVID LOCKDOWNS .
ON A BRIGHTER NOTE WE HAVE 4 BIKES ALMOST READY FOR AUGUST AND STILL GOT MOUNTAINS OF ROYAL ENFIELD , ARIEL AND MATCHLESS PARTS TO CLEAN AND LIST.
I WAS RE-ROUTED BY SATNAV DUE TO VERY HEAVY SOUTH COAST ROAD TRAFFIC AND HAD TO STOP FOR A "REST " BREAK 🙂  BY A FIELD GATE WHERE MY LAD SAW THIS SMALL MEMORIAL STONE . WE OBVIOUSLY DIDS NOT "REST " THERE !!
DOES ANY ONE HAVE INFORMATION TO SHARE ABOUT ITS HISTORY ??
.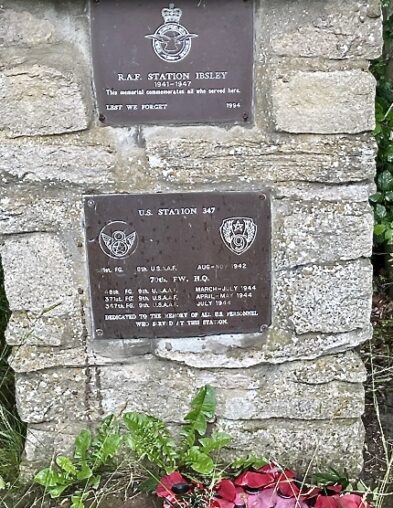 A VERY BUSY MONTH FOR US AS THINGS SLOWLY RE OPENING . HAVE PUT ON 3 NEW BIKES AND ALL NOW SOLD ! SO WATCH OUT FOR NEXT ONES THIS MONTH.
I HAD A LARGE SHIPMENT OF  ROYAL ENFIELD WD CO PARTS DELIVERED LAST NIGHT ! SO HAVNT HAD TIME TO LOOK AT THEM YET.
THERE ARE SOME RARE PARTS AMONGST THE USUAL HEAVY ENGINE BITS  AND I KNOW THERE ARE 5 ENGINES AS THE DRIVER WANTED ME TO LIFT THE CRATE WITH THEM IN ! NO CHANCE AS A REAL HERNIA PULLER !:)
EVEN INDIVIDUALLY THEY ARE HEAVY . 
ALSO 5 BOXES OF WM20 BSA ARRIVED 10 MINS BEFORE THE ABOVE .SO SOMEWHAT ACHING TODAY .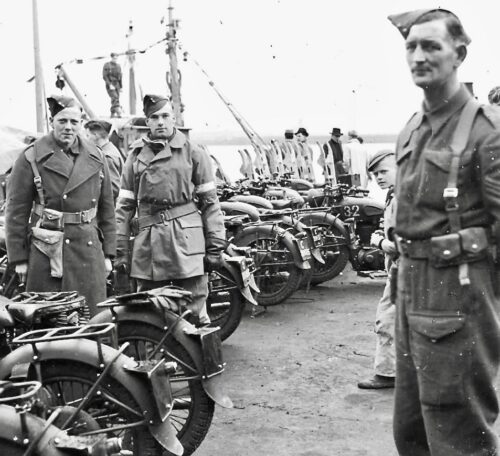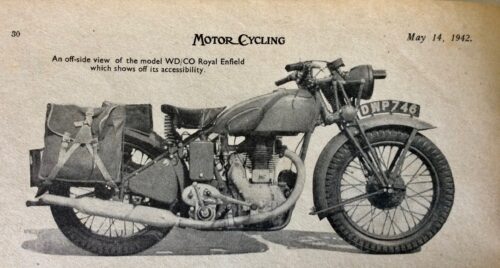 a Royal enfield co from the 1st contract in 1942 sporting the then new pannier system used by all eventually.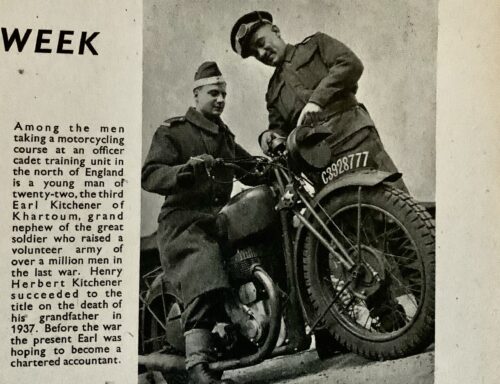 a 1939/40 bsa showing the now rare external oil tell tale on timing chest ,rod brake system and no side fork damper knob. anyone know what Henry Kitchener finally did in the war ?
the ABWO ARNHEM event has been modified this year . its 1 day only but will include the drop and then later the race to the bridge . limited places and not even considering it this year as costs for one day & logistics will not work for us . still 2022 if were allowed through france 🙂
JUST ARRIVED -A LARGE AMOUNT OF WW2 ARIEL WNG PARTS ,MATCHLESS G3 & G3L AND LUCAS PARTS -USED . some rare tinware and not often found parts . will be sorting and putting on other ww2 bikes spares page.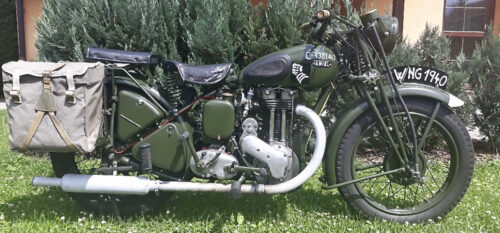 HANS HANS  FROM CZECH REPUBLIC SENT IN HIS JUST FINISHED  1940 ARIEL WNG-ITS A CREDIT TO HIM AND TOOK HIM APPROX 6 MONTHS TO COMPLETE. THANKYOU HANS FOR YOUR KIND WORDS ALSO 🙂 SAY HELLO TO JAN SCHILLER FOR ME .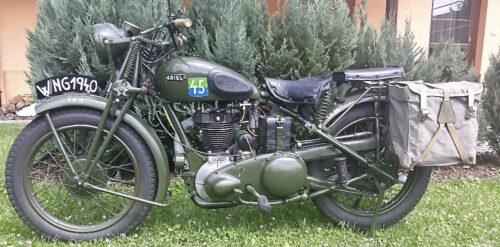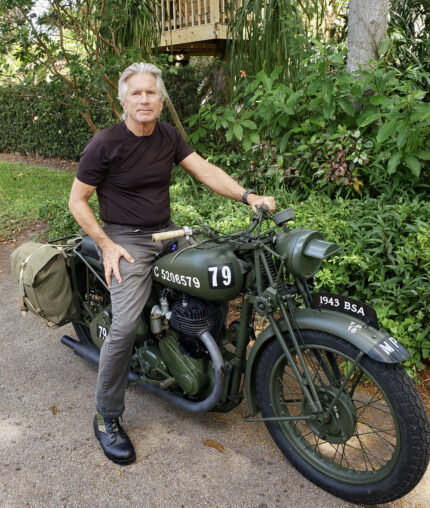 BRUCE from USA sent this picture of his BSA WM20 from sunny Florida 🙂 where bike is still running well & doing shows .
HONOURING  THE SOLDIERS ON 6TH JUNE 21 .-WELL DONE BRUCE .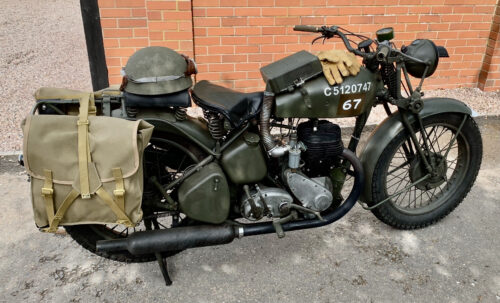 JASON WOODS HAS WASTED NO TIME IN PERSONALISING THIS BSA WM20
SINCE BUYING A FEW WEEKS AGO .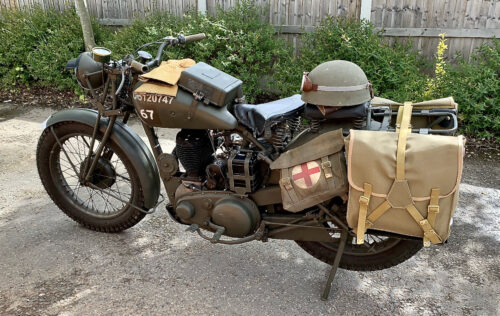 THE BSA IS NICELY FINISHED  & HES TREATED HER TO A NEW SET OF CANVAS.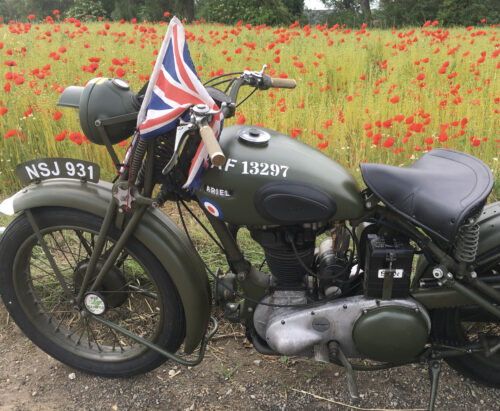 THIS ARIEL BELONGS TO BRIAN MARRIS WHO HAS MADE A NICE JOB OF TIDYING IT UP -NICE TO SEE A R.A.F BIKE & THE POPPY FIELD 🙂
A TALE OF FRUSTRATION .
I TESTED OUT A BSA LAST WEEK WITH A VOKES FILTER THAT I HAD ACQUIRED FROM HOLLAND . THE PREVIOUS OWNER HAD GONE TO A LOT OF TROUBLE TO MAKE THE INTERNAL "FELTS" -TUBES TO FILTER THE AIR AS THEY HAD IN WW2.I PUT HAD THEN STORED IT AND FORGOTTEN IT UNTIL I WANTED TO FIT A SYSTEM ( YOU MAY HAVE SEEN THE LOVELY BSA FOR SALE LAST WEEK ).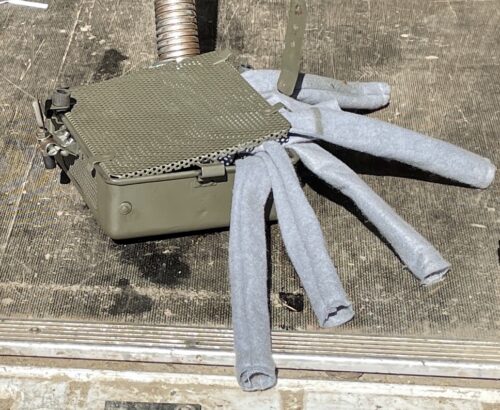 ON THE FIRST TEST RIDE I WOULD GET TO A CERTAIN SPEED ,ABOUT 40 MPH & IT WOULD START TO SLOW UNTIL I RELEASED THE THROTTLE A BIT !
WE THOUGHT MAYBE IT WAS THE JETTING OF CARB AS IT WAS FOUND TO BE A 150. THIS WAS CHANGED TO A 170 ( THE CORRECT ONE ). IT STILL WAS THE SAME . 2 CARB CHANGES LATER ! THEN A REBUILD OF MAGNETO INCASE IT WAS BREAKING DOWN ON HIGH REVS & STILL NO IMPROVEMENT.
ON THE LAST RUN I WAS SO FRUSTRATED THAT I PULLED OF THE AIR HOSE WHILST RIDING  AND HEY PRESTO !! IT CURED IT .
WHEN I REMOVED THE VOKES AND TOOK OUT THE PRETTY BUT USELESS FELTS  I SAW THAT THEY WERE COLLAPSING AS AIR DEMAND INCREASED DUE TO NO STIFFENING WIRES & FLIMSY COMPARED TO GENUINE WW2 FELTS WHICH WERE A FELT WOOL MATERIAL ,LOVED BY MOTHS 🙂
I STILL LEARN SOMETHING EVERY WEEK !  I HOPE THIS HELPS SOME OF YOU 🙂
THINGS ARE LOOKING BETTER THIS MONTH WITH THE UK RELAXATION OF SOME COVID RULES . THIS SHOULD ALLOW NETLEY & BEAULIEU AUTOJUMBLES TO HAVE THERE SHOWS ON THE 3-5TH SEPTEMBER 2021 !
BELOW A FEW NEW PICTURES OF YOUR BIKES – KEEP SENDING THEM IN AS THIS PAGE GETS A LOT OF VIEWS !   ALSO A FEW OF THE OTHER MAKES ?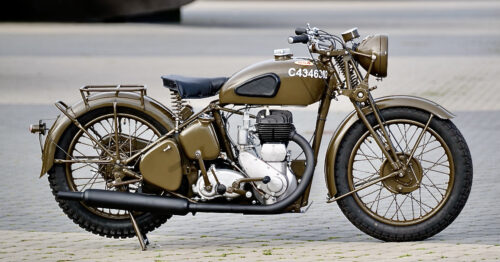 A REALLY GOOD PICTURE OF ASHLEY MARTIN'S BSA WM20 AT LAST YEARS REMEMBRANCE DAY.  ASHLEY BOUGHT THIS BIKE FROM ME IN 2020 AND IS GETTING TO GRIPS WITH THE MAINTENANCE OF OLD BRITISH BIKES .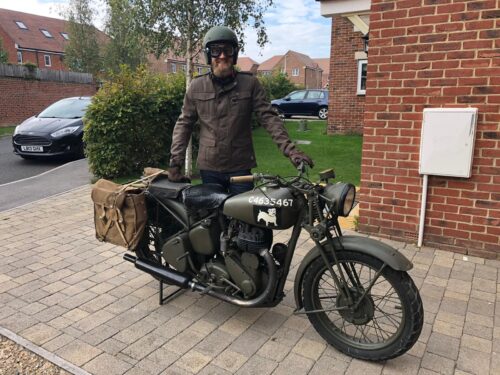 BELOW IS HIS FIRST STARTING OF THE MACHINE ?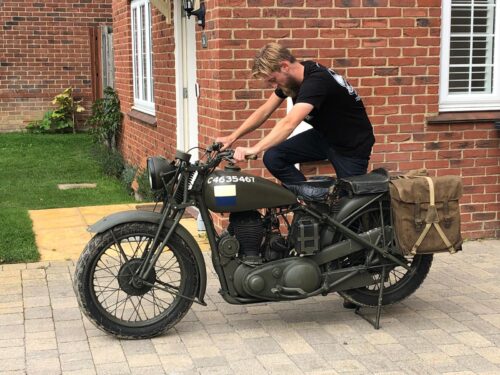 A FIRST PICTURE FROM NEW ZEALAND ! PHIL SMITH'S  1945 BSA WM20.
HIS FIRST WW2 BIKE I BELIEVE . ITS LOOKING GOOD PHIL !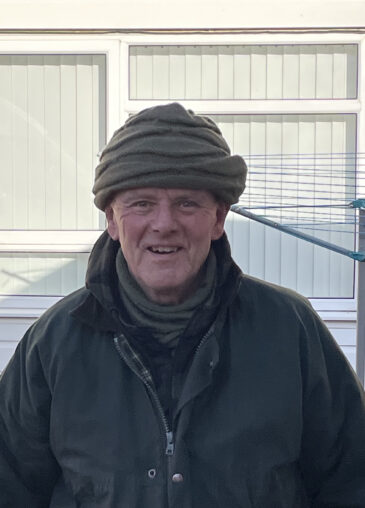 BEWARE INTERNET BUYING WHEN BORED !  I BOUGHT THIS HAT AS IT WAS FREEZING A FEW WEEKS BACK , IT DIDNT LOOK LIKE THIS IN ADVERT !
ITS HUGE ! BUT ITS THE HOTEST HAT IVE EVER WORN ! I HAVE NO IDEA WHAT ITS BASED ON OR SUPPOSED TO BE -ANY OF YOU KNOW ? ALL PRINTABLE CAPTIONS APPRECIATED !
I MANAGED TO AQUIRE THIS C.L.E  CONTAINER VIA E BAY . I HAVE SOME PICTURES OF IT BEING UNEARTHED IN ARNHEM.  FULL STORY WILL BE ADDED LATER AS I HAVE TO FIND IT ALL AGAIN !!
ANY SUGGESTIONS ON HOW TO HELP PRESERVE IT WOULD BE MOST WELCOME .
THANKS TO THE FEW WHO OFFERED SUGGESTIONS ESPECIALLY COLIN .
.Found in Papendal which is on the outskirts of Arnhem. I believe this is LZ L. On September 19th, 1944 Horsa gliders carrying the transport and anti-tanks guns of the Polish Parachute Brigade landed here.  It was found in a hole along with a 2 or 3 others. Bought from the 44-45 museum along with 2 others.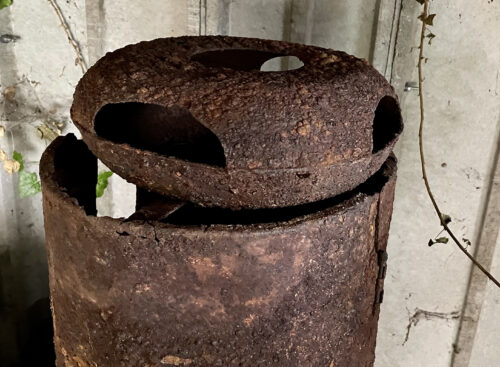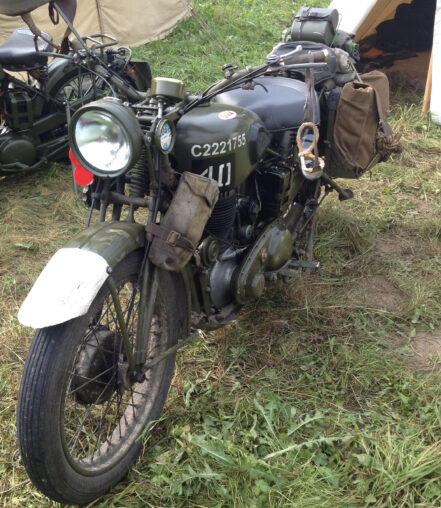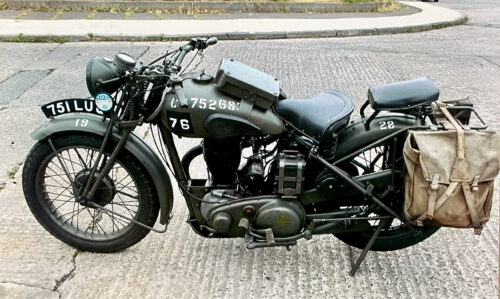 THIS HARD COPY PICTURE WAS SENT IN BY RAYMOND CARLSON WHO HAS HAD THIS WM20 WITH TALLFLOW FILTER FITTED SINCE 1977 ! RAY -YOU DID NOT SEND AN ADDRESS OR TEL NUMBER AND I CANT RETURN  YOUR PICTURES .
TO ANSWER YOUR QUESTIONS -THE TALL FLOW DOES NOT HAVE VENTILATED SIDES LIKE A VOKES & THE STRAPS YOU HAVE LOOK CORRECT . LOOK AT PICTURES BELOW . SO YOUR SET UP IS SPOT ON AND LOOKS REALLY GOOD . EXPECT TO SEE ONE FITTED IN A FEW MONTHS TIME TO A WM20 OR LET ME KNOW IF YOU EVER DECIDE TO SELL 🙂 .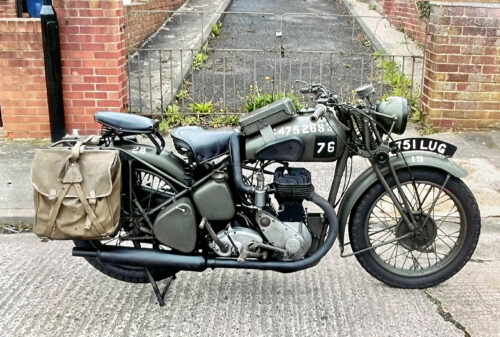 THIS PICTURE HAS BEEN SENT IN BY MY GOOD FRIEND FUSSEK JERRY JARO
FROM THE CZECH REPUBLIC.     ITS A CEREMONY THIS GROUP DO EVERY NOVEMBER IN THE FOREST NEAR WAALWIJK GRAWEJA RD.  IT IS TO THE BRITISH TROOPS  BUT I AM NOT CLEAR WHAT ACTION ? .  ANYONE KNOW ?
JERRY SPENT AN UNCOMFORTABLE WEEK RIDING PILLION AT ARNHEM 2019 .
BY THE END OF THE WEEK HE WAS PROFICIENT. -IF SOMEWHAT SORE 🙂  !!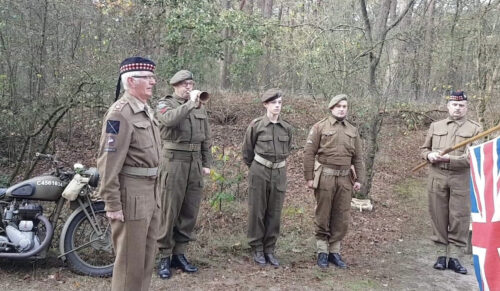 THE COVID PANDEMIC HAS AFFECTED US ALL TO SOME DEGREE AND CHANGED THE WAY WE LIVE .
ONE ASPECT OF THIS IS THAT I HAVE SPENT A GREAT DEAL OF TIME LOOKING AROUND THE WORLD TO FIND SMALL BATCHES OF WW2 SPARES TO PUT ON WEBSITE.
THIS HAS UNEARTHED SOME PREVIOUSLY HARD TO FIND AND VERY RARE PARTS . THIS HAS  THE EFFECT OF MAKING WHAT WERE RARE PARTS CHEAPER ! TAKE VOKES AIR FILTERS AS A GOOD EXAMPLE AS WHEN  I STARTED MY BUSINESS IN 1988 VOKES WERE ALWAYS THE HOLY GRAIL ! AND THEREFORE EXPENSIVE . I BOUGHT MY FIRST SET FOR £100 WHEN BSA M20 WAS SELLING FOR £ 4-500 !
RECENTLY I HAVE ACQUIRED OVER HALF OF A BATCH OF 25 FOUND IN ONE STORE -ALL USED AND PRESUMABLY REMOVED AFTER WW2 ?.
I HAVE A COMPLETE SET  ADVERTISED WHICH INCLUDES THE VERY RARE ELBOW AND SLIDER TUBE !  THIS I HAVE REDUCED TODAY AS THE OTHER BATCH HAVE NOW ARRIVED !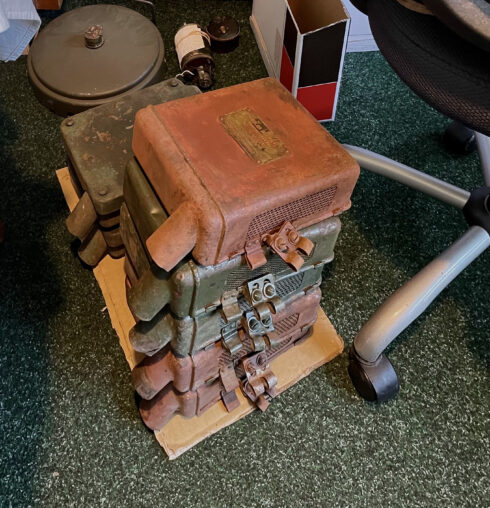 I WILL BE SELLING GENUINE FILTERS BOXES ONLY FOR THOSE WHO WANT TO MAKE UP THE TUBE SYSTEM AND SAVE A GOOD AMOUNT OF MONEY !
NOW IS A VERY GOOD CHANCE TO CHANGE ANY PATTERN MADE FILTERS THAT LOOK WRONG ! THEY ARE TO SHORT -I KNOW BECAUSE I BOUGHT ONE TO TEST OUT & SENT IT STRAIGHT BACK !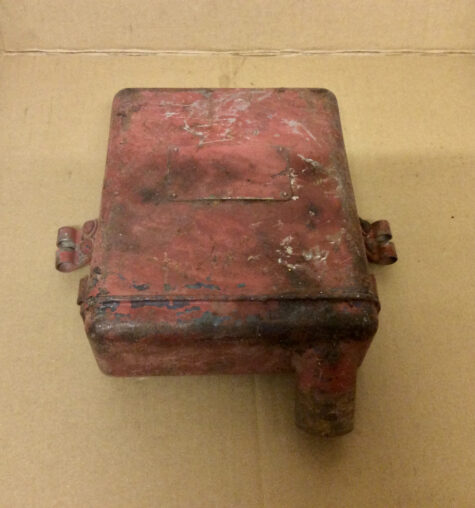 THESE SETS WERE USED BY MOST MAKES AT END OF WW2 AS STANDARD FITTING FOR EUROPEAN  CAMPAIGN BUT ALSO WERE USED FROM VERY EARLY WW2 ON MANY MACHINES IN HOT CLIMATE AND DESERT AREAS . I HAVE PICTURES OF THEM IN  THE MIDDLE EAST, NORTH AFRICA , INDIA ,BURMA & AUSTRALIAN TROOPS IN BURMA.
I BELIEVE THAT LIKE THE REAR PANNIER SYSTEM , THE VOKES SYSTEM WAS 
DEVELOPED BY NORTON . THEN ADAPTED FOR THE OTHER MAKES .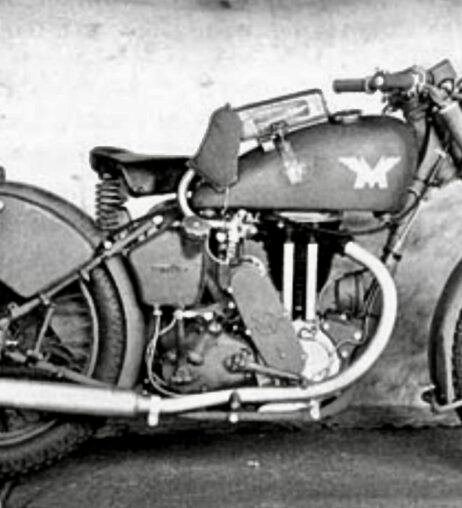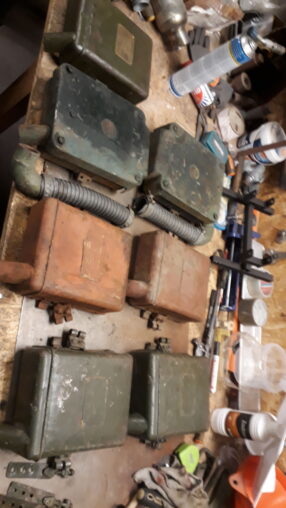 I ALSO MANAGED TO GET SOME TALLFLOW FILTER SETS -TALLBOYS . THESE  SETS WERE MADE IN BIRMINGHAM IN 1940 . THEY SEEM TO HAVE BEEN THEN REPLACED WITH THE VOKES SYSTEM -I CAN NOT FIND ANY RECORD OF WHY . MAYBE TALLFOW WERE BOMBED OUT IN THE BLITZ ?  IF ANY ONE HAS ANY INFORMATION LET ME KNOW AND WE CAN SHARE IT BEFORE ITS LOST IN HISTORY. I HAVE NEVER SEEN A BIKE WITH IT FITTED IN UK !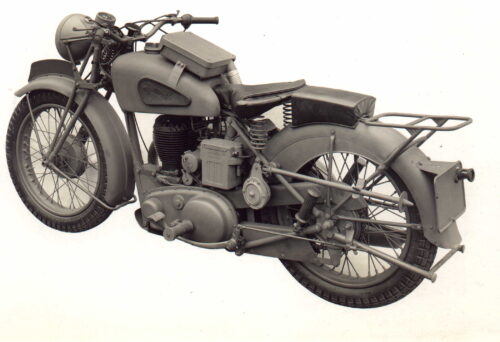 I
JUST ADDED THIS PICTURE I WAS SENT SHOWING THE BALLOON 1ST PATERN TANK WITH A CUT OFF CORNER ! THAT EXPLAINS WHY WE COULD NOT FIT .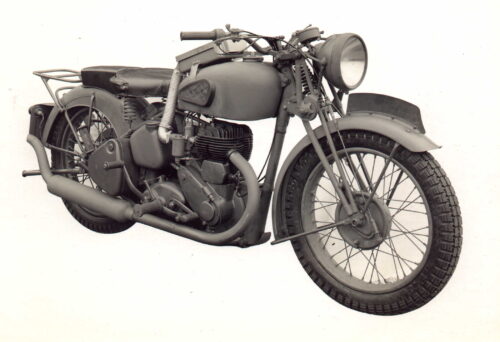 I HAVE HAD A VOKES ON MY OWN BIKE FOR SEVERAL YEARS AND I AM NOW FITTING A TALLFLOW TO MY 1940 BSA M20 IN MALTESE CAMMO AS I WOULD THINK IT MAY HAVE BEEN USED THERE AT SOME POINT . A LARGE CONTRACT OF BSA WERE ORDERED FOR INDIA IN 1940 AND I HAVE FACTORY PICTURES OF THEM . SEE ABOVE
BEFORE AND AFTER SHOTS OF KURT'S JAMES .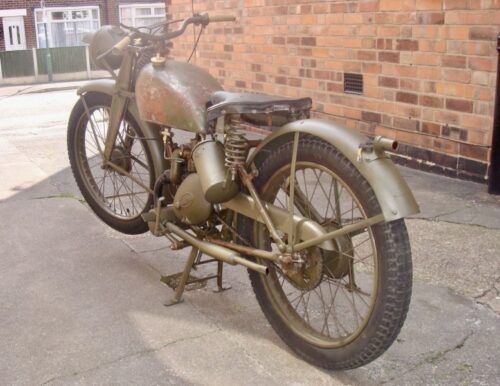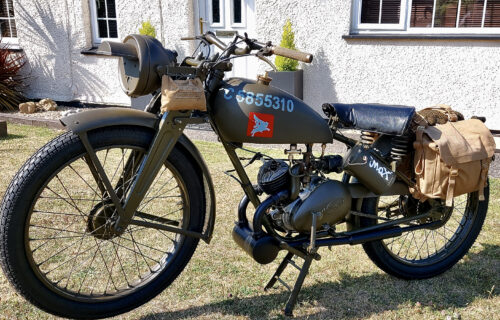 THIS LITTLE JAMES ML HAS BEEN VERY WELL PRESERVED BY KURT RUSSELL WHO HAS SPENT PART OF  LOCKDOWN RESTORING HER . HE BOUGHT THIS FROM ME AS UNRESTORED ABOUT 2 YEARS AGO ?  WE NEED YOUNGER GUYS LIKE KURT TO TAKE OVER THE CARE & USE OF OUR HISTORIC BIKES.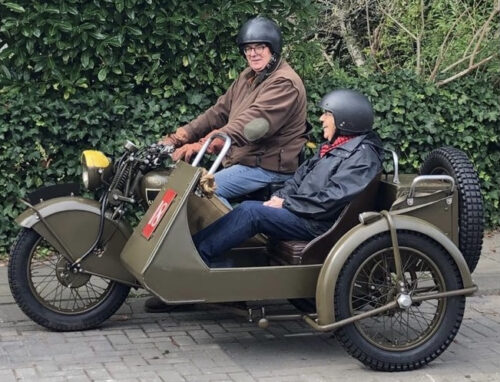 CONSTANTINE FROM CYPRUS SHARES THIS PICTURE OF HIS BSA WM20 COMPLETE WITH A VOKES AND A BURGESS ? AIR FILTERS -ITS A DUSTY PLACE !:)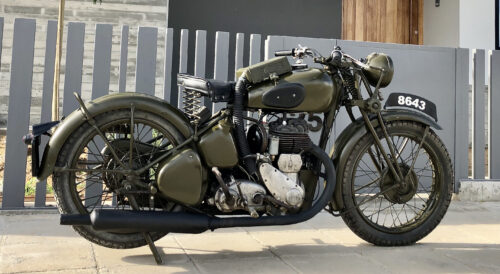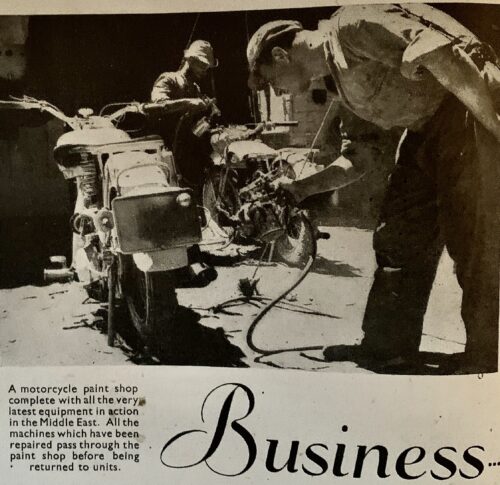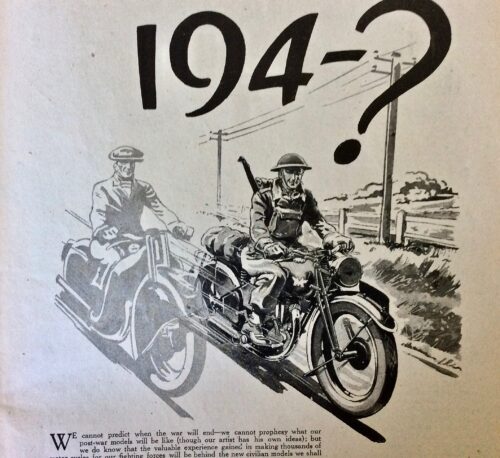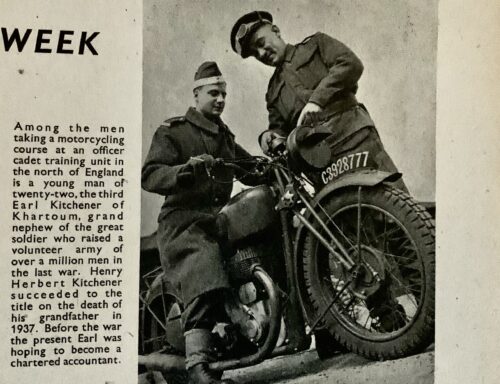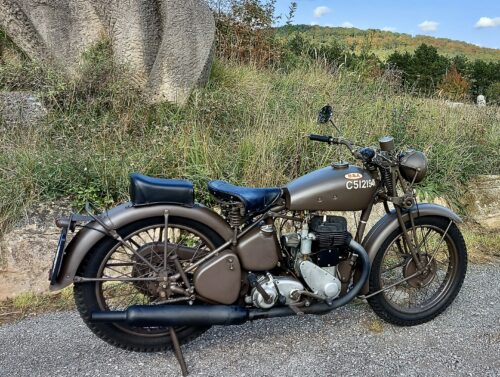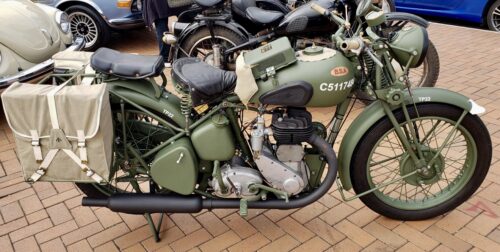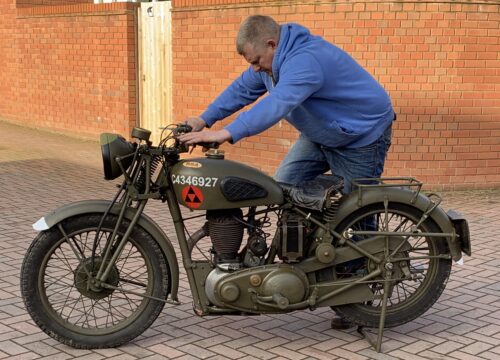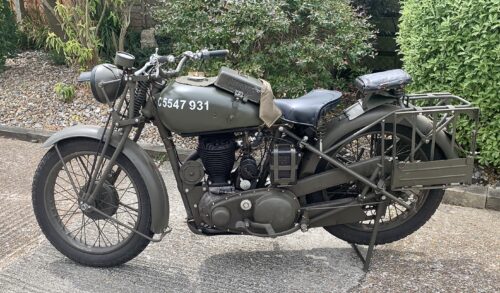 A GOOD TIME TO REMEMBER THE MERCHANT NAVY CREWS WHO FOUGHT AND DIED . MY OWN GRANDFATHER WAS  A MERCHANT SEAMAN ON THE RUSSIAN CONVOY RUNS IN BOTH WARS !  HE WAS 14 WHEN HE JOINED UP IN 1914. AS HE WAS A STOKER HE WAS  LOCKED IN THE ENGINE ROOM FOR MUCH OF THE TRIP !
THE ROYAL NAVY ALSO DESERVES A MENTION -MUST BE SOME Royal Navy MOTORCYCLES OUT THERE ?  NOT RECIEVED ANY TO DATE !
ALSO THE ISLAND OF MALTA -THE MOST HEAVILY BOMBED AREA IN WW2 I BELIEVE ? ITS ONLY THE SIZE OF THE Isle of Wight !
LASTLY ANY OF THE UNITS WHO FOUGHT IN BURMA AND THE Far East AND INDIA. BRITISH , AUSTRALIANS AND New Zealanders .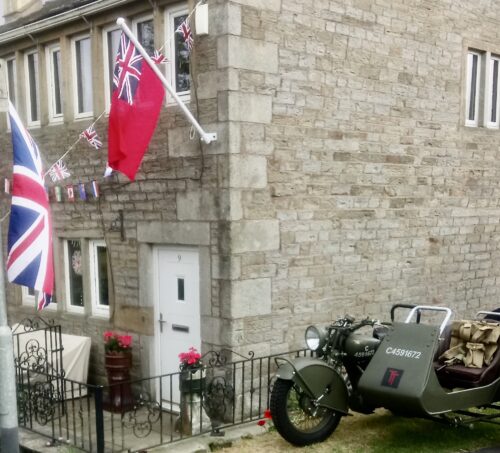 PLEASE SEND IN ANY V.J PICTURES TODAY.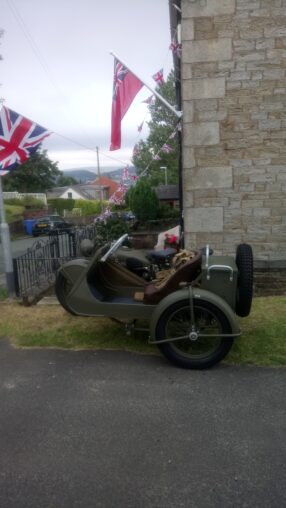 FINALY GOT AROUND TO A BIT OF RIDING DURING LAST 2 WEEKS OF THIS GLORIOUS WEATHER . SHES ABOUT AS GOOD AND ORIGINAL AS I CAN GET HER WITH JUST RIDER SADDLE COVER AND THE ODD CABLE & NUTS & BOLTS AS NON WW2. SHES GOING BETTER ALL THE TIME AS RUNNING IN COMPLETED.

.KEEP SENDING IN PICTURES OF YOU AND YOUR WD  BIKES & I WILL PUT ON SITE.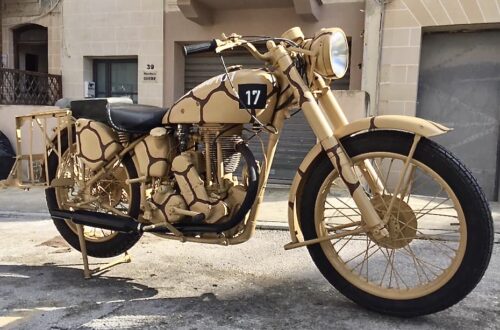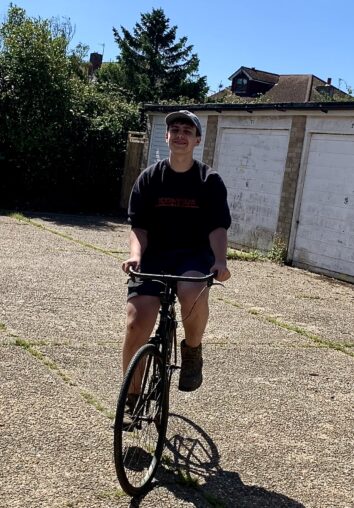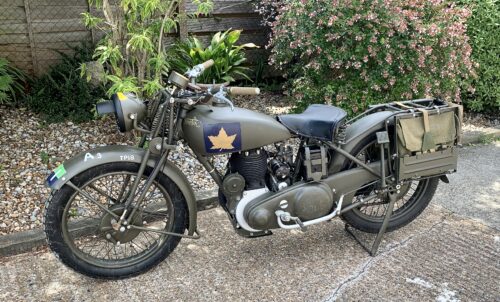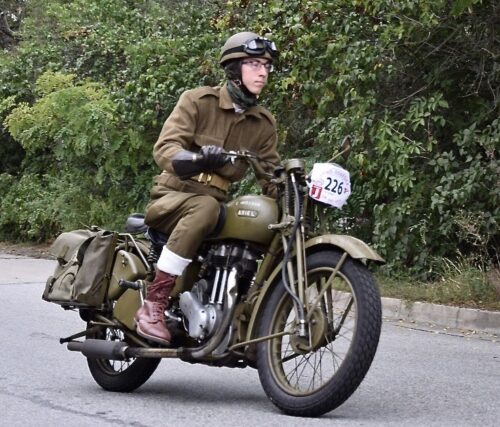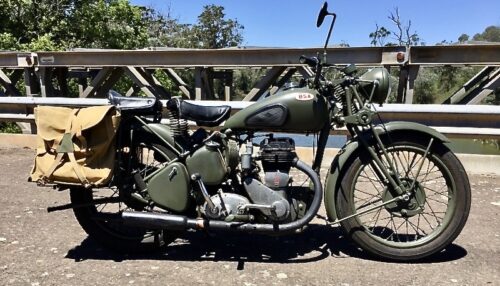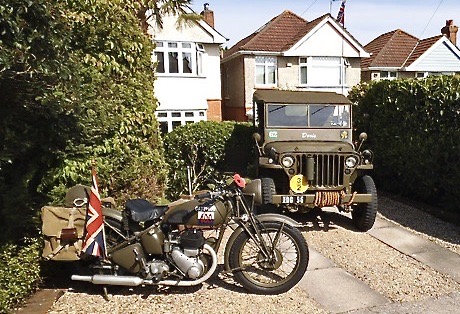 LAST V.E DAY PICTURE FROM GOOD FRIEND RON PIER IN DORSET .  I HAVE BEEN PRIVILEGED TO SEE HIS UNIQUE COLLECTION.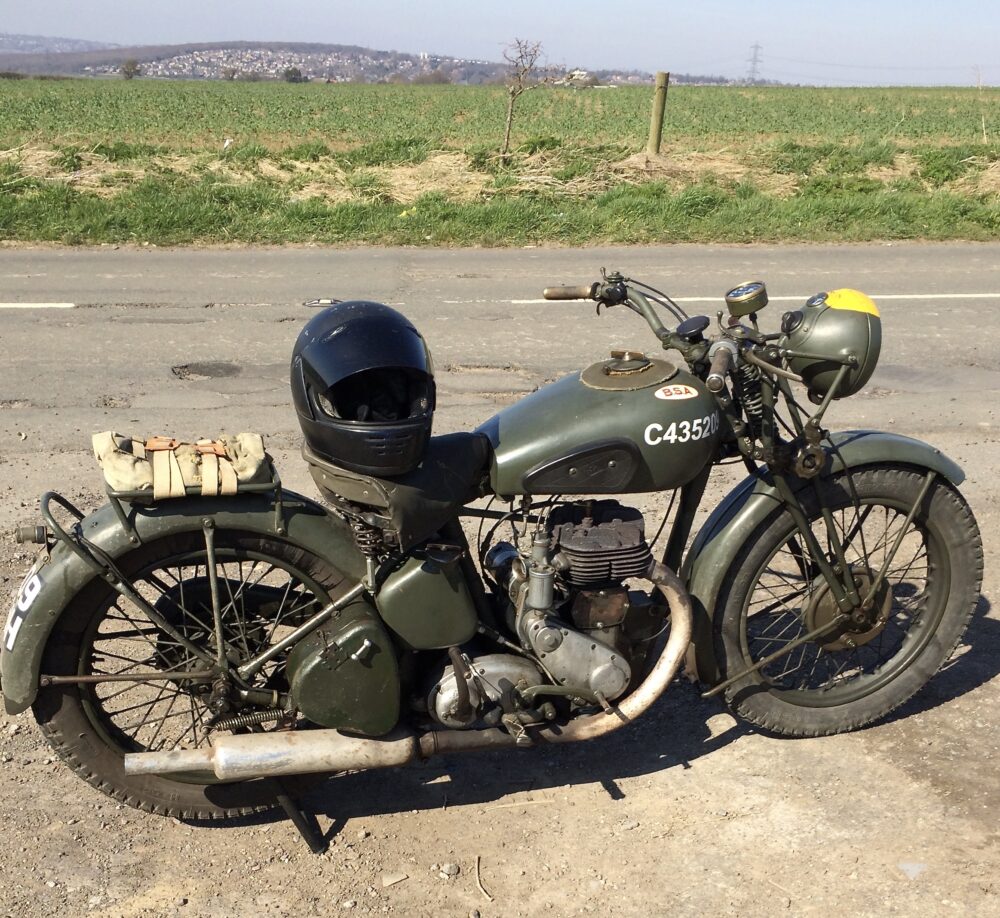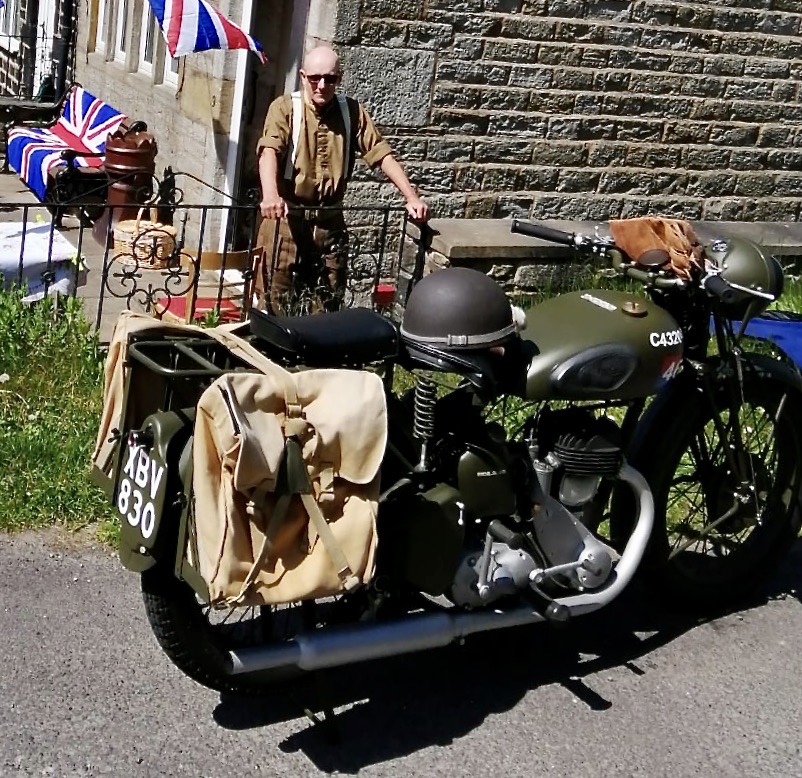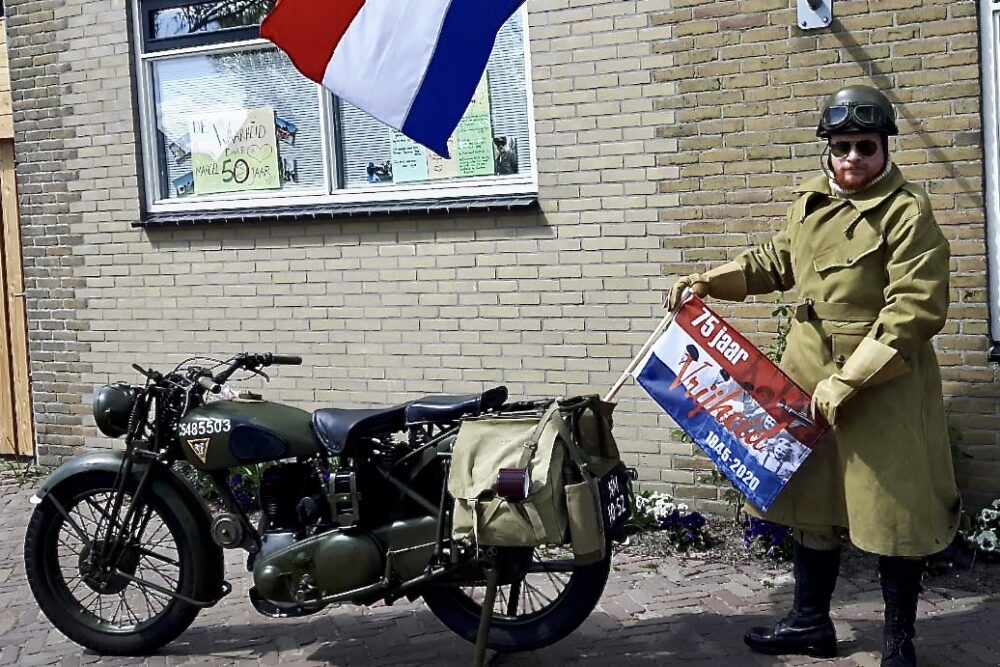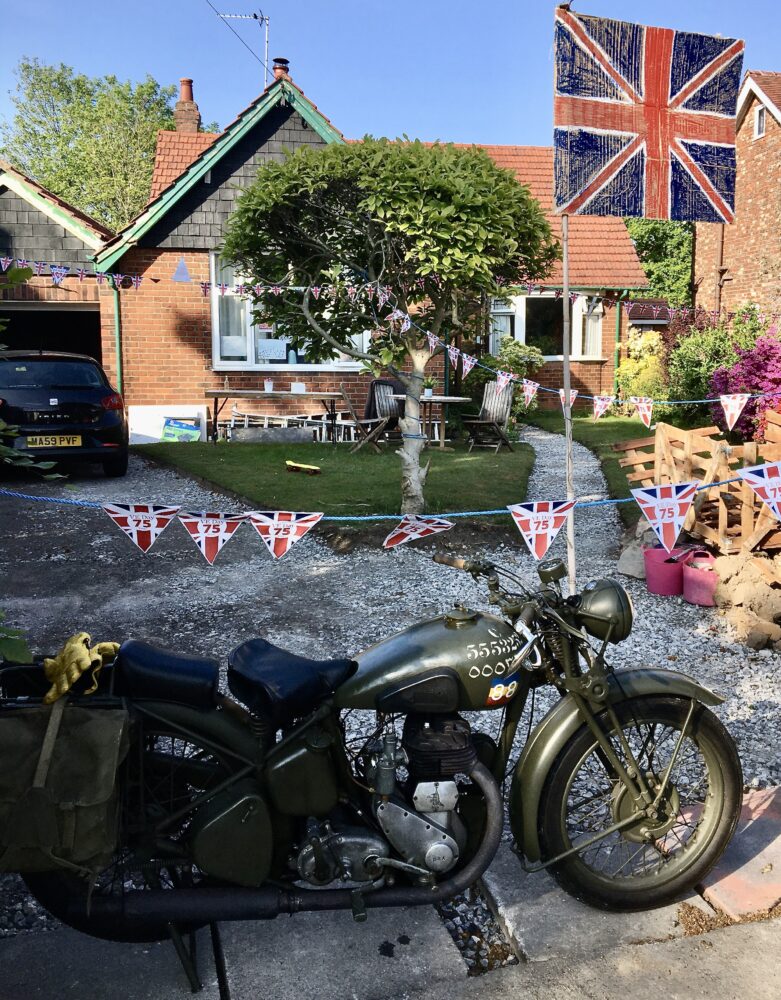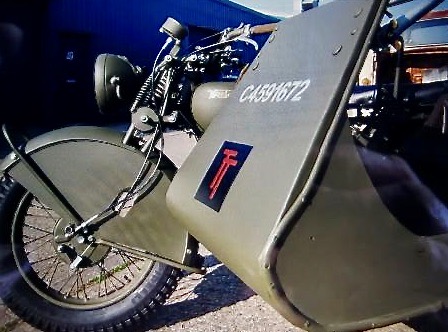 JOHN MOORE SENT THIS SHOT OF HIS RECENTLY RESTORED NORTON BIG 4 OUTFIT. JOHNS A BIT OF A PERFECTIONIST AND BOUGHT ANY NOS PARTS I HAD THAT WERE NEEDED . -THANKS JOHN AND WELL DONE.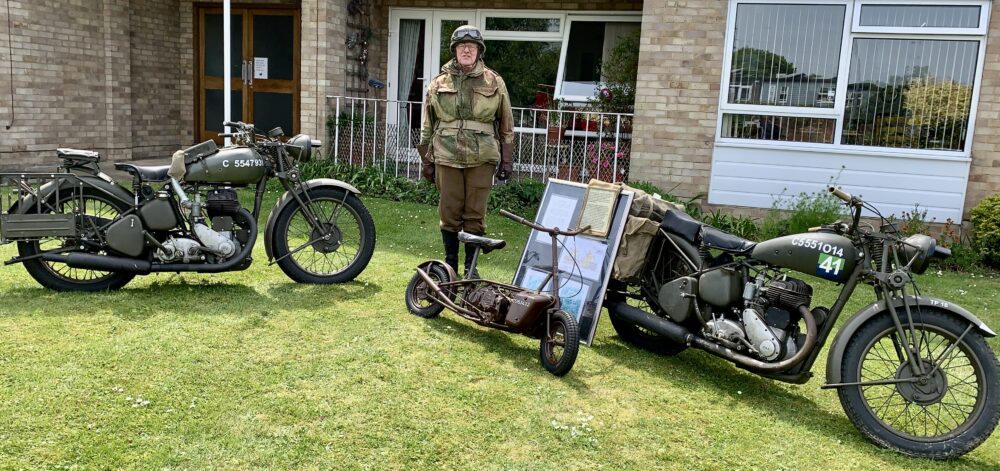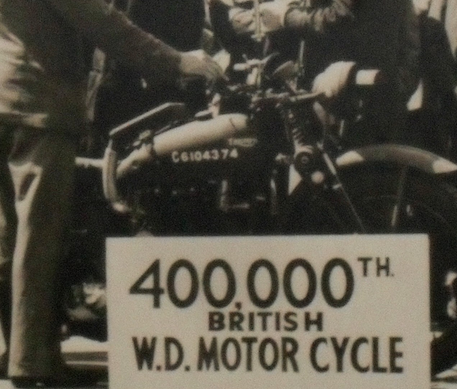 THINGS RETURNING TO NORMAL -COVID STILL LURKS BUT A LOT NOW WORKING , SO I CAN EASE OF A BIT ON PACKING SPARES !
ITS WORTH TAKING A LOOK AT TOOLS PAGE DURING MAY AS I WILL BE LISTING A LOT OF WW2 AND PERIOD TOOLS AND SUPPLEMENTARY ITEMS . HAVE RECENTLY PURCHASED OVER 100 PARTS .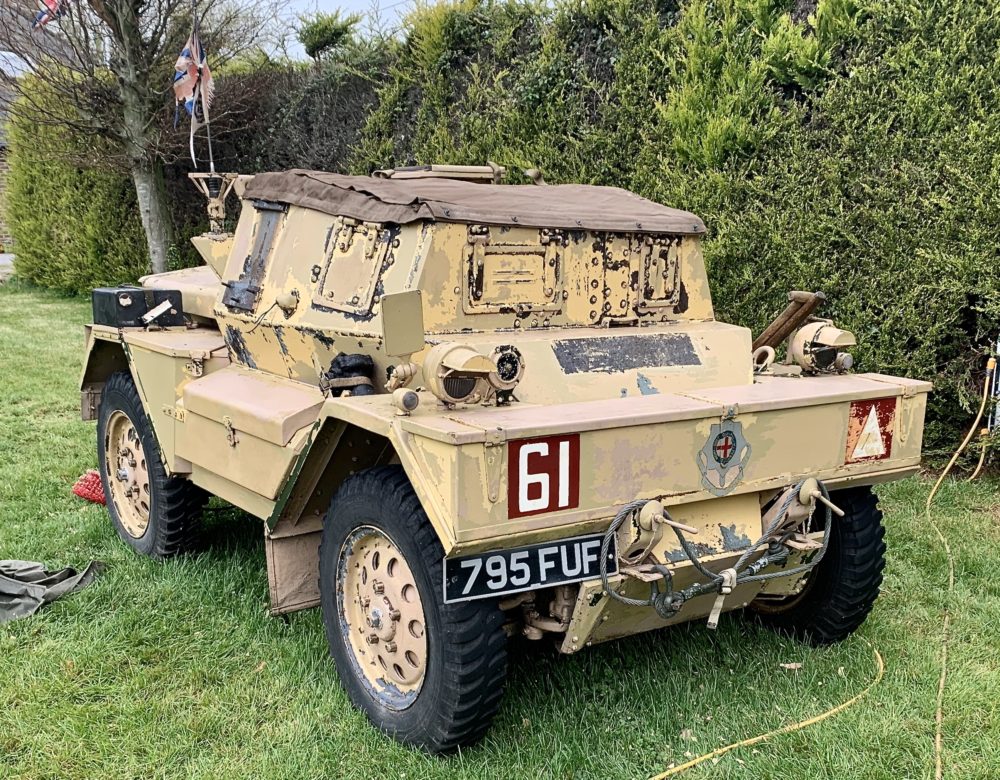 interior is being left as it is ,as its in fantastic untouched condition .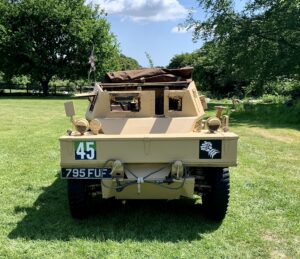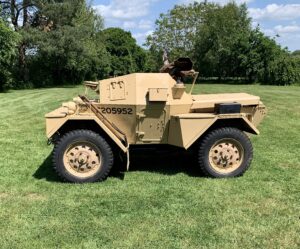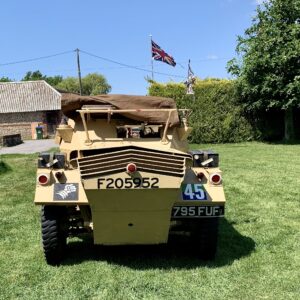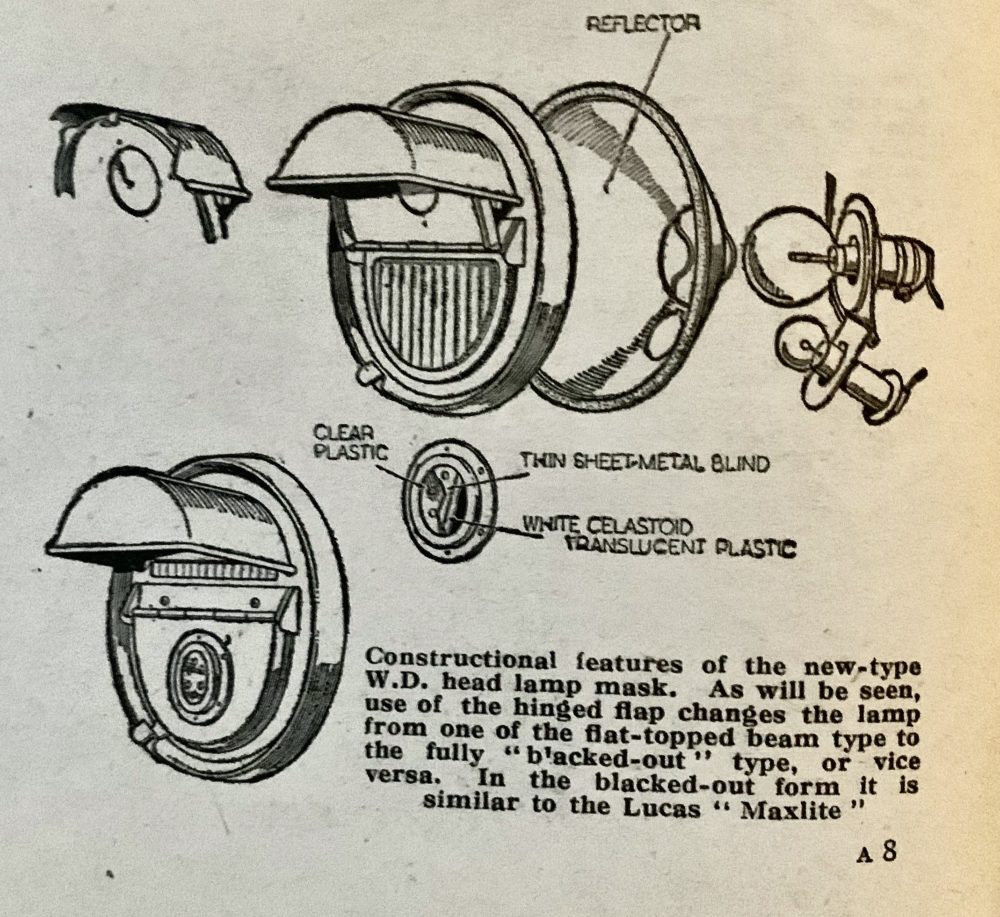 A REALLY BIG THANK YOU TO  SIMON HEPBURN WHO HAS HELPED WITH SOME HISTORY ON THE PICTURE AND THE MEN. BELOW IS COPY OF MAIL.
Hi Stuart.
I noticed a picture on your website of members of the 9th Field Company, Royal Engineers. You were asking if there was any further information on it? I do know that this particular Field Company had its name changed to that of a Squadron, known as 9 Independent Parachute Squadron, Royal Engineers which still exists today as part of 23 Parachute Engineer Regiment in support of 16 Air Assault Brigade.  I believe they are the longest serving fighting unit within all of the UK's airborne forces.
 AN ADDITION FROM SIMON IS THAT BOTH Sapper Russell & SAPPER ( LATER CPL ) ASHWORTH 
WERE BOTH K.I.A IN ARNHEM.
ADDITIONAL INFORMATION 25/8/20
Later, Sapper Ronald 'Ron' Russell was part of the small number of men from 2 Platoon, 9th Field Coy who made it through to the Bridge at Arnhem on the 17th September, where they fought under very poor conditions without much food, water and very little ammunition until the early hours of Thursday 21 September.
Sapper Russell was killed on 18 September 1944, aged 24 years old. He has no known grave and is now commemorated along with four other members of 9th Field Coy killed in the defence of the Bridge on the Memorial at Groesbeek Canadian War Cemetery.
Pte Burdett volunteered for airborne forces and was posted to 2nd Battalion South Staffordshire Regiment in July 1942 and took part in the campaigns in Sicily, Italy and Arnhem.
In 1943 Pte Burdett was a member of B Company and in Intelligence Section, Battalion Headquarter Company for Operation Market Garden at Arnhem.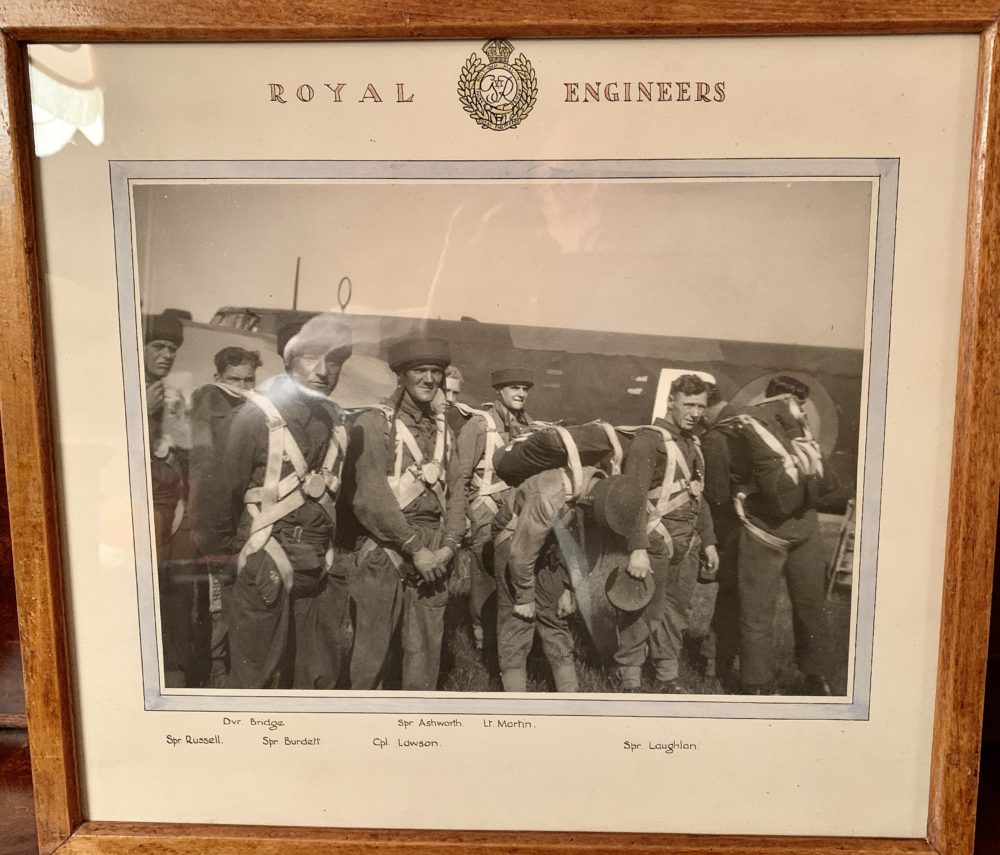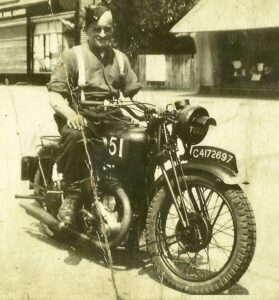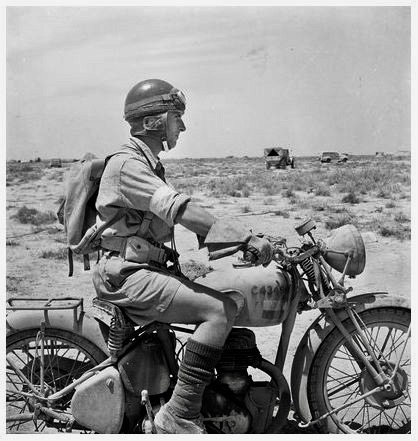 GREAT EARLY WW2 DESERT PICTURE OF A D.R – A 1940 BSA -NOTICE FORK SIDE ADJUSTER KNOB WAS REMOVED FOR THIS CONTRACT -AND QUICKLY REPLACED ON NEXT !!:)
NEIL THIS IS WHAT YOUR GRANDAD WOULD HAVE RIDDEN !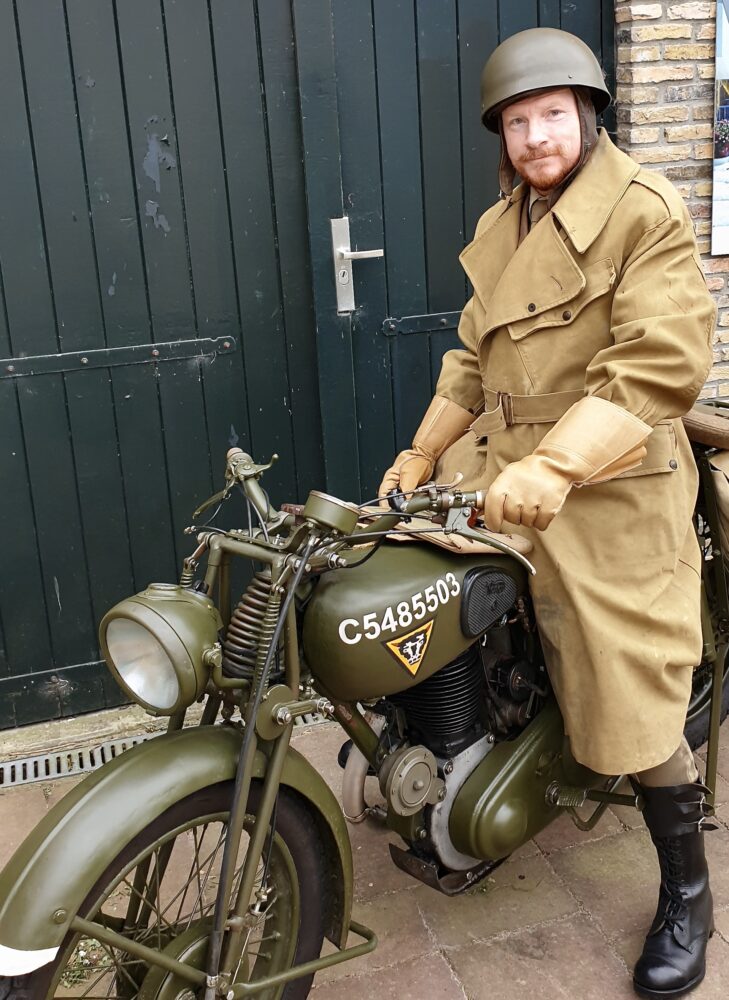 JEFFEREY SLOBODIAN, FROM TEXAS , SENT IN THIS PICTURE 6 /6 /20.  76 YEARS TO THE DAY !  " I just finished this with some of your help" THANKS JEFF!! GREAT JOB  -IS THAT A LIVE STEN ?? 🙂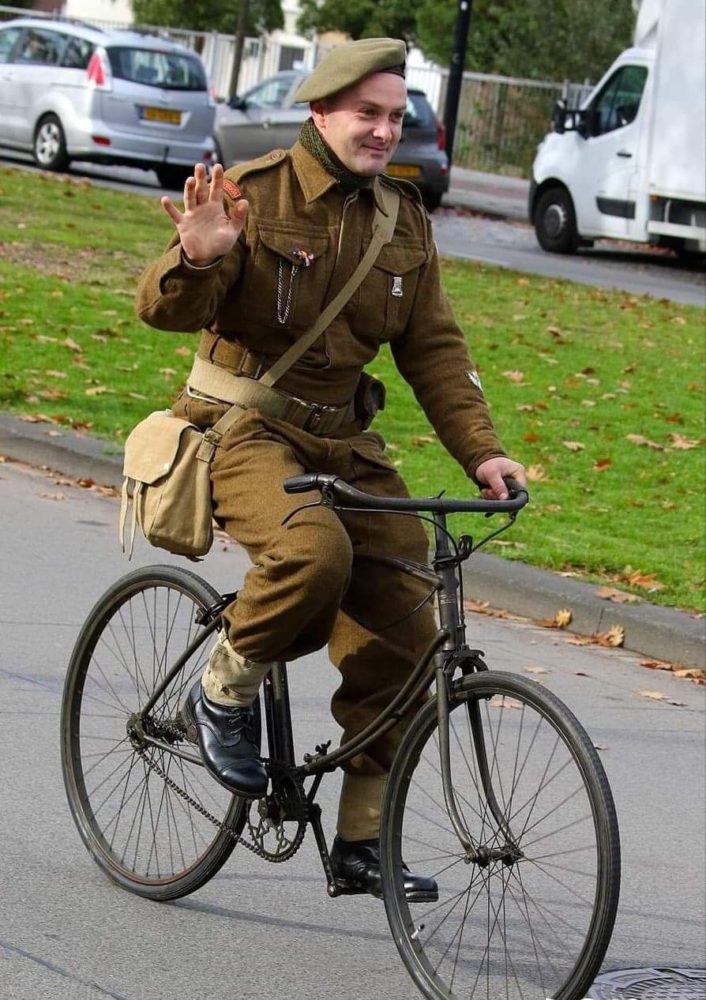 MY GOOD FRIEND JERRY ON HIS BSA AIRBORNE  FOLDING BICYCLE. ———————————– REALLY BAD NEWS, AS JERRY HAS HAD HIS PARA JUMPS CANCELLED !@!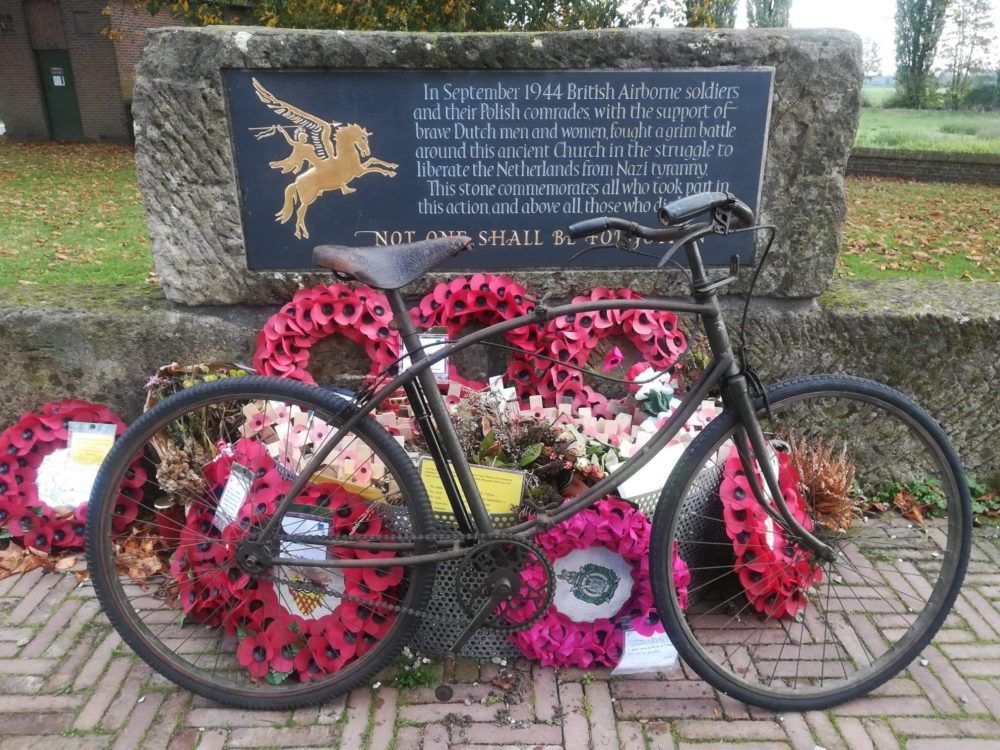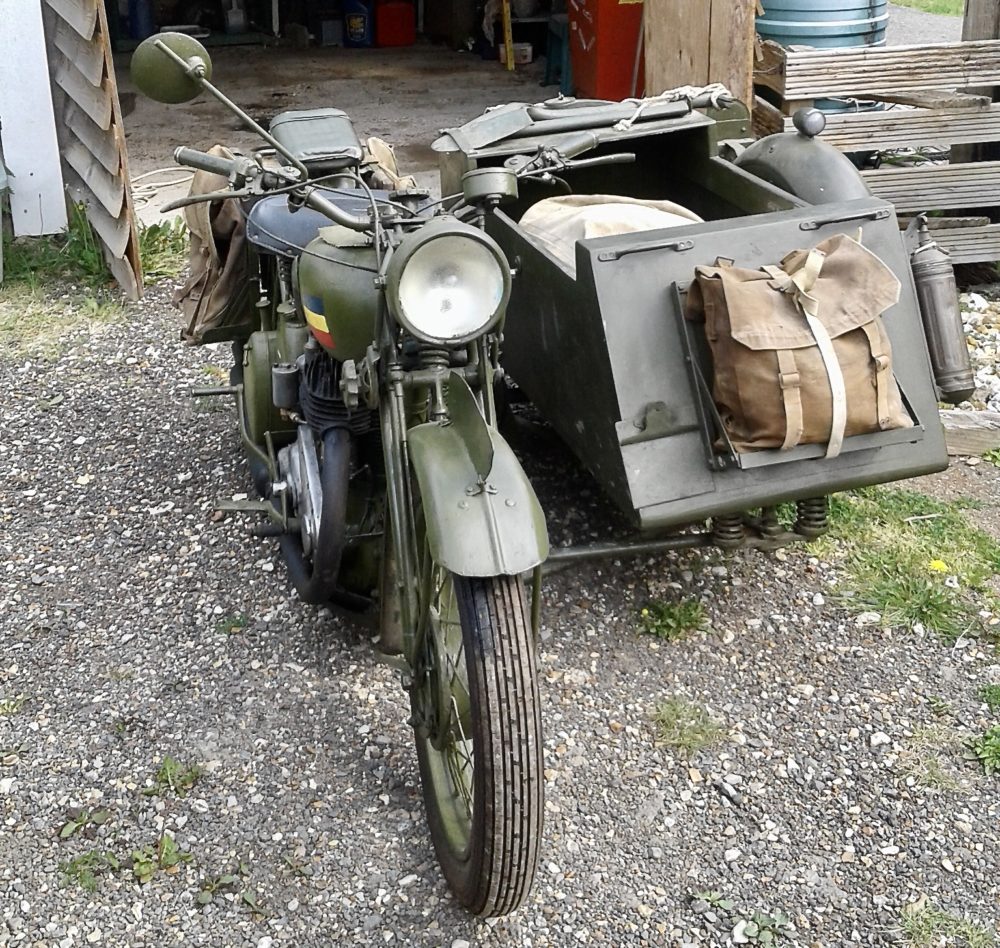 ROGER FALLOWS HAD A GREAT BARREL FROM ME TO GET HIS BSA OUTFIT BACK IN USE . -THANKS FOR THE PICTURE.
THIS GREAT 1940 PICTURE OF BSA RIDER SENT IN BY A NEW FRIEND NEIL -ITS HIS GRANDFATHER.( STRIKING RESEMBLANCE ) NOTICE 8″ LAMP AND 1940 LEVER SET UP WITH UPSWEPT HAND CONTROLS.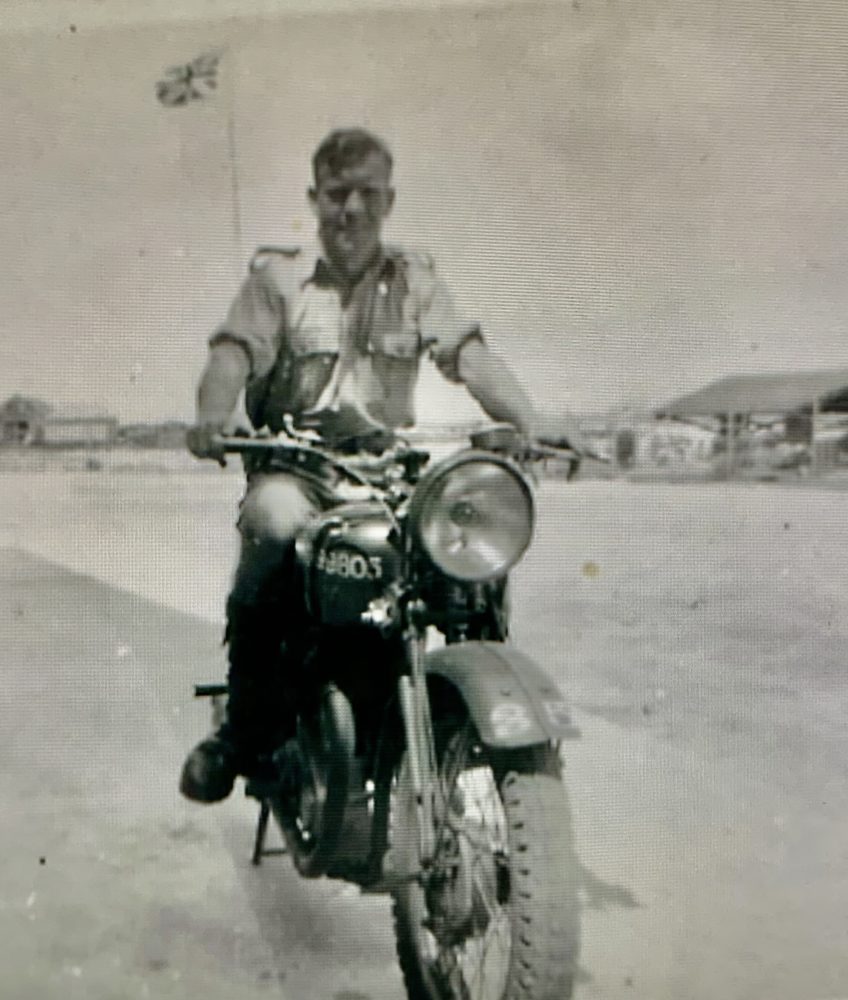 UPDATE ON BEDFORD WMD- VERY SLOW -I AM NOT DOING THE WORK AND SADLY IT SEEMS TO BE GRINDING TO A HALT !  SOME SERIOUS DECISIONS TO BE MADE BUT I AM HOPING SHE WILL BE READY TO DRIVE IN MAY AT WESTERNZOYLAND .-WATCH THIS SPACE   !!!!!!!!!!!!! CANCELLED !!!!!!!!!!!
KEEP SENDING IN PICTURES OF YOU AND YOUR WD  BIKES & I WILL PUT ON SITE.
SOME NEW OWNERS BIKES PUT ON -MORE NEEDED 🙂 HOW ABOUT SOME FROM MALTA ?   AT LAST :).  SEE BELOW.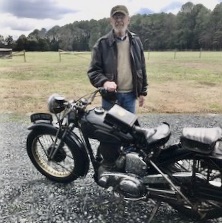 THIS IS MY FAVOURITE 2019 PHOTO OF MYSELF ! THE UNIFORM IS ORIGINAL & JUST A BIT OLDER THAN ME 🙂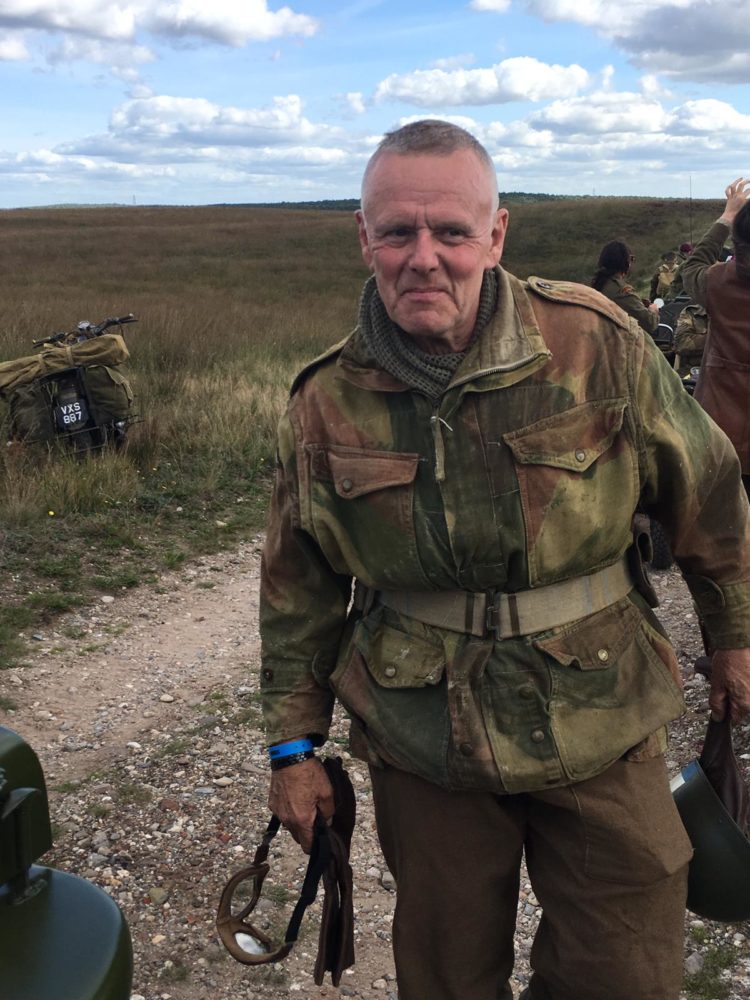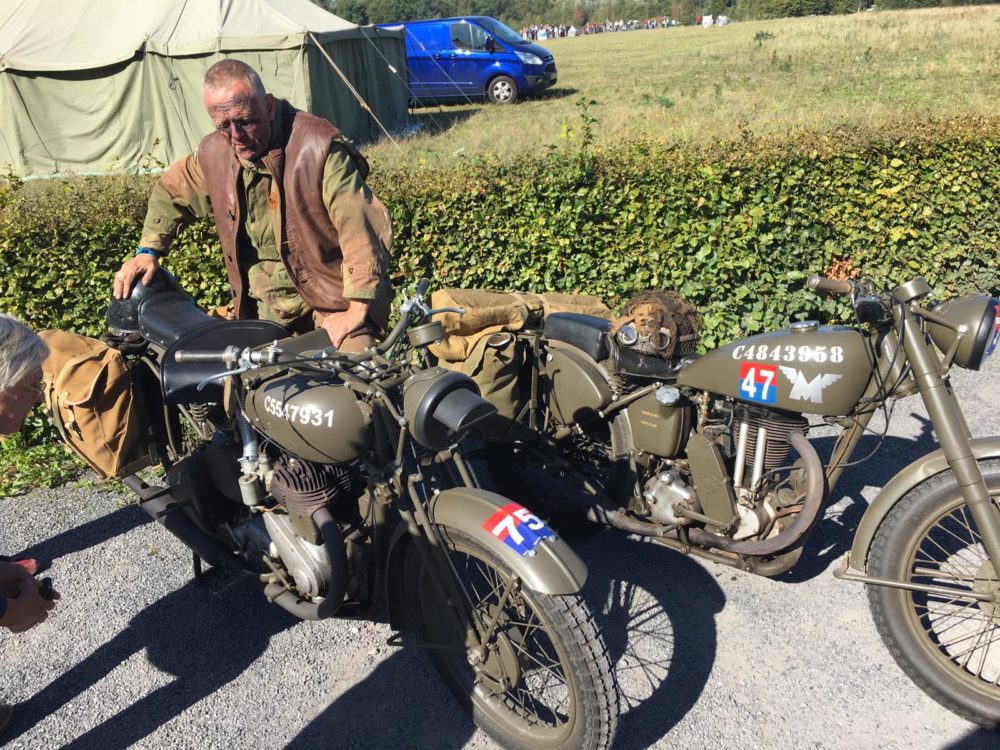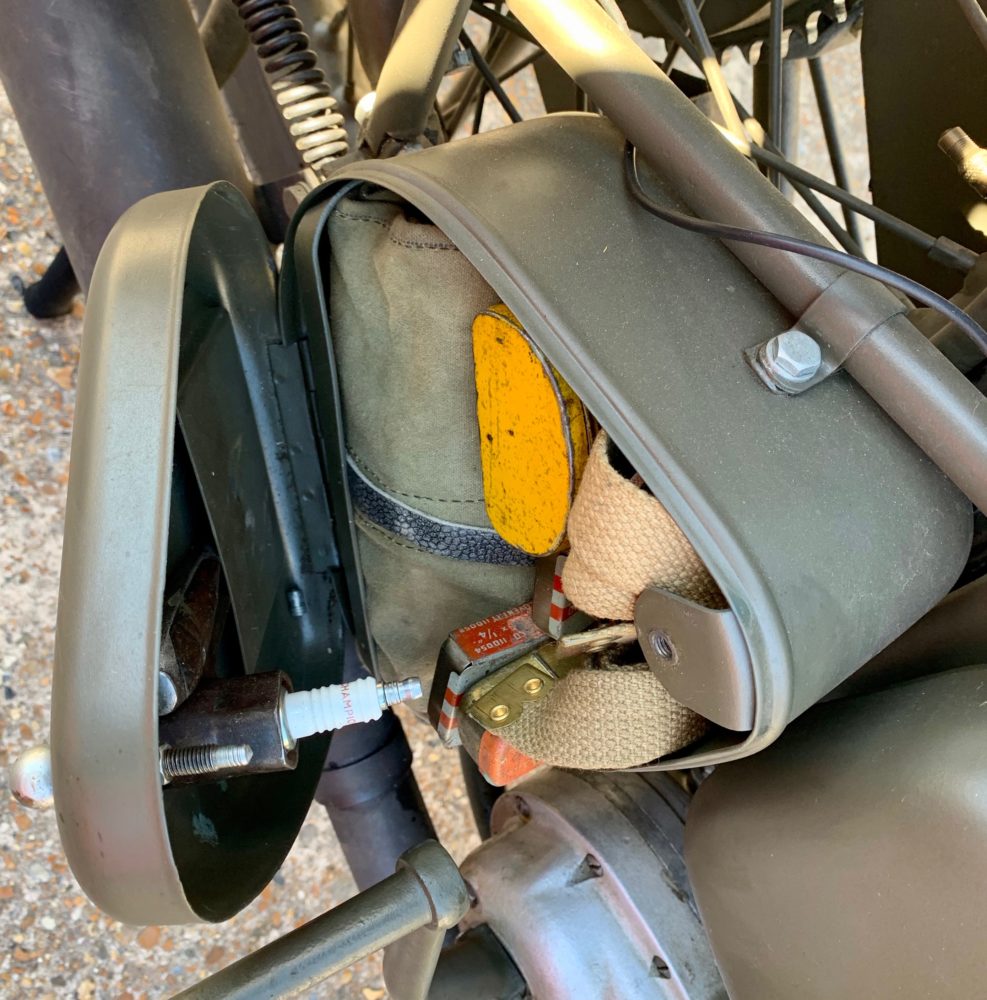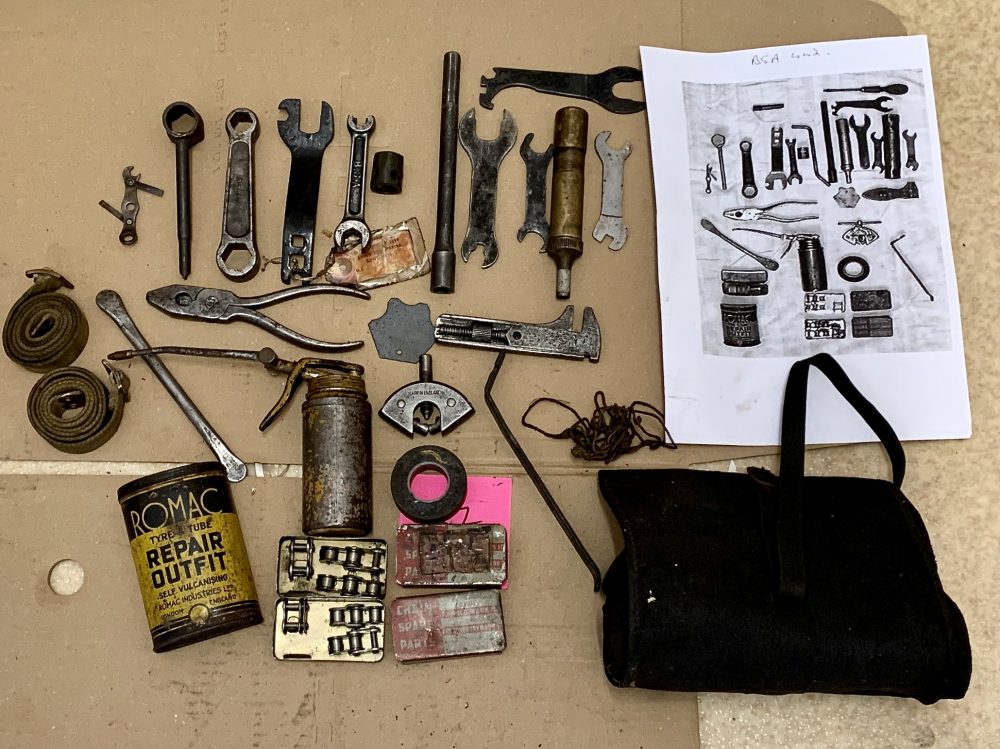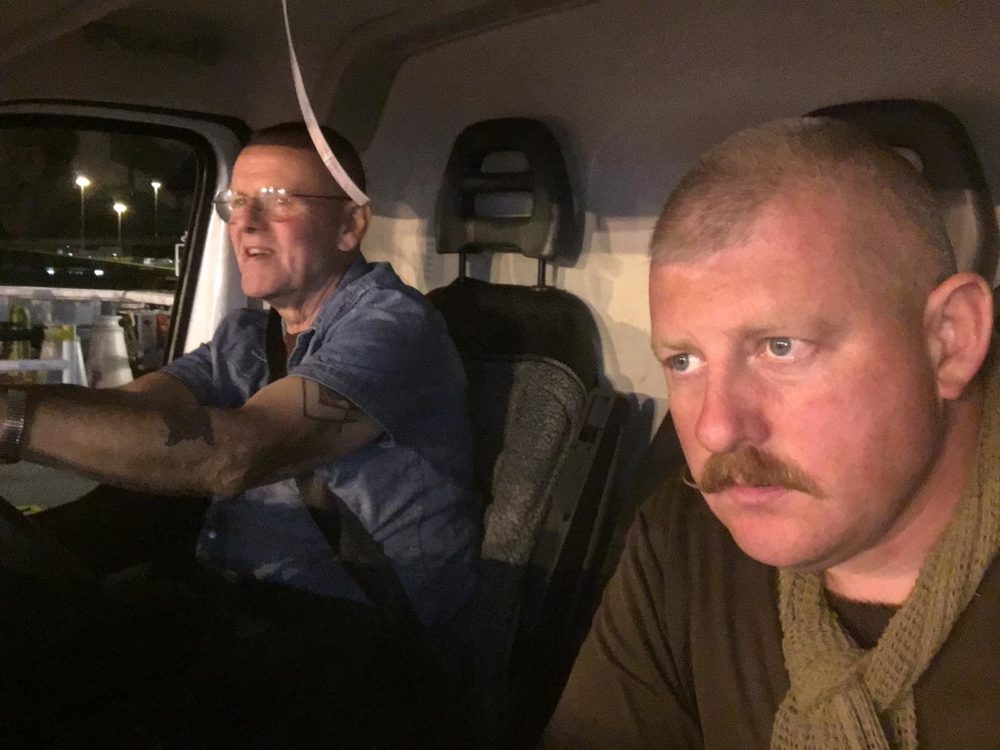 I
Stuart Bray Motorcycles Limited is a long established company based in south-east England, specialising in British Military motorcycles and bicycles, concentrating mainly on spares. Our stock ranges from high quality museum pieces to restoration projects.
We also offer a wide range of rare genuine spares for WM20, Norton 16H and other WW2 Motorycles and Bicycles. This stock has a high turnover rate and is continually being replenished.
Thank you for visiting Stuart Bray Motorcycles Limited. This site is regularly updated to include current stock.
WANTED: BSA WM20s – Best Prices paid, will import.
WANTED -ANY WW2 BRITISH 2 WHEELERS OR SPARE PARTS .
FINALLY  WE WILL BE AT THE 76TH ARNHAM EVENTS WITH OUR MANY  FRIENDS FROM HOLLAND  AND EUROPE .-CANCELLED !!!!!!!