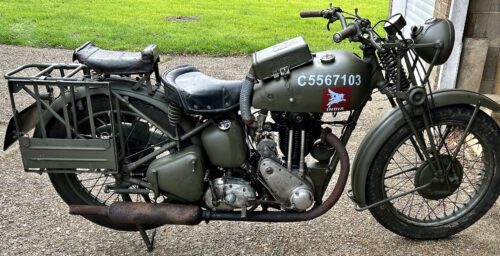 brought back by Richard miller 20 years ago .
the original exhaust has many repairs & I like it 🙂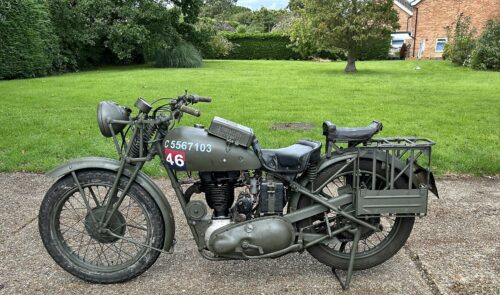 excellent tinware  and totally mechanically worn out !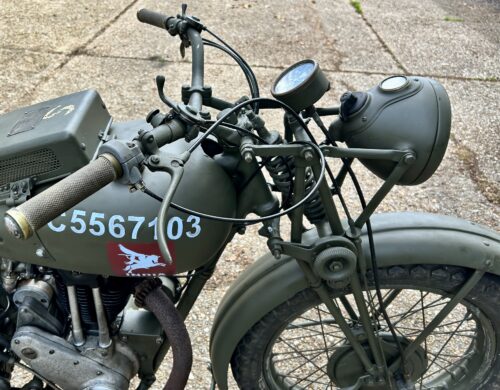 original levers and bars , sp[eedo and Lucas du42.
engine fins in lovely condition -no damage on outside , all problems internally !
had mains ,rebore to +40, complete top end parts and cams .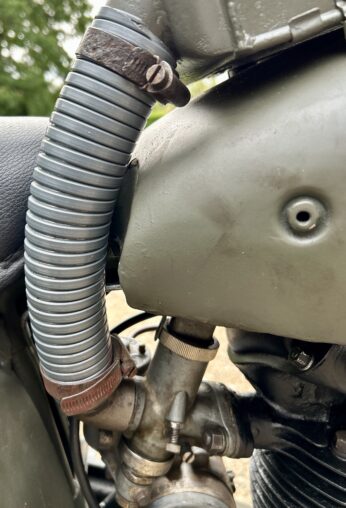 this 44 contract S5430 was fitted with the cut off tanks to take the tank top vokes system.  the alloy elbow is very different to the BSA type. clips are ww2 jubilee clips by Terry.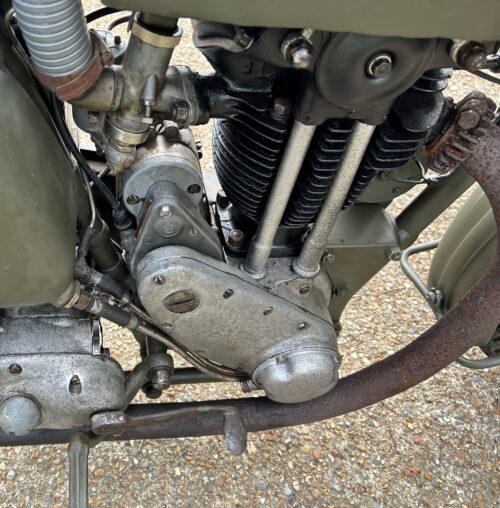 small gear-lever with spoon shape foot pad .
both magneto and dynamo are correct and both ww2 dated and rebuilt.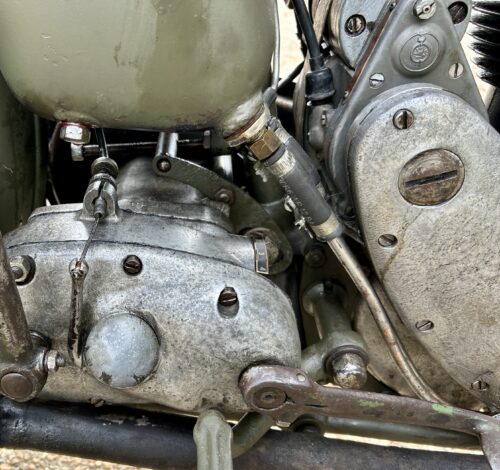 the gearbox was trashed and needed a full rebuild using a good used cluster from triumph specialist Dave wright on isle of white .
all bushes were worn out and teeth had lost all hardening with many cracked or broken .  now all good .
the rear wheel was rebuilt by Jake robbins engineering as it had done a lot of miles with collapsed taper rollers which got the hub so hot it discoloured the cups!
it resulted in it welding itself and ate 1/2 way through the rear wheel spindle , so Jake made me one and we got new taper rollers , repaired hub and all now good.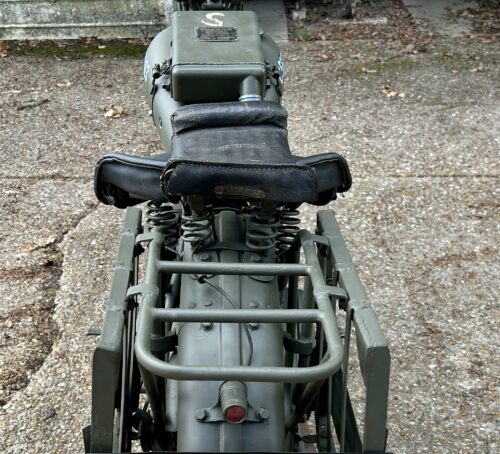 the rear convoy lamp was not correct but it is now . the contract plate is on mudguard tail piece.  all tinware is genuine and not needed much repair.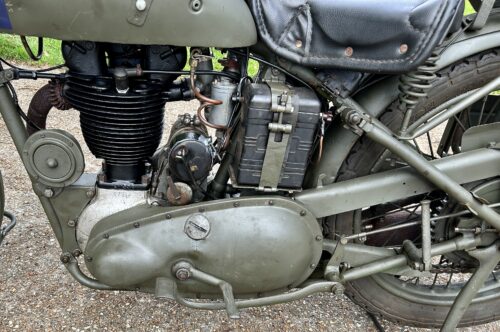 primary case is tin , skinny footrests mean be careful when wet !  original field stand and battery case parts where on the bike .
the engine is a ww2 replacement without any prefix , just a number .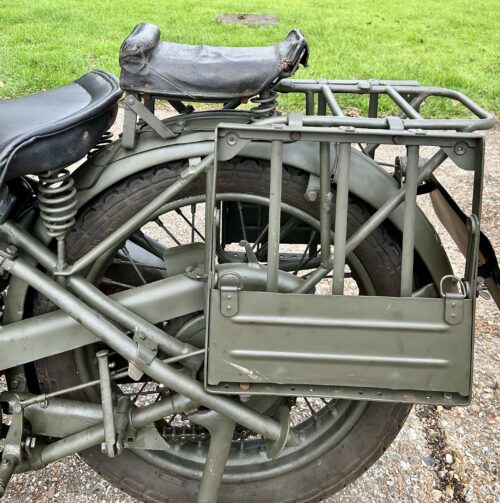 this amazing original rear saddle has the hump /stop at front of it . its named , drivers sale original as are springs which I may replace as they dont spring as well as my back if potholes hit .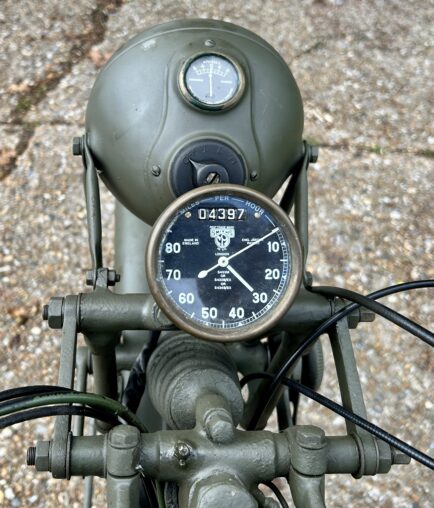 speedo is genuine to bike  as is Lucas du42 .  I put in a cz27 1944 dated ammeter as original was a post war item from the 50's.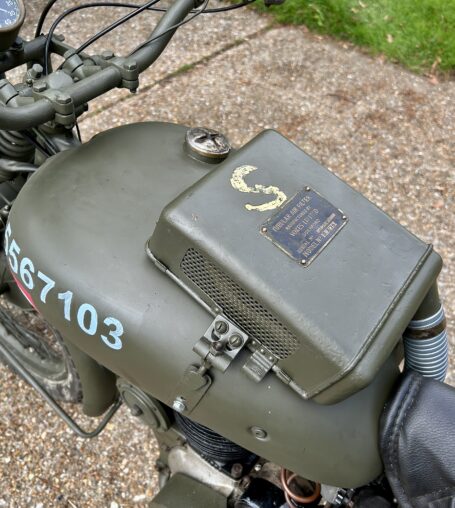 I have had this vokes box under my bed for about 25 years  and finally used it .
its not restored and colour is close match.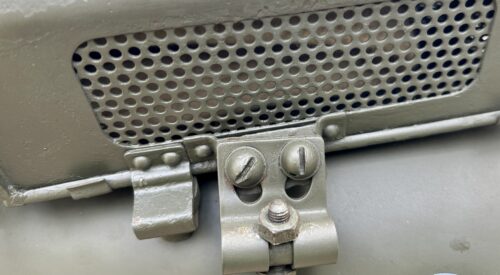 it has good felts in it which I washed in washing machine twice , being felt they need stretching whilst drying.
the S was on it . the label is original to box.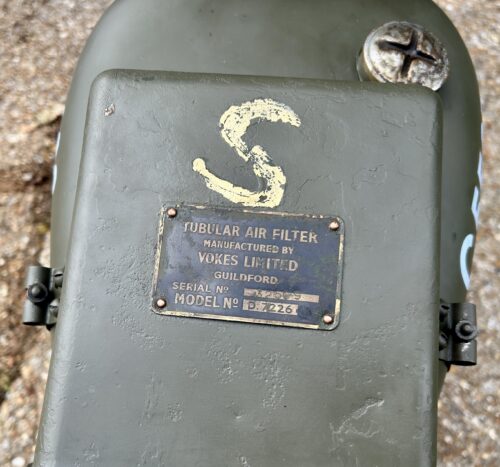 nice to see the cad finish on the petrol and oil caps , unique to triumph ww2 as both threaded .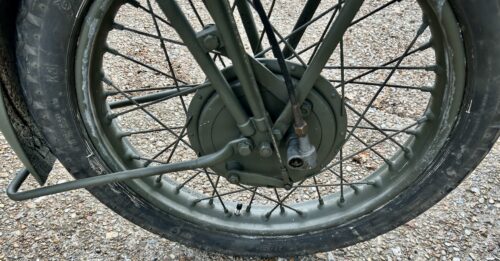 front wheel was cleaned out and in fair condition  just needing. shoes re pinned by villiers services .
a very small profile bike , I may put a blackout on her after Arnhem. everything you see is ww2 triumph . thats why I am keeping her .