THIS 1940 NORTON FRAME NUMBER W8210 HAS ALL THE LATER WW2 EQUIPMENT.
A WORKING LUCAS HORN AND LARGE PLATE SUMP GUARD ARE SEEN.
THE DYNAMO HAS BEEN OFF AND CLEANED AS WAS NOT WORKING .
A LATER YEAR ENGINE IS FITTED .
AN ORIGINAL RACK AND GENUINE PANNIER FRAMES AND PILLION FOOTRESTS ALTHOUGH NO PILLION SEAT FITTED .
GOOD 1″ BARS WITH WW2 LEVERS .
A RECONDITIONED SMITHS MILITARY SPEEDO FITTED AND WORKS .
THE BAKELITE NORTON DAMPER KNOB ORIGINAL AS ARE ALL THE VISIBLE FORK BOLTS & NUTS.
A GENUINE WW2 CANVAS THROTTLE COVER AND DOHERTY LEVERS .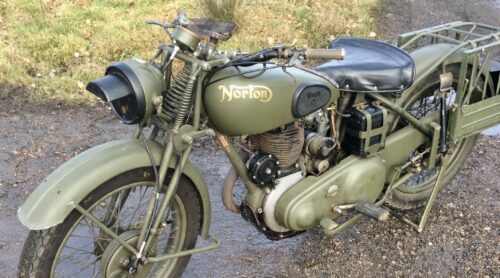 NOT BADGED UP  BUT YOU CAN DO THAT YOURSELF.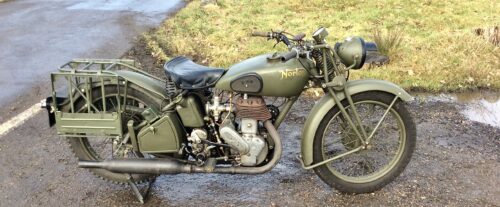 CORRECT ITEMS ON THIS SIDE .
A VERY BUSY ENGINE DEPARTMENT . AN OIL CONTROL TAP HAS BEEN FITTED AS I SUSPECT SHE WET SUMPS – FORGET TO TURN ON AT YOUR PERIL !!   🙂
MCR2 BOX FITTED ON TOP OF TOOLBOX.
A NICE SILENCER FITTED.
THE HEADLIGHT HAS CORRECT  EARLY WAR LUCAS  SWITCH BUT A MODERN AMMETER FITTED WHICH DOES WORK.